The $15 Spice Organizer That Frees Up So Much Space In My Cabinets and Counters
We independently select these products—if you buy from one of our links, we may earn a commission. All prices were accurate at the time of publishing.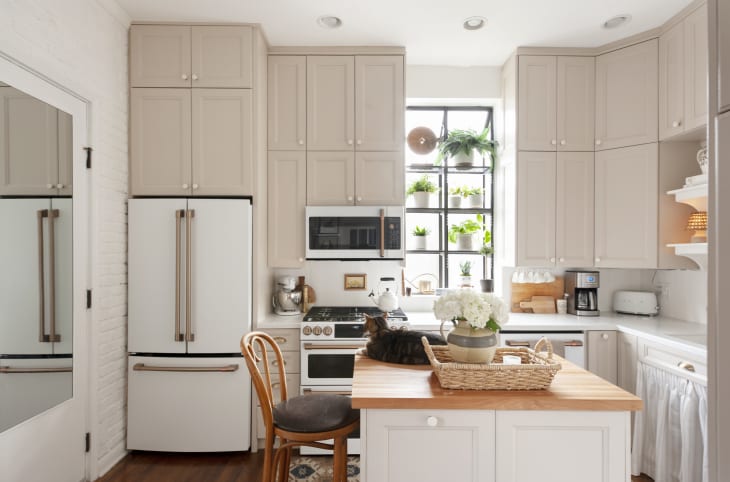 Let's be honest, no matter the size of your kitchen, chances are that your cabinets are ovecrowded. And here at Kitchn, we're right there with you! I mean, with so many delectable items out there to stock up on these days — we're talking Fly By Jing's best-selling trio, new-wave tinned fish collabs, and game-changing rubs we can't get enough of this summer — our kitchens are brimming with fun ingredients and essentials. That being said, there's nothing worse than a jumble of spice jars tumbling down every time you open the cabinet doors. Hence, we spend a lot of time searching for the very best organizers to help prevent said condiment waterfall.
Follow Topics for more like this
Follow for more stories like this
We've told you about loads of worthy solutions (like these drill-free organizers that make for super-easy install), all of which have a dedicated purpose and undoubtedly will transform the look and feel of your kitchen. As the storage and organization solution experts, we're pretty darn good at assessing just how effective any given product will be. That's why, when we discovered Joseph Joseph's CupboardStore Spice Organizer, we knew right away that this is one totally genius find.
You might be thinking, "With so many spice organizers out there, how do I know if this one is the one? Well, here's the genius part: It stores your spices horizontally, tucking them away beneath a cabinet shelf and keeping them out of sight and out of the way (until you need cumin for that rib rub, that is). This means the organizer takes advantage of those few inches of empty space not already in use, decluttering the shelf and giving your cabinets an aesthetic makeover. The unique design allows the compartment, which holds seven standard-size spice jars, to come out when you need it and stay hidden when you don't. When you need a spice, just pull the thing out, grab your jar, and push the rack back into its horizontal home.
When it comes to installing these handy organizers, reviewers praise just how easy it is. Like this happy customer, who wrote, "I was pleasantly surprised by how easy it was to install, you literally just pull a tab, slide it in place and then press it to the bottom of the shelf it's on." They went on to explain that "the adhesion for that one little strip is impressive, I was shocked at the amount of weight it can hold and I've currently got it crammed full of marinades and sauce seasoning packages. Honestly the sturdiness was higher than I expected for what is essentially a free-hanging sticky drawer!" It's not every day you get a storage solution that's easy to install and actually holds up.
While the CupboardStore Spice Organizer will effortlessly wrangle your spices, no one's stopping you from sliding an organizer underneath every shelf, for any purpose. Some reviewers thought outside of the box and used the Joseph Joseph for an easy-to-access first aid kit, calling the find "organization at it best." Others still found a plethora of other handy uses for this multifunctional gadget. "Finally! I am so tired of trying to find a place to keep lids to Yeti cups or thermos cups," explained one user. "I do not like having them on the shelf sitting alone because they do not stack properly and always fall off of each other or out of the cabinet." Same! "Now the lids are directly under the cups they belong to and above coffee cups which do not stand tall enough to be in the way. Will be getting more of these later." In that vein, I could see using the organizer for mason jar lids, Tupperware tops, teabags, napkins — basically anything that's a pain to store.
If you have spices — or pretty much anything — you want organized and out of the way, do yourself a favor: Buy the CupboardStore now (for just $15!!) and save yourself the frustration of crowded cabinets. In fact, we've got a hunch that once you see it in action, you'll be heading back to Amazon to order a whole bunch more in no time.

Buy: Joseph Joseph CupboardStore Spice Organizer, $14.99