The Game-Changing Drying Rack That Lets You Do Triple the Dishes at Once (It's Perfect for Tiny Kitchens!)
We
independently
select these products—if you buy from one of our links, we may earn a commission. All prices were accurate at the time of publishing.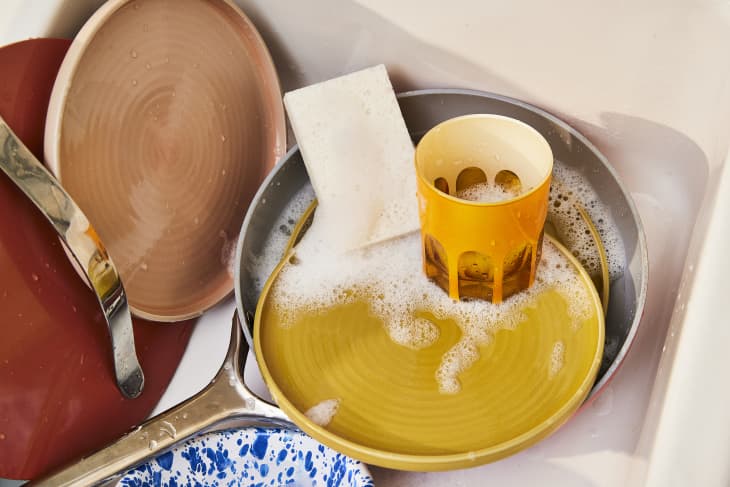 When I lived in an apartment that had approximately 13 inches of kitchen counter space, dishes were a three-dimensional puzzle. Cleaned pots and pans had to be stacked on my small dining table while a folding dish rack and catch tray took over the stovetop. I was shifting too many things around every day and I felt like nothing was the right size for my space. I also learned that I had to wait for the burners to cool completely before setting up the tray, or it could melt. (Spoiler: It melted.)
Thankfully, a bevy of small space-friendly dish-drying solutions have popped up to help everyone who knows that counter space is a rare and precious commodity. One device that stands out above the rest is this three-tier model from Joseph Joseph — one of our all-time favorite source for organizers. It adjusts to hold a sink full of mugs, glasses, bowls, and silverware — but also slides down into a flat, 8-inch-wide mat that you can tuck behind your faucet or store completely out of sight under your sink. This drying mat is exactly what you want in a kitchen with limited counter space: a tool that's there when you need it, and gone when you don't.
Having the option to expand it to three different widths — 8 inches, 13 inches, and 18.5 inches — offers much-needed flexibility in the dish-drying category. One thing I really don't like about the bulky, metal racks is that I have to find room for them in my kitchen (which is always at-capacity and often over-capacity). I appreciate any tools that fit into my kitchen as-is and don't make me feel like I've just made the whole space even more cramped or cluttered.
If you don't usually need a drying mat but want to keep one around — say, for when you run out of room in the dishwasher because somebody (not you, though) forgot to run it — this is the perfect tool. Like any worthy dish mat, the raised edges keep water from spilling over the sides, while built-in holes on the top two tiers guide water down to a spout that drains neatly into your sink. You also don't have to worry about trying to shake the entire mat dry when it's fully expanded. Just collapse it down and pour any water right out the front.
Joseph Joseph always impresses us with their smart designs and clever approaches to household challenges, and this adjustable mat makes the case for rethinking your dish drying setup. Whether you have your own counter space puzzle to solve or just want to make sure you have a drying mat when you need one, this is a wise choice. Any kitchen tool that is this versatile, compact, and affordable is a must-have!

Buy: Joseph Joseph Three-Tier Expandable Draining Mat, $16.99 (normally $19.99)