I Don't Have a Dishwasher, But J.R. Watkins' First-Ever Foaming Dish Soap Is the Next Best Thing
We
independently
select these products—if you buy from one of our links, we may earn a commission. All prices were accurate at the time of publishing.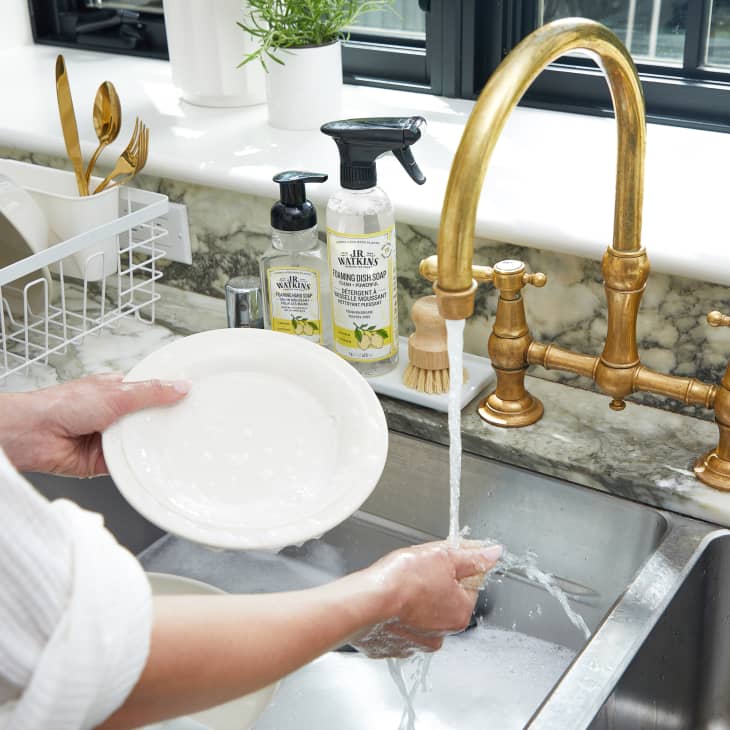 One of my friends has a theory: You're either a dishes person or a laundry person. This friend is convinced that, given the choice, everyone has one chore they'd deem slightly less detestable. I, for instance, am Team Laundry all the way. Sure, it's laborious, especially since I have to lug my clothes to the local laundromat, but I find clean laundry much more satisfying than an empty sink. In fact, since my apartment doesn't have a dishwasher, hand-washing dishes tops the list as my least-favorite housekeeping task.
Over the years, I've bought a little bit of everything to incentivize myself and dress up my sink area: "cute" scrubbers, trendy soaps, fun dish towels, you name it. And yet, I. Still. Hate. Doing. The. Dishes. A few weeks ago, though, J.R. Watkins reached out to me about testing their first-ever foaming dish soap. As a long-time fan of the plant-based brand's hand soaps for their packaging, price, and practicality, I was intrigued and gave it a go. And, dare I say, it's actually made cleaning dirty plates and pans a little more fun.
There's honestly a lot to love about the new foaming dish soap, which just launched last week. First and foremost, I was drawn to its looks (I'm a style editor, what can I say?). As to be expected from J.R. Watkins, the cleaning staple comes in a well-designed, pretty bottle that's compact enough to fit on my tiny kitchen counter. Its yellow packaging also nods to another major selling point — its scent. Made from natural ingredients, it gives off a delicious lemony fragrance that makes my entire sink smell like summer personified and blows every other soap smell out of the (dish)water.
Of course, it's equally (if not more) impressive from a functional standpoint. In fact, a little really goes a long way… which, yes, every single dish soap seems to claim nowadays, but I can confirm that J.R. Watkins lives up to the hype. That's even without chemicals like sulfates, formaldehyde, phosphates, and triclosan! The nozzle actually rotates to offer two different release options: a foam or a spray. Take your pick, then just spritz it directly onto your dishes (no matter how greasy or dirty), wipe with a sponge, rinse, and voila — instantly clean (and clean-smelling) dishes. I've definitely spent way less time scrubbing away at the sink since putting this product to use.
At just $6.99, this dish soap is affordably priced cleaning magic in a dual-use (and fully recyclable, cap and all) bottle. Want to keep the sleek container around? You can purchase a J.R. Watkins dish soap refill packet for $7.99. Both the full bottles and refills are available via the J.R. Watkins site as of now and will launch in Target stores on Apr. 24. Whether you're Team Laundry, Team Dishes, or just Team Clean (please, sound off about this in the comments!), consider this foaming dish soap a must-have.