Julia Child Followed This Extremely Simple Cleaning Rule in Her Kitchen
We
independently
select these products—if you buy from one of our links, we may earn a commission. All prices were accurate at the time of publishing.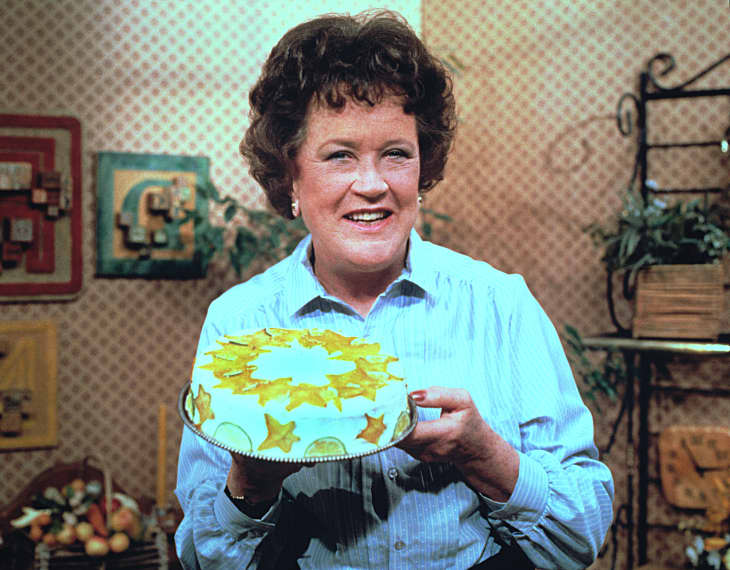 When people think of Julia Child, what comes to mind is learning how to cook from one of the most disarming and relatable cooks to ever grace the screen. Child brought French cooking inspiration into American homes from the '60s into the 21st century. 
What people don't often consider, though, are the other aspects of kitchen life that Child taught. Specifically, since the kitchen she filmed in was her own real-life kitchen, her show offers glimpses of how she operated in the kitchen, including her kitchen setup and organization and how she cleaned it.
In honor of her birthday, I'm going to zoom in on one of the core cleaning principles Julia professed and practiced. It's one my own mother taught me, and while I don't know if the tip originated, for her, from Child (I should ask!), it's one that I've upheld in my kitchen. The principle is this: Clean as you go. 
In the foreword of her seminal work, "Mastering the Art of French Cooking," Child instructs, "Use all the pans, bowls, and equipment you need, but soak them in water as soon as you are through with them. Clean up after yourself frequently to avoid confusion." 
Her show, "Cooking With Master Chefs," provides additional manifestations of this modus operandi, which Julia brought into American living rooms through her encounters with other famous chefs. A PBS piece entitled "Cleanliness is Next to … Impossible" describes a few of them. 
One easy way to clean as you go is to leave a pot of simmering water on the stove as you're cooking. This way, you can clean and sanitize your cooking tools in the moment. Food won't dry on them, and you'll be able to reuse the same tools without the risk of contamination and without dirtying more utensils than necessary. 
Another insight involves keeping a spray bottle of bleach handy to disinfect surfaces that come into contact with raw poultry, meat, or seafood. One thing to note is that a bleach solution should not be stored in a spray bottle; using a rag might be the best route. In any case, disinfecting as you go to avoid cross-contamination is essential to maintaining a sanitary kitchen. I like to use disinfecting wipes for the task because I can toss them in the trash. 
Lastly, according to the synopsis of cleaning tips gleaned from "Cooking With Master Chefs," a habit that's integral to the way I move around the kitchen: "Keep a damp kitchen towel on hand by your cutting board and use it to wipe off sticky residue or spills as they occur." Wiping up spills immediately prevents dry, stubborn messes that take even longer to clean later. 
Cleaning as you cook, in all its different forms, means that when you're done cooking and enjoying your delicious meal you don't have to face a disaster of a kitchen. Using this principle in your own way makes the entire process of food preparation more efficient and, most important of all, more enjoyable. Thanks, as always, Child, for everything you've taught us!