This $4 Solution Solves Your Biggest Drawer Organizing Problems
We independently select these products—if you buy from one of our links, we may earn a commission. All prices were accurate at the time of publishing.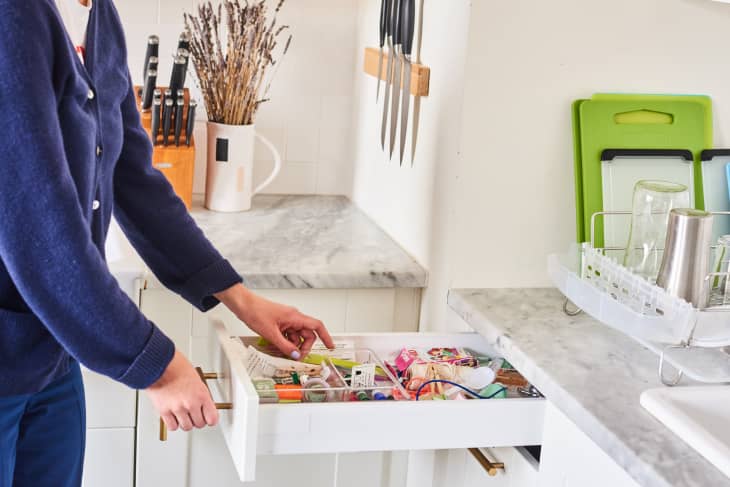 No matter how organized you are, or how much (or little) space you have at your home, odds are that you're familiar with the junk drawer. Like taxes and parallel parking, a junk drawer is just one of those things that seems to appear the second you enter your mid-20s. One minute, your home is organized and uncluttered, and the next you have a drawer filled with half-used tape dispensers, miscellaneous sets of keys, and anywhere from two to five years of junk mail. 
There's a silver lining to the junk drawer, though, as aggravating as it might be — it's a sign that you're at least halfway there when it comes to keeping a clutter-free house. It may seem a little backwards, but gathering all your miscellaneous odds and ends in one hidden location is a whole lot better than letting it exist on tabletops, counters and other frequently used (and visible) areas of your home. Still, it's not ideal. 
Luckily, organizing a junk drawer really doesn't have to be expensive or complicated. Simply adding a series of trinket dishes to your drawer can make a chaotic mountain of stuff look intentional. Maybe one small dish is for keys and another is for loose change. Much like the concept of a junk drawer itself, the idea of everything having a designated area is a huge part of organization.
If you're like me, though, you've likely run into one major problem with this drawer organization solution: The fact that all those tiny dishes move around a lot. When you're constantly opening and closing a drawer, all those organizational items inside tend to get thrown around pretty easily. Your perfectly organized drawer can go from "everything in its place" to a complete mess in just a few days. There's a solution to this too, though — and it only costs $4. 
Adding a non-slip mat to a drawer means everything stays where it should. No matter how much you open or close the drawer, your items will stay in place. And if you need to move them around? No problem. The mat just prevents unwanted movement of all the tiny organizational containers inside the drawer. 
Keeping everything in its place is pretty satisfying, especially when it comes to a drawer that you're using again and again, like a junk drawer, desk drawer or even a silverware drawer. After all, there's no worse feeling than spending an hour or so organizing a messy drawer only to have it all fall apart the second you actually try to access said drawer again. The best part is, for just $4, you could invest in non-slip mats for every drawer in your house if you really wanted to. You don't even have to worry about measuring, since they're easy to cut to size, too.