Kelley & Matt's Harmoniously Thrifted Downtown Loft
We
independently
select these products—if you buy from one of our links, we may earn a commission. All prices were accurate at the time of publishing.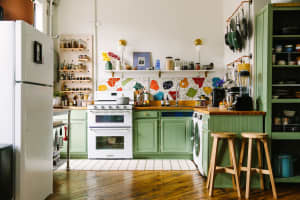 Can't-Miss House Tours Straight to Your Inbox
Keep up with our latest house tours each weekday with our House Tour of the Day newsletter
Name: Kelley Bozarth, an environmental graphic designer, + Matthew Deal, a digital marketer
Location: Downtown Salisbury, North Carolina
Size: 1250 square feet
Years lived in: 1.5 years; rented
Living with a significant other for the first time, Kelley and Matt were pleasantly surprised to see how well their thrifted finds and hand-me-downs blended together. With their wedding on the horizon, Kelley and Matt have made this downtown rental into a home. Their favorite feature is the brick walls — always a topic of conversation and many times a photo backdrop.
Inspired by clean lines, graphics and pops of color, Kelley and Matt's loft apartment is modern and a bit mid-century at the same time. Each piece of artwork is either handmade by Kelley or handpicked to tell a story of their world travels.
Apartment Therapy Survey:
Our Style: Comfortable + warm with a few mid century elements. If given the choice, Matt and I prefer found objects that fit the flavor vs. new pieces.
Inspiration: We like our home like we like our graphics – clean lines , pops of color, and a lot of influence from the past. Antiques, thrifted pieces and things we've collected along the way have kind of built our style by accident… but we're not complaining. I fell in love with the Eames era when I was getting my degree in design, sitting through hours of design history classes. Matt happened to have a similar style that he'd built-up along the way and when we moved in together our homes blended beautifully – better than we could've expected. Neither of us is ever more inspired than while traveling, which is why we've got nick-knacks and art and photos from trips all over the house. One of these days we'll cash in our chips and move our most prized possessions overseas, but for now we're content surrounding ourselves with them and drooling over maps and globes.
Favorite Element: The brick walls. It almost doesn't matter what our furniture looks like – against these walls, beneath these giant ceilings, it all looks good. It's the perfect backdrop – we've shot baby photos, headshots, and videos in front of that wall. That said, we love everything about this apartment. It's our first home together, the first time either of us have ever lived with a boyfriend or girlfriend, where we got engaged (in front of the fireplace channel on Netflix and lots and lots of candles). We've hosted holidays here, walked to many, many date nights downtown, and started our life together in this apartment. We both have a long commute, we travel a lot, and at the end of each day it's all worth it to come home to each other and this apartment.
Biggest Challenge: Our biggest challenge, as 30 year olds still renting, has been transitioning our look from college students to adults. We both started building homes during the recession, so we've slowly collected a few nicer pieces and filled in the blanks with thrift store finds that have the right look and lines.
What Friends Say: Our friends and family love this apartment. We hear that it feels like "us," which is probably the best compliment we could receive, and lots of people say "I've always wanted to live in a place like this," another point we can agree with… which is why we signed the lease immediately after walking in the front door.
Biggest Embarrassment: We live a couple of blocks from a fire station and a couple from the Amtrak station. While we appreciate the safety and convenience of our location, the noise is sometimes a bit much for folks staying with us.
Proudest DIY: As a graphic designer, and being engaged to my biggest fan, I've got plenty of my own handiwork hanging in our apartment. There are sketches, prints, and paintings all around us.
Biggest Indulgence: I can't think of anything in our apartment that we've bought new and for full price. The first thing we bought together for our home was a floor lamp, but we've had our eyes on a bright yellow rug from West Elm for about a year now. It'll happen one day.
Best Advice: Slow and steady wins the race. We could've gone to IKEA and filled every room for the right price, but it wouldn't have half the stories or character we're proud to say our home has. It's not for everyone – definitely a style we like but could see other's thinking of as old, used, worn-down. Our furniture is part hand-me-down, part consignment, with a lot of IKEA to fill in the blanks. When something looks vintage, it is. Keeping the elements of our home authentic, and collecting artwork and accessories from travel, hometowns, and our favorite artists, makes our home feel like it's our own, not a page from a catalog.
Dream Sources: West Elm, Mid Century Salvage, Room & Board, Etsy
We left the original "renter's neutral" paint from when we moved in.
Credenza – Habitat ReStore
Lamp – IKEA
Geometric Print – Chad Hagen
LIVING ROOM:
• Couch, Chair, Ottoman – Natuzzi (Matt's Aunt works for Natuzzi and found him some awesome pieces during warehouse sales). • Rug – Natuzzi (Hand-me-down for us) • Coffee table – Consignment • White Chair – IKEA • Throw Pillows – World Market, West Elm • Side table – Consignment • Table lamp – IKEA • TV Console – Thrift • Floor Lamp – Fab.com • Bookcase – IKEA • Large Bookcase / Hutch : In the apartment when we moved-in & can only be moved out by cutting a hole in the floor and dropping it down! • Desk – IKEA • White plastic chairs – Eames knock-offs from Overstock • "When People Care for you…" Print – Jack Muldowney • People, Places and things" print – Public School • Gallery Wall Prints – New Zealand travel shop, Josh Lafayette Sriracha Print, my own sketches (Kelley)
GUEST BEDROOM:
• Nightstands – IKEA • Loveseat – IKEA • Duvet – Target • Pillows – IKEA • Table – IKEA • Jewelry Cabinet – made by Kelley's dad • Terrarium – World Market
• Map – Kelley's kindergarten classroom
OUR BEDROOM:
• Desk – thrift • Desk chair – hand-me-down • Rug – IKEA • Duvet – IKEA • TV Stand – thrift • File cabinet – hand-me-down • Nightstand – thrift • Artwork – Kelley painted the Mexican wrestler, sketched the Hemingway print, and the rest came from various travels and places we've lived.
• HOUSE TOUR ARCHIVE: Check out past house tours here.
• Interested in sharing your home with Apartment Therapy? Contact the editors through our House Tour Submission Form.
• Are you a designer/architect/decorator interested in sharing a residential project with Apartment Therapy readers? Contact the editors through our Professional Submission Form.
Updated daily with fresh tours full of photos for you to pin & enjoy!