No Power Outlet Nearby? This Portable, Rechargeable Table Lamp Beautifully Illuminates Any Spot In Your Home (and It's on Sale!)
We
independently
select these products—if you buy from one of our links, we may earn a commission. All prices were accurate at the time of publishing.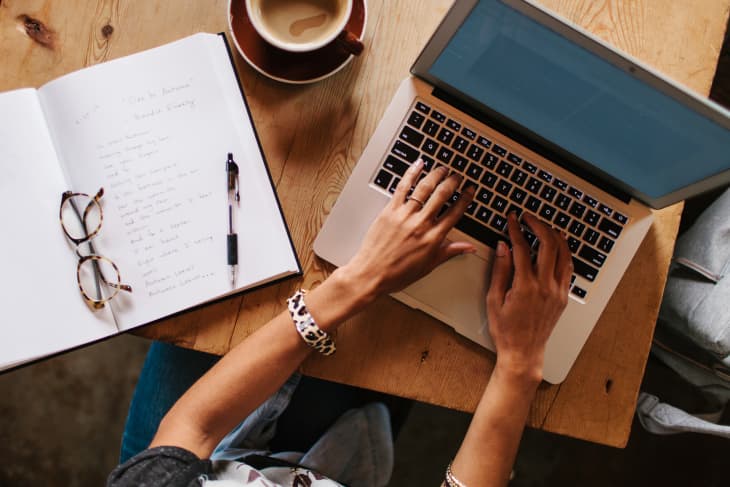 Have you heard about the highly contagious condition known as CPF (aka Cell Phone Fever)? Okay, I made it up, but I know you know what I'm talking about. One person whips out their phone at dinner, and before you know it, everyone at the table is looking down, checking news headlines, responding to texts, or scrolling social media instead of engaging with each other. I try my best not to be a CPF super spreader, but dim restaurant lighting can make it hard to keep my hands off my flashlight app if I want to have a chance at reading the menu. But while I was out to dinner at an outdoor NYC Mexican restaurant a few weeks ago, I discovered these simple (yet super-smart) rechargeable table lamps, and my phone stayed in my bag throughout the entire meal — what a game changer! I needed to know more, and once I did, I had to have one of my own.
My bedroom, which includes my WFH space, has been under construction, and I have been using the (dark!) dining room as an office. A lamp like this one was exactly what I needed to brighten things up without losing the cozy look and feel of the space, so I took the internet to find a style suitable for my apartment. That's when I spotted this homey version from Kevin Francis Design. It features an adorable shade that makes it look like a miniature, tabletop version of a classic floor lamp. (Mine is white, but it's available in gold, black, and brown, if those hues are more your style.) Because it's wireless and comes with a USB charger, the 15″-tall accessory can be used anywhere, regardless of whether or not there's a power outlet nearby. It gives off just enough light to illuminate the surrounding foot or so of space, and it turns on and off with the push of a button. I placed the metal lamp on the dining room table next to my computer, and not only was I able to see much better, I felt the strain on my eyes lift in minutes.
The company doesn't make any claims about how long each charge lasts, but I can tell you that I've used it for a full nine-hour work day without any issue. At the end of the day, when it's time to eat at the table again, I move my computer and the lamp aside to the charging station against the wall, and I have my dining room back. In the morning, it's easy to make it into an office again. It's amazing what one piece of thoughtful home decor can do!
For me, the best part about this lamp is that it is so easy to move around wherever and whenever I need it, whether I am working outside as it starts to get dark, playing cards with friends in the backyard, or chopping veggies in an unlit area of the kitchen. And right now you can snag this piece for more than 25 percent off, so you can brighten up your space without lightening your wallet! If you need some light in your life (and your home), I have a hunch that this must-have lamp will make all the difference.

Buy: Classic Portable Rechargeable USB Metal Table Lamp, $72 (normally $98)