This Family of Four Lives Full-Time in a 200-Square-Foot Off-Grid Airstream
We
independently
select these products—if you buy from one of our links, we may earn a commission. All prices were accurate at the time of publishing.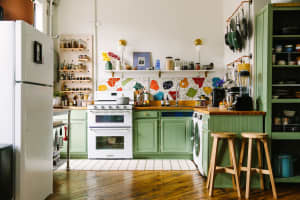 Can't-Miss House Tours Straight to Your Inbox
Keep up with our latest house tours each weekday with our House Tour of the Day newsletter
Families come in all shapes and sizes, and they don't even have to be the one you were born with. I firmly believe you can choose who you call "family." If your type of family involves one or more kids, you know that fitting everyone into a small home is a particular challenge. This month at Apartment Therapy, I'll be showcasing just that—families finding clever, beautiful, and inspiring ways to squeeze everyone (and everything) into a small space. From RVs to tiny homes to petite apartments, you'll be able to see how real families organize, decorate, and inhabit real-life homes. You'll maybe even get some organizing ideas for your own family's home. This family of four (plus dog!) purchased an Airstream just before the pandemic broke in February, and have been traveling, remote working, and homeschooling since.
Big Mountain Skier-turned-startup founder Kina Pickett shares a 200-square-foot 1971 Airstream International with his wife Nellie, their 6-year-old son Ashur, 4-year-old daughter Story, and their dog Scout. There are two sleeping areas: the kids sleep in the back bunk beds and Kina and Nellie sleep in the front converted dinette. "We found a 1971 International that was fully built for off-grid living, complete with tech, a composting toilet, solar, etc.," Kinab says. "We always wanted an Airstream and knew we wanted to set up life on the road boondocking off-grid."
The Airstream isn't just their home, it's a rolling office and schoolroom, too. Kina is the founder of ZPPR, a content operating platform that aims to "help brands create, engage, and move media smarter." Story and Ashur are being homeschooled; Kina's mom is a retired educator and created a curriculum for the kids. But like many families on the road, though the home-on-wheels is vital to their mobile lifestyle, it's really the changing and expansive landscapes around the camper that enrich their lives. "Our Airstream has plenty of space to teach/learn inside, and outside of the trailer provides a nature-scape backdrop—this has expanded our kid's minds and ours, greatly," says Kina.
"We chose our Airstream because we wanted to be mobile during the pandemic," Kina says. "Instead of working from home, we could choose our locations and work from anywhere. Our Airstream is completely off-grid, so we do not need any power or septic. It works for us because it is a self-contained unit and we can travel to different locations and experience different environments and feel safe as a family."
According to Kina, who is also an Airstream Ambassador now, the best part of living on the road in an Airstream is "the endless adventure, being outdoors in nature, and exploring the country at our own pace, all while still being connected to work, school, friends, family."
Is there something unique about your home or the way you use it? Our Airstream is pretty unique. It runs completely on solar. Our toilet is a composting toilet so we never have to sit in a dump line. But storage is very tight… we have to get creative. We use our bathtub in the back as "catch-all gear storage."
What's the biggest challenge you've had to overcome in the design or organization of your small home for your family? I would say the biggest challenges are around clutter and trying to manage a family of four and a dog in 200 square feet. There is a lot you have to let go of, and just breathe deep. Cooking is always interesting, as well. We have to put the kids in the back until the front of the camper is transformed from sleep to wake, and you have to do all of this twice a day.
There is also nowhere to hide—you have to come together as a unit or it won't work. You have to make conscience decisions to be a better person, father, mother, sister, brother… in such a small space everything is compounded, so know that going in.
Describe any helpful, inspiring, brilliant, or just plain useful small space maximizing and/or organizing tips you have: Making sure everything has its place. Also making sure the kids can reach their toys/clothes. Everything in your house has to have a purpose or it needs to go.
Do you have any advice for raising a family in a small space? Planning and really understanding how to shift your diet and entertaining kids on long drives is important. We had to learn to set up a cadence for most things, especially how much and what you can pack in the unit. Getting into tight spaces was not a problem, the tricky thing is how much are you packing, are you finding good camping spots/locations. You need to be very aware of your surroundings and what's happening in the world/at national parks/at campsites, identifying good food, and managing the cooling system. And you need to be cognizant of power and water, with or without hookups, and balancing critical vs non-critical needs.
This submission's responses were edited for length and clarity.