This TikToker Has a Secret Butler's Pantry and Laundry Room Hidden In the Kitchen Cabinets
We
independently
select these products—if you buy from one of our links, we may earn a commission. All prices were accurate at the time of publishing.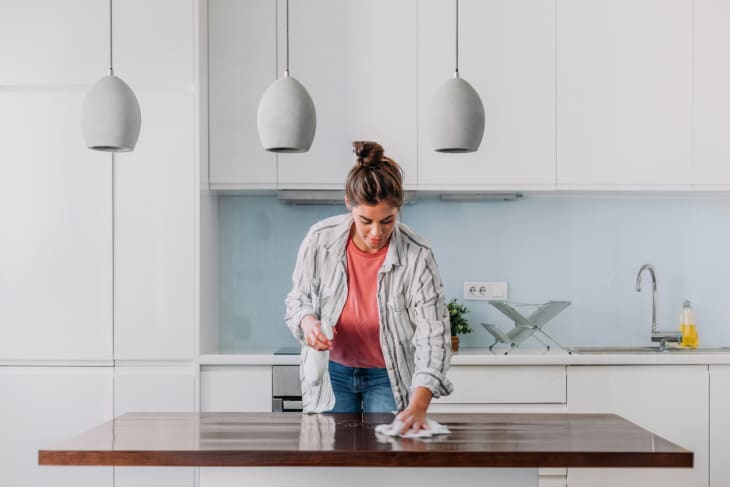 We've all dreamed of one day opening a closet to find Narnia hidden at the back of the wardrobe, and one TikTok user just turned that dream into a reality (though, with a lot fewer fur coats, snow, and magical creatures). Andrea Klassen (@notjustafarmwife) gave a brief tour of her kitchen, which includes a secret butler's pantry and laundry room hidden in plain sight.
Andrea's kitchen is laid out like many standard kitchens. There's an island in the center, which is surrounded by custom built-in cabinets. At the corner of the kitchen, there's a floor-to-ceiling set of cabinets that look like a regular pantry space. But when opened, the doors lead to a secret room with extra counter space, food storage, countertop appliances, and an entire laundry area complete with a sink and built-in cabinets.
"I was so shocked that you had absolutely nothing on your counters … then it made sense," one TikTok commenter wrote. "I'd hide from my kids in there," another added, to which Andrea responded, "I do!"
Andrea explained in the comments that this butler's pantry was designed and built for the space by an architect. She wanted to hide her laundry area and liked the idea of being able to do laundry while she cooks dinner, so the "Narnia" space was born. Andrea also wrote that the washer and dryer unit isn't at all loud while it's on. She can just hear the beep when it's finished and that's it.
So although a butler's pantry and laundry may not be as whimsical as Narnia, this secret space is about as magical as it gets for everyday homeowners who want a functional space without compromising design.