4 Steps for Decluttering the Messiest Spot in Everyone's Kitchen
We
independently
select these products—if you buy from one of our links, we may earn a commission. All prices were accurate at the time of publishing.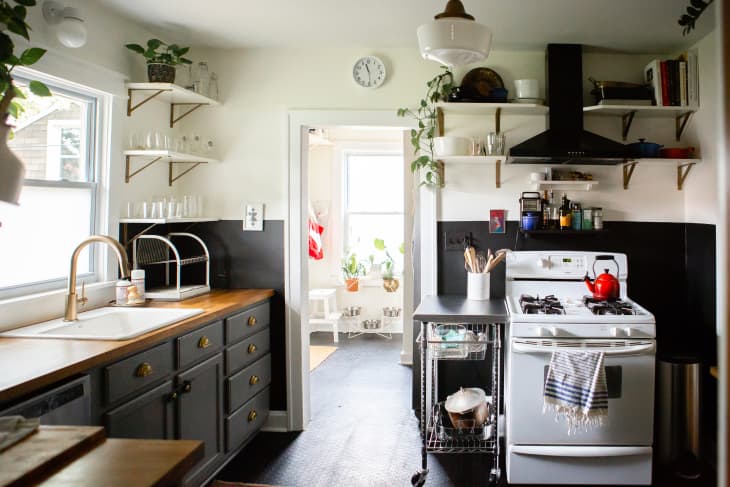 Apartment Therapy Weekend Projects is a guided program designed to help you get the happy, healthy home you've always wanted, one weekend at a time. Sign up now for email updates so you never miss a lesson.
I have areas in my home that feel like such a hopeless mess that I literally close the door on them. I forget about them, if temporarily, in self-preserving denial. Currently, the garage comes to mind. But really, any mess is live-with-able, if it has doors that can close.
However, when that messy spot you shut away is also a hard-working storage space, the consequences are harder to ignore. The cabinet under the kitchen sink is like that: With protruding plumbing and a collection of disparate supplies that you do need to have close at-hand, it's an awkward—yet important—space to organize.
This weekend, rather than ignoring the jumble of clutter in the under-sink cabinet, we're going to make it presentable and functional. 
This Weekend: Organize under your kitchen sink.
Getting the area under your kitchen sink decluttered and streamlined is going to feel so good. Here's how you can go about it:
Take every single thing out from under the sink and set it on the kitchen floor.
Categorize all the items you've taken out from under your sink. As you're categorizing, think about what you actually need to keep in such a prime spot. Get rid of anything that goes somewhere else (excess vases, too-old sponges, etc.).
Before you put items back under your sink, designate specific areas for different kinds of items. For instance, you might store brushes and sponges together, and cleaning products and dish washing soap and detergent in another spot. Since you've already sorted your items, putting them where you've decided they'll go should be easy.
While you don't have to have any fancy organizers to bring order to your under-sink area, they can really help keep everything tidy. This drawer unit makes the most of vertical space. An expandable unit is customizable and works around plumbing. And these multipurpose bins, the solution I personally use, are simple, versatile, and inexpensive.
You can catch up with weekend projects right here. Share your progress with us and others by posting updates and photos on Instagram and Twitter with the hashtag #atweekendproject.
Remember: This is about improvement, not perfection. Each week you can either choose to work on the assignment we've sent you, or tackle another project you've been meaning to get to. It's also completely okay to skip a weekend if you're busy or not feeling the assignment.