This Ultra Popular KitchenAid Attachment Sold Out Quickly Last Summer — Get It Now Before It's Gone
We
independently
select these products—if you buy from one of our links, we may earn a commission. All prices were accurate at the time of publishing.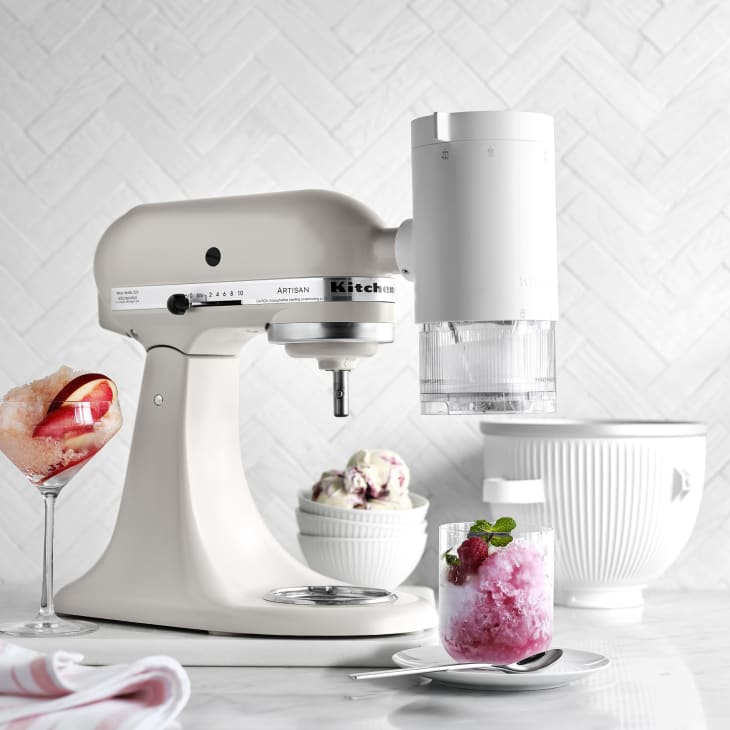 Food has a way of helping us endure even the most miserable kinds of weather. We get through cold, windy winters with heartwarming soups and stews. We put up with spring's rainstorms and unwillingness to leave winter behind in order to enjoy the seasonally fresh veggies. And, for me, there are two foods that make the NYC summer humidity bearable: watermelon and shave ice.
If you're not familiar with shave ice (or have yet to accept it as a top-tier dessert), it begins with super fine shavings of ice that get drizzled with a sweet syrup, usually fruit flavored. That basic combo is delightful on a scorching hot day, but in order to make it at home — which I highly recommend — you need a tool such as this KitchenAid stand mixer attachment. Pick one up now while they're still in stock (they tend to sell out super early every year, which is why we're getting ahead of the game here). When the weather heats up, you'll be thanking yourself that you did.
This device is the easiest, quickest way to enjoy fresh shave ice at home whenever you have a taste for it. It includes a silicone tray with four molds that you'll use to freeze pucks of the liquid of your choice — plain water is a fine base for flavored syrups, but getting to experiment with your favorite juices, sodas, teas, and even coffee is the best part about homemade shave ice. (Check out this Kitchn recipe on how to make easy strawberry syrup at home.) You can also add in a bit of alcohol to make grown-up desserts or mix a few splashes of milk or cream into fruit juices for a creamsicle concoction.
After you have your frozen pucks, load them into the attachment, turn on your stand mixer, and watch it twirl out a delicious flurry of cool, refreshing shave ice. Each puck turns into over a pint of shave ice, so you can make multiple servings at once. From there, you're free to dig right in or add toppings such as freshly cut fruit, homemade or store-bought syrups, and tapioca jellies. Like bubble tea or ice cream, shave ice has endless options for customization. Everyone can flavor it to their tastes, which makes it great for parties for adults and kids.
Last summer, this attachment was so popular it sold out — and stayed sold out for a while. We're glad to see it back in stock now and recommend grabbing one before they're all gone again. It works on all KitchenAid stand mixer models and is compact enough to stow away in a cabinet during the off season, although there's no reason you can't have shave ice year round! Check out this Kitchn recipe for Korean shave ice, which uses sweetened condensed milk to create a luscious, creamy mouthfeel, and start thinking about all the flavor combinations you can try at home.