Lauren & Mikko's Colorful Mix
We
independently
select these products—if you buy from one of our links, we may earn a commission. All prices were accurate at the time of publishing.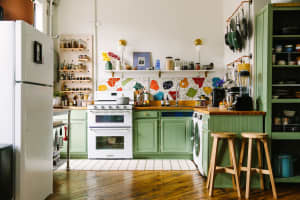 Can't-Miss House Tours Straight to Your Inbox
Keep up with our latest house tours each weekday with our House Tour of the Day newsletter
Name: Lauren & Mikko
Location: Punavuori; Helsinki, Finland
Size: 473 square feet
Years lived in: 2 years; owned
When Lauren and Mikko bought their 473 square foot apartment two years ago, they completely renovated the entire space to create the most efficient layout possible. So despite the small footprint, this bright Helsinki apartment feels spacious, and is chock-full of personal touches.
After opening up the floor plan, Lauren and Mikko weren't shy about adding personal touches to their space. The couple admits to some tense moments trying to reconcile Mikko's preference for modern design and a classic Scandinavian aesthetic with Lauren's proclivity for DIY wall treatments and clusters of "found art." However, walking into their space one certainly agrees that they struck a fine balance between the two styles. In addition to reflecting each of their personalities, this contrast of silhouettes and textures also makes the space more interesting.
Style preferences aside, one obvious element of agreement between the couple is their use of bright pops of color, including a blue tile accent wall in the kitchen, powder blue Smeg, and DIY rainbow mural in the bedroom. While they both appreciate the sleek, classic, white Scandinavian interior—especially in the kitchen—they felt that going all white would be a bit too serious for their taste.
Lauren and Mikko also take advantage of their dining table as surprising source of color. When they aren't hosting a dinner party, they store their tabletop against the wall. This saves space, and the bright pink surface doubles as wall art.
Apartment Therapy Survey:
Our Style: Modern vintage with touches of DIY and found-object coziness; or: Alvar Aalto meets Genevieve Gorder for a whiskey at Sterling, Cooper, Draper and Pryce.
Inspiration: Like most people, we are both inspired by where we come from, and the surroundings we had growing up. For me, that's the South-East United States, and for Mikko that's Finland. We are also both really into bright colors. I think that has been our biggest inspiration of late, and color is nice because it's universal.
Favorite Element: The tile wall in our kitchen. It really adds an element of warmth to our otherwise very stark, white kitchen. We have one friend who threatens to lick the tile every time she comes over. There's just something about it that draws people in.
Biggest Challenge: It wasn't so much of a challenge as a dilemma, but we made the tough decision to sell our sofa. In its place, we now have two Bruno Mathsson chairs that we sort of inherited. We decided to part with our 10 year-old red sofa because we felt that it didn't really fit in with our color palette, and we wanted to open up the living room even more. Replacing the sofa with the two chairs definitely opened things up, but the sofa was the perfect vehicle for lounging on movie nights, and that is something we miss. We like these Bruno Mathsson chairs so much though, that we'll keep experimenting with the no sofa thing for a while and see how it goes.
What Friends Say: "This place feels so much bigger than it actually is." People are always shocked when we tell them that the space is only 473 square feet. The floor plan is really efficient, and gives the illusion of a lot more space than we actually have.
Biggest Embarrassment: The curtains. Oh man. We have no idea what to do. Should they be long? Short? Should they blend in, stand out, make a statement? This is something that we can't seem to agree on, and haven't yet gotten right. We have two big windows and lots of light, which is great, but this far north it's also important to have good window coverage for sleeping during the nightless summer ("yötön yö" in Finnish).
Proudest DIY: Since we remodeled this space almost totally on our own, there are many DIYs. Our favorite is definitely the orange sliding door, with the "unfinished" concrete frame. We knew that we wanted to divide our bedroom from the living area, but we didn't want to sacrifice any space to put in a traditional door. So, we bought the sliding mechanism online and Mikko's father cut us out a slab of plywood from his factory for the door. Then, we went rummaging in his parents' garage to find our makeshift handle (it's different on each side, but we like that).
We are also really proud of the copper towel dryer that we designed ourselves. The plumber was a bit skeptical, but even he agreed, in the end, that it looked pretty cool.
Biggest Indulgence: Definitely the Smeg. Most kitchens in Helsinki have concealed refrigerators, but because we wanted to keep things in the kitchen light and open, that wasn't really an option for us. Having a freestanding fridge in an open kitchen, in such a small space, can really be an eyesore. So, we splurged for the design fridge. It really fits the aesthetic of our space, and we think it was totally worth it.
Best Advice: Curate wisely. Don't fill the space with ubiquitous items just because they are cheap. Good pieces are worth waiting and budgeting for. Second hand items definitely have more character, and usually last longer, than "budget design"—you just have to be patient and persistent.
Dream Sources: Finnish design shops (for old and new designs), Finnish auction houses (for classic 1950s and 1960s pieces), ceramics from the Mediterranean (we are really on a design-tile kick), and of course nothing beats a good yard sale in the Southern US of A.
Danish vintage 1950's phone bench
DIY wall application from used coffee filters
Bruno Mathsson Eva high armchairs
60's Danish Teak bookshelf
POP Table sofa table, table legs are Tick by Linie 58
Ladder by Kartell, "Upper Step Ladder"
DIY pine and birch plywood sliding door with found wooden handles and orange lacquer
Vintage dresser with mirror
Praying hands, vintage candle holders, and cross-stitch are all from North Carolina thrift stores
Artwork by Ville Kylätasku
White Formica Solid Surfacing countertops
Tiles: Bardelli (company) / Iris 1 by Marcel Wanders
Matte white stained solid oak floating shelving
SMEG 50's Style refrigerator-freezer / Pastel blue
Stala Combo composite sink
End-grain oak island countertop
POP Table dining table, table legs are Sinus by L&Z
Hay Stool "About a Stool 32"
Lacquered birch plywood sliding doors
Yki Nummi Lokki (Seagull) pendant light
Vintage curtains by Finlayson
DIY wall application from pastel acrylics
Moroccan style hand painted ceramic sink from Florisa Designs
Hansgrohe tap and shower
Lacquered birch plywood shelves
Vintage mirror
DIY copper towel dryer
• HOUSE TOUR ARCHIVE: Check out past house tours here.
• Interested in sharing your home with Apartment Therapy? Contact the editors through our House Tour Submission Form.
• Are you a designer/architect/decorator interested in sharing a residential project with Apartment Therapy readers? Contact the editors through our Professional Submission Form.
Updated daily with fresh tours full of photos for you to pin & enjoy!