This Lawn Sweeper Will Make Quick Work of Your Leaf-Covered Yard
We
independently
select these products—if you buy from one of our links, we may earn a commission. All prices were accurate at the time of publishing.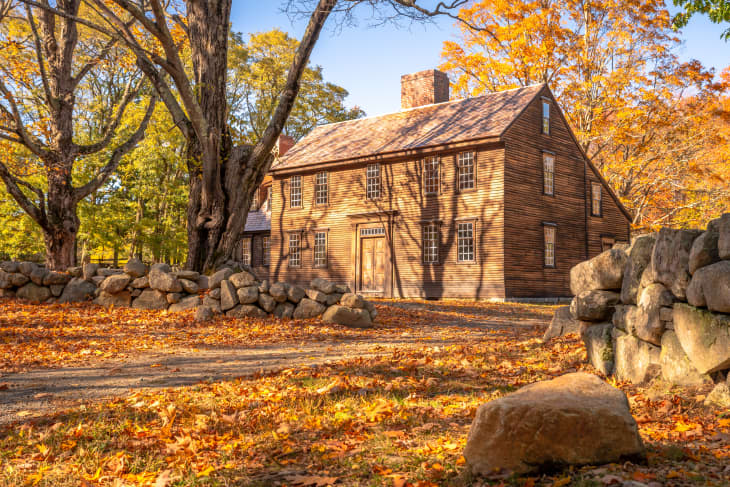 Arguably one of the best things about the fall season is the leaf peeping. Planning a whole trip itinerary to spot this year's fall foliage is rewarding — until you come back home to see that your yard might be an unintended spot for leaf peeping, too. Before you begin raking the abundance of fallen leaves in your front or back yard, you may be interested in one product that'll make the process a little easier.
Arin Jura shared a video to her Instagram account of a seemingly magical yard tool that scooped up all of the leaves in her yard and placed them in a basket. By the time her video ended, the leaf-filled yard was no more and looked spotless. According to her caption, she had three neighbors question her about the lawn sweeper while she was using it. 
Jura continued by saying that it's "truly mind-blowing how well it works, but it's simple enough even kids can [use] it." The magical tool behind the yard's lack of leaves is the VEVOR Push Lawn Sweeper, but the product is (you guessed it) sold out online. Because the product doesn't have a confirmed restock date on Amazon, it might not be available before the fall season is even over. Fortunately, Scotts Outdoor Lawn Sweeper will do the same job. The lightweight, easy-to-assemble power tool has a large collection bag to collect the yard's debris, and its flexible teeth will make sure no leaf (or other trash) is left behind.
For $170, the lawn sweeper is "versatile for summer, fall, or autumn seasons," so you'll have some time to use it before the snow begins to fall. In Jura's video, she also recommended using the Luster Leaf Chute to easily dump your debris. Now that you have a little less to worry about in regards to gathering your yard's endless amount of leaves, you can enjoy the fall. Happy leaf peeping!

Buy: Scotts 26-Inch Push Lawn Sweeper , $169.99