Le Creuset's U.S. Headquarters Has Its Dutch Ovens for Bathroom Sinks, and the Internet Is Obsessed
We independently select these products—if you buy from one of our links, we may earn a commission. All prices were accurate at the time of publishing.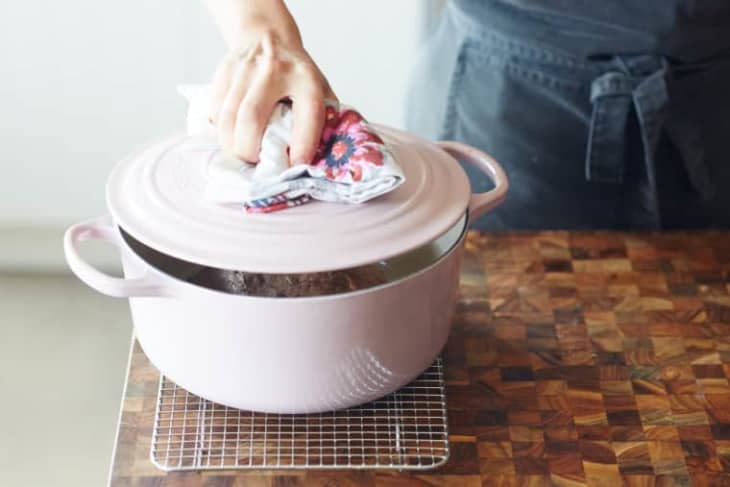 When it comes to using an office bathroom, there's typically not much that could make the experience feel exciting or even just inviting. But as the internet recently discovered, the bathroom sinks at Le Creuset's U.S. headquarters in Charleston, South Carolina are replicas of the brand's signature flame orange ovens, marrying design and functionality in a truly unique, beautiful way.
Follow Topics for more like this
Follow for more stories like this
First popping up on Reddit before making its way to Twitter is a photo from the bathroom at Le Creuset HQ showing two massive orange ceramic and cast iron sinks. While Redditors joked about making beef bourguignon and brushing your teeth all at once, plenty of folks marveled at the impressive design of these brightly hued sinks. One Twitter user did joke that they need soap dispensers shaped like carrots, turnips, and potatoes, while another joked that you'll need to "gently bring your hands to a rolling boil before adding carrots."
Naturally, the rest of the office is equally colorful, with an enviable kitchen that puts the average office kitchen to shame. The space, which has served as the brand's American home base for the past decade, also holds a state-of-the-art test and demonstration kitchen and is home to Le Creuset's marketing, new product development, and global resource staffing departments.
Le Creuset began all the way back in 1925 in France, but found its adopted home stateside sometime in the 1950s. In the decades since, it has become one of the most beloved cookware brands around the world, largely thanks to its signature handcrafted ovens, which are made from durable, chip-resistant enameled cast iron and are known to last decades if treated with plenty of love.
And while you might not be able to use yours as a sink, one Twitter user did offer up a more budget-friendly version, writing, "I showed this to my husband. He offered to create our price point version using Home Depot buckets." Your mileage may vary, but the possibilities are endless.