Le Creuset's Mini Dutch Oven Is the Ideal Solution for My Small Kitchen — and Over $200 Cheaper Than the Big Version
We
independently
select these products—if you buy from one of our links, we may earn a commission. All prices were accurate at the time of publishing.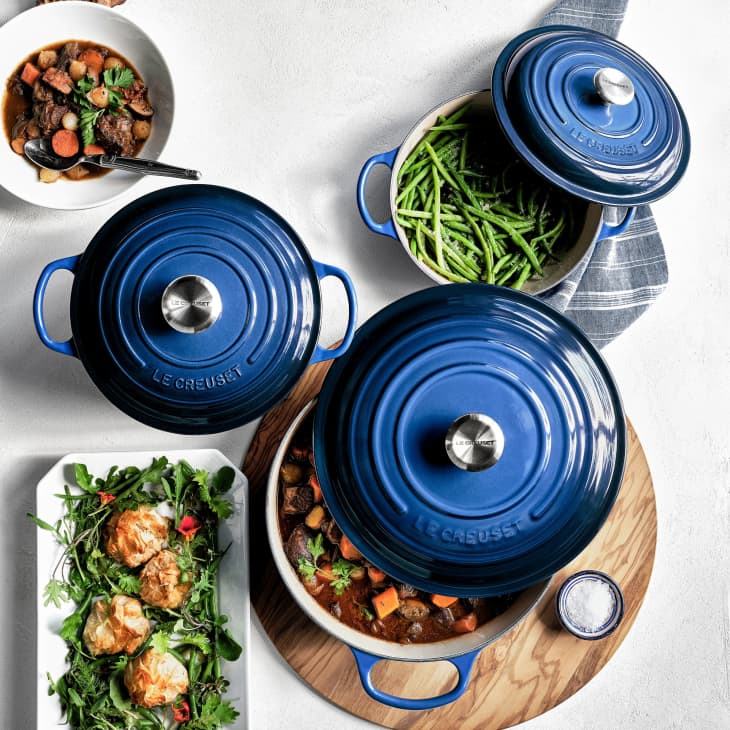 I associate Le Creuset with one particular item: their round Dutch oven. When I picture it, it's probably one of the larger models, in the 5- to 7-quart range, meaning it also takes up more room on my stovetop and weighs a little more, too. In theory, I would love to own one. I know how highly rated it is and that it would be perfect for making big dishes for holidays, pot lucks, dinner parties, and any time I want to have a lot of leftovers. In reality, my small kitchen can only accommodate small cookware. Luckily, Le Creuset understands and embraces that.
Their 2-quart Dutch oven would be a much more reasonable fit in my kitchen and it would be a great way for me to experience the benefits of cooking with enameled cast iron. However, that one can feel a bit narrow, and I found the 2.5-Quart Signature French Oven — an even better option that has an ideal 10-inch diameter for ample stirring room, gives you slightly more cooking capacity, and costs $100 less than the 2-quart (and $260 less than the classic 5.5-quart). Plus, it's available in many more colorways than their 2-quart model. I got it in their new Matte Navy and have been absolutely loving it. Plus, it's over $100 off right now!
Le Creuset's Signature French Oven occupies about the same amount of space on my stovetop as my 10-inch fry pans (actually, a little less, because it doesn't have a long handle jutting out) so I can keep it there all the time without it getting in the way. It has the same lid and dual handles as their Dutch ovens, but the bottom edge slopes up more gently, which I realized I prefer. That design makes it much easier to scrape and stir food and prevents anything from getting burnt. Its 2.5-quart size is just what I need, since I'm usually just cooking for my wife and myself.
One of the first dishes I cooked in it was a potato and carrot dal made with red lentils. At first, I was surprised that I had to wait a minute or two for the pot to heat up, but after realizing that that slower heat time translated to very even and consistent heating during cooking, I appreciated it. My onions sweated and softened without any fear of caramelizing, and the temperature didn't drop too much when I added a big pile of root vegetables. Once I was finished cooking and the stove was turned off, the pot kept my food warm enough that I could get a second helping without having to reheat it.
I don't invite people over for dinner often, but that may change now that I have a piece of cookware that makes me excited about putting together hearty, shareable dishes. I can't wait to make gooey mac and cheese, umami-rich coq au vin, and tender chicken tinga. So far, the enamel interior has been easy to clean and doesn't seem prone to discoloration, which will definitely be important come Thanksgiving when I need it to double as stylish serveware.
High-quality, cast-iron cookware is always an investment, and this versatile cooking vessel is perfectly-sized and perfectly-priced to be well worth your money. It's kind of the Goldilocks of Dutch ovens — not too big yet not too small, not overpriced yet not cheap — and I only wish I'd gotten it sooner.