This Seemingly Counterintuitive Food Storage Trick Actually Makes More Room in My Fridge
We independently select these products—if you buy from one of our links, we may earn a commission. All prices were accurate at the time of publishing.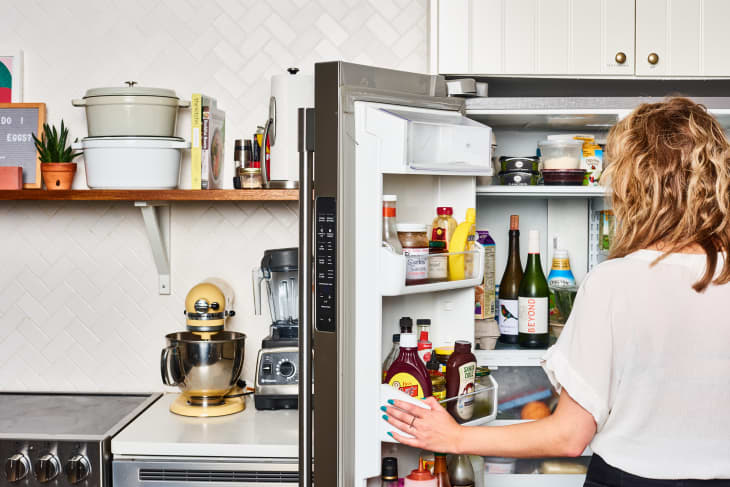 I'm in the process of unpacking the newly remodeled kitchen in the home my family and I just moved into and I'm trying to figure out why it seems so much harder to fit everything we have into more cabinets than we had before. One thing I'm realizing (that seems so obvious) is that I have more of many things because I have such a large family. (There are seven of us.) It takes a lot of space to store five lunch bags, for instance, and our collections of water bottles and food storage containers are larger than that of most. 
Follow Topics for more like this
Follow for more stories like this
Contending with a large amount of cooking gear is a matter of course in my home. I don't feel like I have it figured out, but every once in a while a lightbulb goes off. Recently, I had this kind of epiphany related to storing leftovers. You may think that with such a large family, we wouldn't have many leftovers, but the truth is, I like to cook enough dinner food so that my husband and I, who both work from home, can have it for lunch the next day. 
To this end, I'll often double or triple recipes so we'll have an extra pan of enchiladas or nearly a whole pot of soup. The best is when I have enough leftover food to freeze some for another dinner, but the priority is stashing leftovers in the fridge for easy access.
My favorite solution may seem counterintuitive. Rather than storing leftovers all in one big container, I find that it's more space and time efficient to split them up into smaller containers before storing them. This way, we're able to pull out individual or couple's portions and reheat them in those containers, and then we can easily stick those smaller dishes in the dishwasher afterward. 
By storing smaller portions, we don't have to repeatedly put leftovers into smaller containers down the line as we work our way through our food. Additionally, smaller containers are easier to move around in the fridge to accommodate other items and it eliminates the problem of taking up much-needed space that would have been filled by half-empty, larger containers.
Here's how storing food in smaller containers might play out: 
I make a double batch of veggie lasagna that fills two 9″ x 13″ glass casserole dishes and one other 9" x 9" dish. We eat three-quarters of the larger pan for dinner. When it comes time to clean up, rather than putting a lid on all the original casserole dishes, I split up the remainder of what we ate that night into four smaller containers. The contents of the 9" x 9" dish also get split up into smaller containers. The other 9" x 13" container goes in the freezer (hooray!). We wash the larger casserole dishes as we complete dinner cleanup.
The next day, two of my kids decided to warm up the lasagna and put it in their Thermos containers for lunch. My husband and I each take out an individual portion of lasagna and warm it up. We eat straight out of the container and then put it in the dishwasher without having to deal with transferring leftovers during our workday. 
Once I realized how much time and effort this saves me, and how much smoother it makes our lunchtimes, I made it a "thing" in our home: Our family stores leftovers in small containers. By making leftovers easier to consume, this habit has also resulted in less wasted food, which means we're saving not only time but money too.
Like so many seemingly tiny changes, ripple effects beyond what we could imagine come from something as small as what size container we use to store our leftovers.