6 Living Room No-Nos That Instantly Date Your Home, According to Designers
We
independently
select these products—if you buy from one of our links, we may earn a commission. All prices were accurate at the time of publishing.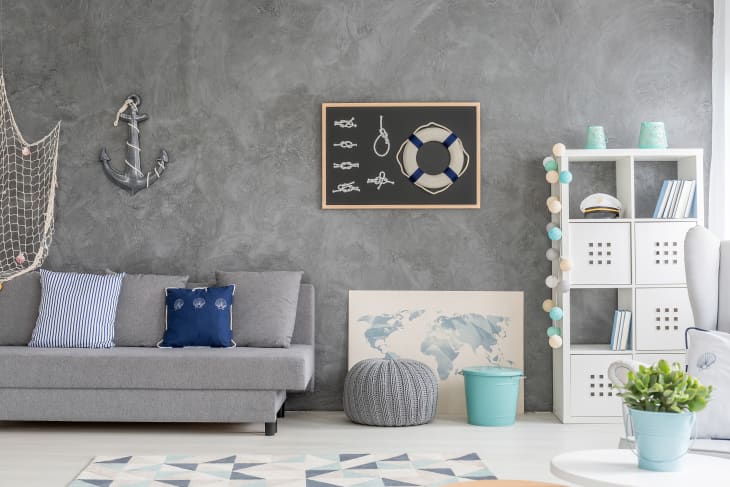 If something is off in your living room and you just can't pinpoint it, no matter how many new throw pillows or pieces of decor you swap out, it might be that a major aspect of the room needs refreshing. Of course, the term "outdated" is subjective, because not only are you allowed to love items from any and every era, but things that were once considered outdated (like mid-century modern furniture, for example) also often come back around the design block and turn into highly coveted items.
Instead of worrying that everything you own no longer stands up to the latest trends, sit with the furnishings you own to consider how they make you feel. Do you still gravitate towards glam mirrors and fur, or do you lean more cottage-like now? Do the boho wall hangings you put up years ago still make you smile, or do you prefer even more minimal art these days? Among these more granular swaps you can make are bigger, more high-impact ones, too, which are largely agreed upon by industry experts. Read on for six common living room no-nos — as identified by interior designers — that may make your space seem more dated than it truly is. 
Here's the thing: If your heart desires a home with a different vibrant color in every room, by all means, go for it! More subdued tones almost always read as serene and calming, though, so while color trends cycle in and out, neutrals will never truly go out of style and could be worth considering if your living room's due for a fresh coat of paint. "If your living room walls are strong jewel tones or most shades of light green or yellow, it's probably time for a new paint job," says Texas-based interior designer Laura Pankonien of The Pankonien Group. Thankfully, wall painting is a pretty simple DIY that can be tackled in a weekend. If you're stumped on what hue to choose, Pankonien recommends "a creamy white shade or a light neutral tan color to add a crisp, bright look to your space." 
When it comes to furnishings, it's hard not to chase the latest trend that's splashed all over your social media feeds. You can avoid buyer's remorse, though, by steering clear of "trendy colors or patterns for big-ticket items, such as upholstery or window treatments," says Ferrandi. "If these pieces are kept neutral, it's very easy to freshen a room with new pillows, rugs, or accessories." 
At one point in the interior design world, more was more … all of the time. Now, designers are exercising some restraint, even in maximalist spaces, to prevent a cluttered look and the overwhelming feeling that too many matchy-matchy or highly embellished items can sometimes create. "Even the chicest living room will scream dated with a Tiffany lamp or a fussy fabric, bell-style shade," says Arizona-based interior designer Jennifer Ferrandi of NoMad Design. "A very simple way to give your living room a quick update is to swap out dated lamps or even just the shades." 
It's no secret popcorn ceilings have waned in popularity. Practically speaking, their cottage cheese-like texture can cast harsh shadows in a room and collect dust, which makes them prone to discoloration over time. Pankonien notes that removing popcorn ceilings can be expensive, labor-intensive, and messy; that being said, she argues that the end result is well-worth it. "The smooth texture will add an instant breath of fresh air to your space," she says. 
Lighting plays such a key role in the design and mood of a space. Think about how much cozier your home feels with table and floor lamps — and how harsh turning on the big light can be in contrast to that. Other forms of overhead lighting can also be harsh or make your space feel a little less current. "Track lighting or large recessed can lighting can instantly date a space," Pankonien points out. Rest assured, though, that fixes are available for every budget. "There are many integrated seamless LED can trims available for an easy retrofit," says Pankonien. If you're a renter and aren't partial to the recessed lighting in your home, the designer also recommends adding multiple other light sources to a room to create a more hospitable, layered look. "Ideally, [you'd have] a dimmable chandelier fixture with at least three other lamps or wall sconces in the space to create a cozy, approachable living room." 
Sure, the all-out coastal theme at your friend's beach house spoke to you when you were growing up, but there are more nuanced ways to invoke the ocean, for example, beyond loading up on seashells. If you want to nod to a specific style or a place with your decor, try not to get too literal with your choices. That way, you won't wake up one day and feel like you are living on a movie set or in a total time capsule (unless, again, these looks will truly make you happy). With furniture, color palette, and decorative accessory choices, Ferandi advises not leaning too heavily into any of-the-moment aesthetic by going with more classic items.