Mark Maček's Modern, Warm & Woodsy
We independently select these products—if you buy from one of our links, we may earn a commission. All prices were accurate at the time of publishing.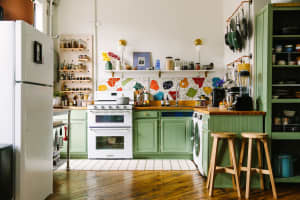 Can't-Miss House Tours Straight to Your Inbox
Keep up with our latest house tours each weekday with our House Tour of the Day newsletter

Name: Woodworker and craftsman Mark Maček, his lovely wife Pamela Peltz and three adorable cats
Location: Gullet Gardens — East Austin, Texas
Size: 1500 square feet
Years lived in: 7 1/2 years — owned
Mark Maček's first impression upon seeing a tiny photo of the exterior of this house in the MLS listing was that this looked like a "house." An archetypal structure, with a gable roof and a homey feeling. Like what you think of when you think of "home." It's good he had that initial thought about it, because what they found when they first visited wasn't exactly dreamy.
Covered in old wallpaper and old paneling, it was hard to see through some of the less attractive features and outdated decor of this house when they first looked at it in 2004, but both Pam and Mark were able to spot potential. And they knew that gorgeous shiplap siding was underneath, just waiting to be uncovered. They realized this was a nice wooden house with good bones.
It took them two years (and operating out of a guest room with a hot plate and microwave) to really get the home to its current structural state, completely tearing out the old bathroom and kitchen, removing walls out of the kitchen to open up the living area and of course, freeing all that beautiful shiplap. Mark, being a talented woodworker, was able to design and build all the kitchen cabinets, bathroom cabinets, the book case, front door and back door.
Though you see Mark's hand and their style throughout the house, how Mark tackled the wooden kitchen columns is quite analogous to how they tackled the entire house. Two large, giant columns have an organic, unusual shape to them. When asked, Mark said it was because he let the wood — and its imperfections — inform what shape the columns turned out. You could say they applied that principle to the entire space: they allowed the home's natural charms to tell them how to shape the style of the house.
Apartment Therapy Survey:
Our Style: Zen monk meets Pierre Cardin.
Inspiration: History. Carlo Scarpa. Jorge Luis Borges.
Favorite Element: The shiplap siding on the interior walls is beautiful and gratifying to work with. Just pry a board off, pull out the nails, cut to length, and nail on in a new location. So easy. Avoiding gypsum drywall is a pleasure in itself. We knew the house was made of shiplap inside when it was for sale, although it was covered with wallpaper, paint, and paneling. Took us many days to uncover it all, and we're still pulling out tacks that held the wallpaper backing in place.
Biggest Challenge: The biggest challenge was tearing out the old kitchen, some walls, and the old bathroom. But it had to be done. I feel very fortunate, as a woodworker, to have the resources to build new wall framing and cabinets myself. I know that not everyone has that option. So we lived in a construction zone for a few years. You have to say, "I'm a mature adult, and I'm not bothered to live in a house with gaping holes in the walls because at least it's MINE." And eventually, many long weekends later, the Plan becomes an actual House. Fist bumps all around.
What Friends Say: "Nice."
Favorite DIY element: It's a work in progress. Ask me again in 20 years.
Biggest Indulgence: George Nelson Sling Sofa
Best Advice: "Never pay full price." and "Note your first impression of a new item before you get used to seeing it there."
Dream Sources: 19th Century bazaar in Istanbul
APPLIANCES
• Discontinued showroom models
HARDWARE
• Door handlesets by Omnia, otherwise recycled
FURNITURE
• Garage sale, salvage, DIY, family "heirlooms," barter, friends
TILE
• Gary Chester, awesome tile man.
• Terrazo tile in kitchen by Wausau Tile
LIGHTING
• Vintage and rewired
BED
• Bedspread from Pottery Barn
WINDOW TREATMENTS
• IKEA
• DIY
(Images: Adrienne Breaux)
Originally posted 4.25.12 – JL
• HOUSE TOUR ARCHIVE Check out past house tours here
• Interested in sharing your home with Apartment Therapy? Contact the editors through our House Tour Submission Form.
• Are you a designer/architect/decorator interested in sharing a residential project with Apartment Therapy readers? Contact the editors through our Professional Submission Form.