Before and After: An $1,800 Makeover Fixes This Jam-Packed, Messy Closet
We independently select these products—if you buy from one of our links, we may earn a commission. All prices were accurate at the time of publishing.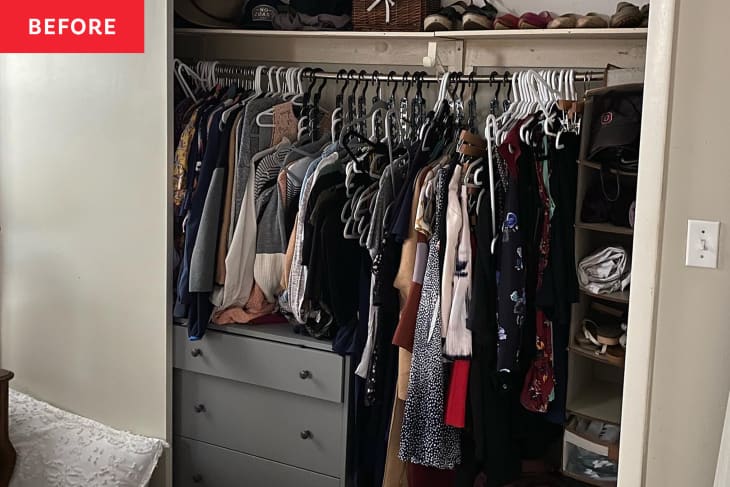 So many creative projects produce a result that appears deceptively simple. It's like looking at a Picasso painting and thinking, "I could do that!" But the amount of work that underlies a straightforward piece can often be significant. 
Follow Topics for more like this
Follow for more stories like this
While some might not consider an organizing project to be a work of art, the same principle applies: A beautifully organized space might look "easy" to have obtained, but it actually took a great deal of thought, planning, and expertise to get there. 
This is the case with this closet masterfully organized by Madeline Wood of Form + Function Organizing. She transformed her client's closet from a "nightmare that didn't fully utilize vertical space" to an aesthetically delightful place. 
Madeline says that after the clients purchased their home, they were unable to fully unpack because of a lack of closet space. The closet was a "jam-packed mess" and boxes were scattered across the entire bedroom. "Feeling overwhelmed and defeated, they called us to completely redesign the closet space and implement a functional organizing system that would not only look beautiful but also be easy to maintain," Madeline says. 
The goals for the project were to maximize efficiency and organization and stay under a maximum product budget of $2,000. With an Elfa system that cost $1,400 and an additional $400 spent on products such as new hangers and baskets, Madeline and another professional organizer were able to make it happen in eight hours.
First, they assessed the closet, which included taking necessary measurements and discussing a design plan with the client. Upon arrival, the organizing team installed the Elfa system. 
Most of the process ran smoothly, except for one minor glitch. "One hiccup we ran into was due to the depth of the closet," says Madeline. "At only 19 inches deep, traditional full-size hangers didn't hang nicely." The solution? "For the left and right sides of the closet, we used kids' hangers instead!"
Madeline and her team customize each closet organization to the specific needs of their client and the types of items stored there. For this one, they designed it around each clothing category. "Everything, from the size of the drawers to the amount of space needed for shoes, is considered in the design process!" Madeline says. 
The best part of the project is that they were "able to fit almost double the amount of clothes in the closet just by implementing a new design."
Another surprising thing about this makeover is that Madeline and her team decided to leave the doors off the closet permanently because the original sliding doors made it so hard to access. 
To anyone seeking advice for a similar project, Madeline says that strategy is important. It begins by decluttering as many items as possible, so that when you get to the redesign phase, you're only working with what you want. 
"Your closet should work for you, not against you," she notes. "Keep in mind how much room you'll need for each clothing category. Measuring how many inches each category takes up is crucial. Count how many drawers and how much long-versus-short hanging space you'll need, and don't forget to save a spot for shoes!"