The Past, Present, and Future of Mid-Century Modern Home Design
We independently select these products—if you buy from one of our links, we may earn a commission. All prices were accurate at the time of publishing.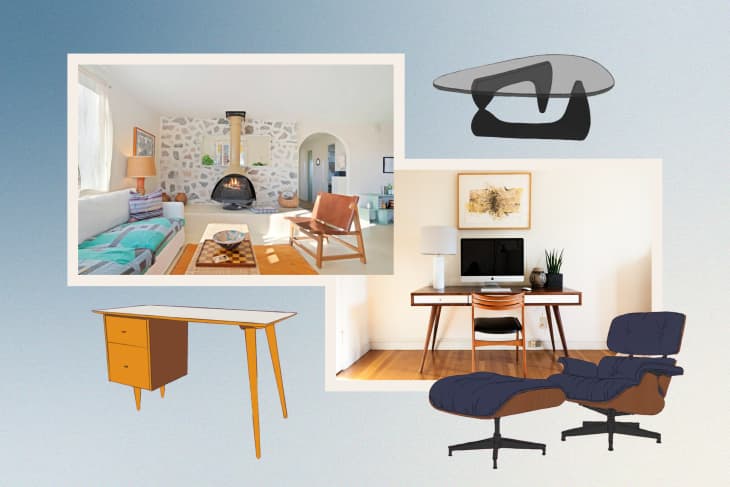 The Eames chair, Paul McCobb desks, Eero Saarinen's white tulip-shaped dining table — you recognize (and may even have replicas or versions of) these iconic furniture pieces that define mid-century modern style. This design movement first hit the American home scene in the 1940s, meaning we've been putting MCM on a (clean-lined, minimalist) pedestal for almost 80 years now. Have you ever wondered why that is and how mid-century modern silhouettes, materials, and designs have seemingly withstood the test of time? (The design world's admittedly pretty quick to jump from one fad to the next, so there's likely a reason here.) Taking it one step further, have you ever wondered how the mid-century modern look even became popular in the first place? Has the MCM style transformed at all since its 20th century inception?
As furniture production and consumer shopping trends veer into more sustainable territory — evidenced by a rise in recycled pieces and widespread thrifting for vintage home furnishings — these questions feel especially timely. That's why I spoke with Sarah A. Lichtman, PhD, the assistant professor of design history at Parsons School of Design, and Mark Masiello, the executive director at FORM Portfolios, a company that preserves classic mid-century modern pieces. Both experts weighed in on the style's long-standing traction, how MCM has evolved over time, and whether its design relevance will continue to endure. For any fellow mid-century modern enthusiasts or home history buffs out there, welcome to a crash course on all things MCM from the past eight decades and those yet to come.
How did mid-century modern originate?
Mid-century modern, as many know it today, got its footing in the U.S. as a post-WWII movement. At the time — 1945, to be exact — Americans desperately craved something new, explains Lichtman, not only prompted by the war but also the Great Depression directly preceding it in the 1930s. "You're looking at a 15 year period where Americans were undergoing tremendous hardship," she says. "In the post war, the economy starts to boom, and Americans are buying things at an unprecedented rate."
Among their consumption was, you guessed it, mid-century modern furniture. The style borrows from early 1900s European modernism, which stateside designers rendered into more comfortable, simplified iterations for the masses — a move that bears a "very American tune," says Lichtman. Mid-century modern pioneers Eero Saarinen and Charles Eames actually helped put the movement (and themselves) on the map just months before the U.S. entered the second World War. The pair submitted furniture designs to a MoMA-run contest in 1941 called "Organic Design in Home Furnishings," landing first place and a department store contract to produce their prize-winning pieces… but then came WWII.
With the seminal groundwork having been laid, the war itself manifested certain mid-century modern materials and inspirations that are now signature to the style. Plywood, for instance, a surplus WWII material, got a second life in the manufacturing of new chairs and tables. Masiello also references the work of Danish-American designer Jens Risom, who used leftover parachute webbing for his famous Knoll-produced Lounge Chair. This creative upcycling sparked a pivot in mentality, too. Designers began "domesticating" wartime motifs and technologies by "taking this imagery, making it less scary, and translating it into mid-century modern forms," explains Lichtman. She uses George Nelson's classic ball clock as an example; it resembles an atom, which became a large point of interest after the dropping of the atom bomb.
Why has mid-century modern style been beloved for so long?
One word: quality. "Mid-century modern resonates today because there's a heightened appreciation for quality," explains Masiello. "Not just quality of materials such as wood, stone, or textiles — or the quality of fabrication — but also the quality of the design itself. A design created decades ago that is beautiful today is, by definition, a high-quality piece."
That's not to say you can't snag high-caliber furniture from today's contemporary market, but mid-century modern's fervent following also harks back to its iconic, expert trailblazers, who created pieces that were practical, beautiful, and at times, revolutionary in terms of their manufacture. In that sense, you're not just investing in a sofa, you're investing in a sofa created by the likes of well-disciplined designers Florence Knoll or Michel Ducaroy. These superior levels of craftsmanship lend an almost artistic element to the pieces themselves. "I think what makes [MCM furniture] so lasting is that they really are works of design — they're designed by designers who have trained, and you can see that," notes Lichtman. "These are intentional objects."
The latter of these examples provides a compelling case study for bringing mid-century modern silhouettes up to 21st century speed. For this collaboration, FORM wanted to honor the legacy of McCobb, one of the most well-known American designers of his time, so the company partnered with modern home haven CB2 to resurrect a handful of his original pieces. From there, the two brands were able to introduce small, function-focused tweaks into the assortment to help match the modern dweller's lifestyle — without compromising form, of course. The Pavilion Collection for CB2, for instance, a wrought-iron patio furniture set similar to one with the same name that McCobb introduced in 1952, now boasts seating with Sunbrella cushions to better brave the outdoor elements. While Sunbrella technology was first invented in the late 1950s, it was initially used for outdoor awnings — not upholstery.
"We are careful only make changes that improve the construction or styling of [McCobb's] designs," adds Masiello. "Some manufacturing techniques have improved, which we can take advantage of, and new types of yarn may have been developed, but integrity is non-negotiable, and all potential improvements align with the McCobb genetics."
On top of technical advancements, today's mid-century modern melange also offers more diverse materials than those of yesteryear. Masiello alludes to the rise in rattan, for one, now more readily available as the light, natural look has become so in demand. Lichtman references a similar occurrence on the fabric front, too, where you can now buy a vintage Knoll piece with a more contemporary textile for an old-meets-new blend.
Is mid-century modern here to stay?
It's tough to predict the duration of home design cycles, but Lichtman and Masiello both believe the MCM style isn't going away anytime soon; honestly, it has essentially surpassed "trend" level anyway at this point. "Timeless is the main ingredient in MCM, and that is a strong concept to strive for, regardless of trends," says Masiello. "There's little doubt that a chair or sofa design by Jens Risom or Paul McCobb will look as beautiful in the 2030s as it does today." (Vintage collectors, take note!)
A league of classics in their own right, these heirloom-worthy styles also carry a nostalgic component, Lichtman adds. "There's a certain optimism that these pieces of furniture represent and continue to represent," she says, referencing the cheery, "rosy hue" often associated with the American post-war period when MCM first emerged.
Above all else, the mid-century modern movement really encapsulates beautiful, functional, aesthetically-appealing works, and the staying power the style's already displayed feels like the ultimate indicator that it's nowhere close to aging out. Plus, if anything, mid-century modern's production practices could (hopefully) become the new norm, especially during today's supply chain shortages. According to Masiello, MCM pieces are characterized by their sustainable, built-to-last nature and the maximization of available resources. This economy of production has started to make a comeback in the commercial furniture market, potentially paving the way for more resourceful, durable pieces in the future. Now how's that for a legacy?