Before and After: Interior Designer Mikel Welch Helped Replace This Curtain Divider with a Storage-Filled Slat Wall
We independently select these products—if you buy from one of our links, we may earn a commission. All prices were accurate at the time of publishing.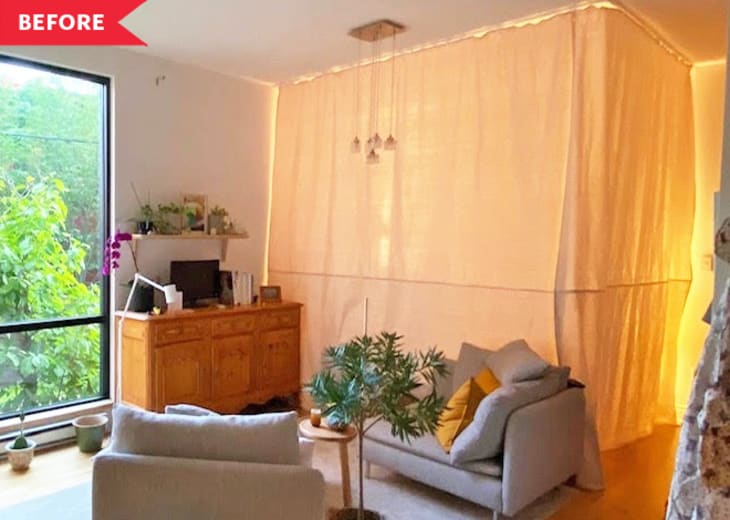 Welch meets Pilar Agueci, a jeweler based in Montreal. She gave a video tour of her 650-square-foot, one-bedroom apartment, spotlighting her living room curtain separator that borders her daughter's bedroom. Agueci asked for advice on how to replace the floor-to-ceiling curtain with something that can give her daughter privacy while also being aesthetically pleasing. Ask Welch, and you shall receive.
Among multiple ideas, Mikel suggested that Agueci create a slat wall. "This is nice because you can actually customize the size of the wall," Mikel said in the video. "It can run from ceiling to floor, left to right, and then you can stain it, you can paint it, and it gives you this optical illusion where you can peek into the next room, but not exactly."
Since that option could require major DIY effort, Mikel posed another idea — to use open-back bookcases that create similar airiness and additional storage. "It gives you a nice, airy feel, you get to put decor on the shelves," Mikel explained. "This is going to allow you the opportunity to curate the space so that your daughter's bedroom also feels like an extension of the living room."
But little did Mikel know that Agueci would combine both ideas into one. "I chose to build a large bookcase/storage unit and slat wall combo with an additional wall and sliding door," Agueci told Apartment Therapy. With the help of Quebec City-based designer Atelier Filz and woodworker Atelier Assembly in Montréal, Agueci was able to bring this hybrid wall separator to life in her home.

Additional ideas that Mikel suggested include installing drapery rods and continuing to use the curtains as well as putting up a simple, tall screen. But Agueci ran with the two most creative options, in my opinion. I only wish I could have seen Welch's reaction to her masterpiece.