Mildew vs. Mold: What's the Difference and How to Get Rid of Both
We
independently
select these products—if you buy from one of our links, we may earn a commission. All prices were accurate at the time of publishing.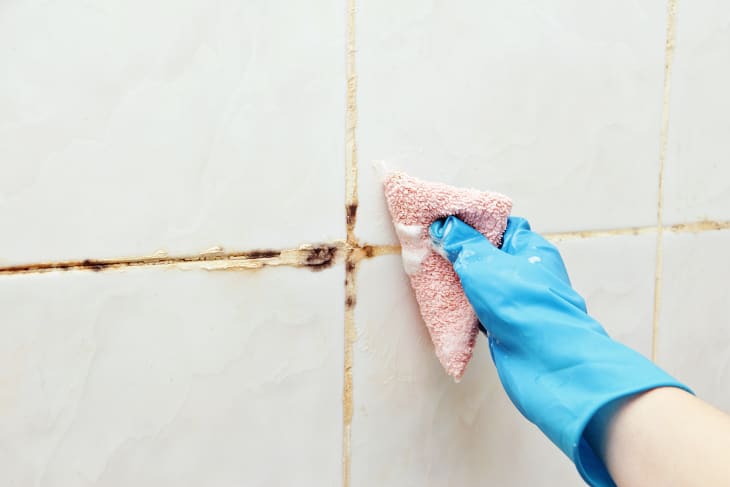 Cleaning your home isn't just about keeping up appearances or reducing stress — some chores also promote health and safety. Lack of hygiene in your space can actually be harmful to your well-being. Take mold and mildew, for example. 
According to the Centers for Disease Control and Prevention (CDC), mold exposure can cause bothersome allergy symptoms or even reap negative effects on long-term health. Common as mold growth is around the home, it's important to clean it and prevent it from spreading. Here's how to clean mold and mildew. 
What is the difference between mold and mildew?
While they are both fungi, they do slightly differ in appearance. Here's how you can identify what is mold and mildew.
Mold is a fungal growth that thrives in moist conditions. Outdoors, mold uses organic matter like plants or dead leaves to survive. Inside, excess moisture coupled with organic material — for example, furniture, walls, or building materials — can promote mold growth, says Alicia Johnson, owner of Cleaning Green LLC in Los Angeles County. You may notice mold growing on a surface, but it usually doesn't stay in one place. "Molds will reproduce by discharging small spores into the air that float and land in other locations," she says.
Mildew is simply a specific type of mold. According to Michael Rubino, founder and CEO of HomeCleanse," there are 100,000 species of mold identified, and it comes in all sorts of shapes, colors, and textures. "Mildew typically refers to the powdery mold that's light in color, such as white, gray, or green," he says. 
How to clean mold and mildew
Many cases of mold and mildew are safe to clean at home; however, the Environmental Protection Agency (EPA) recommends hiring a professional in the case of excessive water damage or mold that covers more than 10 feet of surface area in your home. 
A few important rules of thumb: Always don gloves, a mask, and eye protection when you're attempting to clean mold or mildew, and if you're using chemicals to clean, ensure proper ventilation in your space. 
Because they're the same thing, Rubino says mold and mildew should be treated similarly when cleaning to remove the contamination. Keep in mind that while you can clean mold from non-porous surfaces like sealed countertops, semi-porous and porous surfaces (like hardwood) may harbor mold even after you clean. In many cases, Rubino says it's better to replace the item (or at least consult a pro for an opinion). 
There are many dedicated mold and mildew cleaners, and most contain bleach. Always follow the package instructions when you're using a dedicated mold cleaner. While bleach is an effective way to disinfect moldy areas and remove stains, you can also use hydrogen peroxide to do the job. Here's how: 
Put on your protective gear, covering your eyes, nose, mouth, hands, and wrists when you clean. 
Add three percent hydrogen peroxide to a spray bottle, and spray it directly on the affected surface. "Hydrogen peroxide works slower than bleach, but it's much safer on different surfaces and it's less dangerous upon contact with skin," says Alex Varela, general manager at Dallas Maids of Frisco.
Allow the hydrogen peroxide to sit on the surface for 10 minutes. Proper dwell time is key for removing mold with peroxide. 
With a scrub brush or old toothbrush, agitate the moldy area. 
Thoroughly rinse the disinfected area with clean water, then wipe it down with a clean cloth. Allen Rathey, director of the Indoor Health Council, says drying is vital to prevent spreading mold (remember, it loves moisture). 
How to prevent mold and mildew
Cleaning up mold and mildew can be an arduous task, so it's always better to prevent them in the first place. If you're cleaning mold from water damage, make sure you address the water problem, too. The EPA recommends fixing plumbing leaks to avoid water damage, and always thoroughly drying areas after you clean and disinfect. Ventilation (like fans, especially in bathrooms) and dehumidifiers in moist areas can also help stave off mold and mildew.