Before and After: A Budget $6K Bathroom Three Years in the Making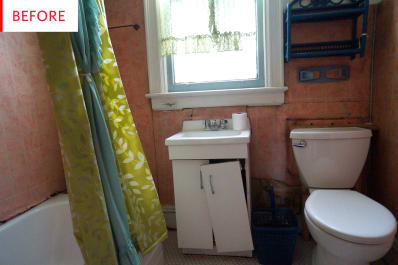 (Image credit: R Eichorn)
You might think that the issues with this bathroom are mainly aesthetic — the dangling door, the intensely peach tiles, for starters. But, in fact, the problems go much further than these superficial concerns. Unfortunately, reader Rachel found that removing the ruffled curtain did nothing to alleviate the mold-infested walls.
In order to fully appreciate the bathroom today, we need to truly understand what was going on in the bathroom before:
The before was an old worn down bathroom from the '50s. The layout wasn't too bad but everything was falling apart and wasn't original to the 1920 house.
The bathroom really wasn't usable. The walls were mold infested with the tub not draining correctly. The worst part was the plumbing was all reaching the end of its life. We had at 5 very expensive emergency plumbing issues causing quite a bit of interior damage before we decided to just rip out all the pipes in the 2-family house and have them replaced.
All of the pipes? In a two-family house?!? That sounds like an absolute nightmare.
(Image credit: R Eichorn)
This is so much better, inside the walls and out. The pale blue paint is perfect for a bathroom, and it looks just right with all the shiny white trim. The new faucet is from Amazon, but the star is that amazing mirror (also from Amazon) that has an elegant quirkiness that really suits a 100-year-old home.
(Image credit: R Eichorn)
The new sink has so much more of a presence, and the wall-hung cabinet above the toilet provides ample storage, and it appears that it was made for the space. Also, we can't be upset that the original woodwork was painted because it wasn't original and it was already painted. That door, however, was lovingly restored, and the results look well-worth all the work.
My favorite parts are all the original items that were were able to save. We stripped and refinished the door, hinges, trim, and bathroom hardware. We really were trying to restore as much of the 1920 character as possible since a lot of it was removed in the '50s during its last renovation.
There were 3 big letdowns during the renovation process. Sadly the original hex floors had to be torn out to replace all of the plumbing below. The other tragedy was the plumbers mistakenly threw out part of the original tub handles when they had to disconnect the tub. I then couldn't find replacements for the missing part so I ended up purchasing a new version. Lastly the recessed medicine cabinet ended up not being recessed since during a work trip framing was done incorrectly without me. It would take too much work to undo it all so it became surface mounted.
Doing it again I would have done a darker grout and a different paint finish. However marriage is a compromise and I promised my husband he could choose those.
Wise words, I suppose. That recessed medicine cabinet story is so infuriating; my mom has a similar story about not being able to supervise work during just two days of her porch construction, and the workers went against all of her specifications. Has this happened to any of you? If so, did you feel there was a gender component at play?
(Image credit: R Eichorn)
This closeup shows us what Rachel was dealing with, and it is wildly intimidating, not even factoring in the mold lurking out of sight. Rachel was kind enough to share a lot about the renovation process, and it sounds like it was a ride, from assuming it could all be done by pros to our intrepid Rachel finishing the project alone:
The bathroom took about 3 ½ years. Our whole house needed to be redone and we concentrated on the emergency items such as heat and our office suite. Since we have our own business we needed the office done w/bathroom to have a place to make money to allow for the extensive renovation efforts to come. My brother came in from MI to help gut it down to the studs at the very beginning of the project. Even though it eliminated privacy, living with open lath walls was preferable to having bits of particle board flaking off into the tub while you were showering.
In NJ you have to use a licensed plumber. During the job he graciously agreed to do the drywall for us as well for additional cost. I personally was done with plastering after skim coating our entire place at that point. We did all the rest ourselves, minor electrical, tile, sistering joists, framing out walls, painting, and millwork.
At the end the bathroom was so small that it was best just for me to do all the finish work myself. My husband gave me verbal support as required. He was incredibly thankful to not have to do any more construction since we were 3 years in at that point. I'm the naïve one who convinced him to do a fixer-upper thinking we could hire most of the stuff out. It turns out that route costs a crap ton of money in the NYC area even if you can find someone willing to do it. The total cost all in was $6,432.
That total doesn't seem bad for a total gut job, especially near NYC, but 3 ½ years is a long time to be dealing with it. Rachel, we salute you.
(Image credit: R Eichorn)
This shower is so gorgeous, thanks to the Carrara marble tile that covers the walls as well as the floors. It's so luxurious—even the cat thinks so—and a total sanctuary. The marble walls seem to suit a 100-year-old house, as they remind me of museums of about that age that also boast marble walls. The bathtub hardware is from Kohler, and it's great to see that the old-school push-button light switch was preserved.
(Image credit: R Eichorn)
While writing up this post, I got momentarily confused and thought this was an "after" photo; yes, the tag says "BEFORE," but the mirror is just so cool, and that salmon color is pretty fantastic, especially contrasted with the dark door. Fortunately, Rachel offered some reassurance:
Also just in case people are worried the original mirror with lighting was saved and re-purposed in a bathroom in CA that we are working on with a friend.
I was worried!
(Image credit: R Eichorn)
Now that the mirror is in a much more useful spot—above the sink rather than across from the shower—this portion of the bathroom can remain clear, with the focus firmly on that beautiful marble. And the new paint color is gorgeous with the newly refinished door.
Getting the room to this point was no mean feat, but it did come with certain perks:
Renovating is not for the faint of heart. It's nothing, NOTHING, like HGTV. It hard to DIY because there is this thing called work and life. Honestly all renovations, regardless of having a GC do it or you do it yourself, is hard. They both are just a different type of hard. I will say DIYers do have a tiny bit more of right to complain about the time it takes to finish. I feel like only .005% of DIY projects are actually completed on time. Once you finish the project though the bragging rights are real.
Thank you, Rachel!