I Regret Ignoring My Mom's Advice After Buying My First House — Here's Why
We independently select these products—if you buy from one of our links, we may earn a commission. All prices were accurate at the time of publishing.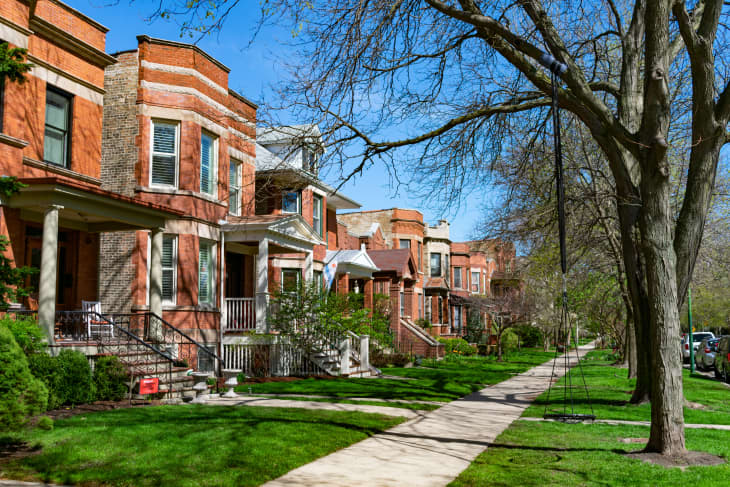 About a year ago, my husband and I moved into the first home we purchased together: a classic Chicago duplex down on the city's north side. Both coming from our respective modest one-bedroom apartments, we were overjoyed at the prospect of investing in a space with two floors, an office, and even a guest room for hosting visitors. While my partner was relishing the thrill of owning his first finished basement, I was champing at the bit to start decorating our blank canvas.
The thing about big blank canvases is there are countless opportunities for design. Even after combining our belongings and mapping out our furniture (yes, I had massive posters of our condo's layout printed so I could map out where I wanted our furniture to go… and I highly recommend doing this!) there were still dozens of blank walls, empty corners, and misplaced stacks of artifacts with no place to call home. 
Follow Topics for more like this
Follow for more stories like this
As many new homeowners do upon kicking off the homebuying process, I also embarked upon my journey to furnish our new abode. Soon enough, pieces were arriving at our doorstep: a retro-inspired Joybird sectional here, a sale-priced and sturdy Pottery Barn dresser there, and a slew of Facebook Marketplace and Craigslist and IKEA finds in between. While my mother listened as I complained about my search for the perfect platform bed, she offered me a crucial piece of advice. Sarah, you should live in your home for a bit to figure out what you actually need.
Stubborn fool that I am, I probably said something along the lines of, "Sorry, Cath, but I actually already know everything there is to know about our new home's needs, and also everything else, ever." Reader, I'm here to formally concede: I was wrong. In the time since we moved in October 2021, my partner and I got engaged, planned a whole dang wedding, reassessed our actual household needs, created a wedding registry, and received a generous bounty of those registry items. In a way, it's like we moved in all over again, all while learning to cohabitate and cultivating new routines that make sense for our family.
Among the many things I wish I'd done differently during our move, my impatience with setting up our home's furniture and design is my greatest regret. Now that I have a better understanding of my partner's routines and personal style, the ways we enjoy spending our time at home and the many supplies we've acquired to sustain our daily lives, I'm realizing that much of the furniture I'd hastily purchased no longer serves us — perhaps never served us — and we're back at the drawing board.  
Currently, I have a few smaller pieces of gently-used furniture that I'm trying to repurpose or rehome. In particular, I'm angry with myself for spending money on coordinating area rugs for our kitchen and living room that I bought impulsively simply because I wanted the space to feel complete. In reality, the rugs collect dirt easily and don't match the aesthetic we've developed, and I'm on the hunt for a new rug. Again.
There's a component of my impulsive furnishing that stings worse than the squandered cost: the environmental impact. All of the shipments and packing materials we've processed with furnishing our home, coupled with the influx of wedding registry gifts has been, frankly, irresponsible. Further, buying quick-fix furniture from big box stores that you self-assemble (often poorly), only to discard after a few years is unacceptable. After living through the intersection of wedding planning and homeownership, I have a newfound awareness of my household's extensive daily contributions to creating waste, and I vow not to repeat this same mistake. 
Looking to the new year, my husband and I are approaching consumption intentionally, considering the source, quality, and carbon footprint of our material decisions. While I can't turn back time and undo what I felt at the time was correct, I'm approaching the next phase of our homeownership with a reduce, reuse, recycle mentality — and atoning for my regret.