Avocado, Mustard, Pink, and All Gray Everything: The Color Palettes that Define the Past 100 Years
We independently select these products—if you buy from one of our links, we may earn a commission. All prices were accurate at the time of publishing.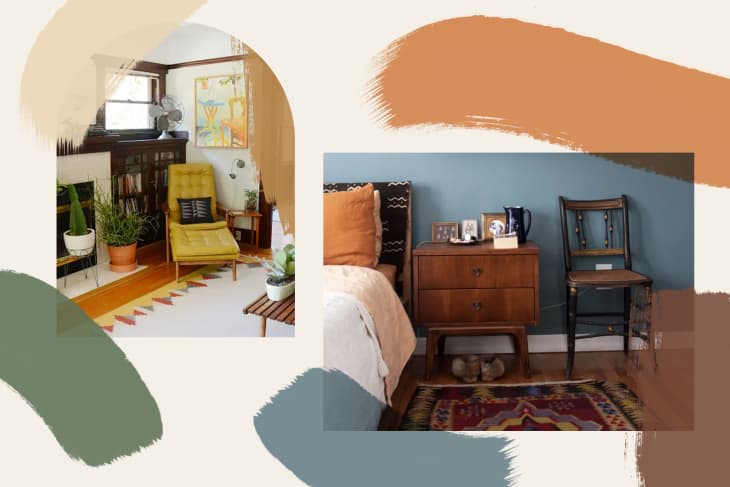 Each decade is characterized by its own set of trends and color schemes — after all, don't you remember when millennial pink was all the rage just a few years ago? When you envision your childhood home (or that of your grandparents' house), do memories of an avocado fridge or salmon bathroom tile coming rushing back? Colors like these tell a story and are reflective of specific moments in time.
And now, get ready for another color-fueled trip down memory lane because I asked a handful of designers and color experts to take a look back at the dominant hues of the past century, starting with the 1920s. I also tasked these pros for tips on using some of these popular palettes from decades past without feeling dated. Read on for a bit of a history lesson and some valuable design ideas for 2022!
1920s: Nature-Inspired Neutrals
Greens, beiges, and creams, as seen in this modern, sunny living room, dazzled the bungalows and Craftsman homes of the 1920s. "This was a time when society was feeling very free and liberated, and people were exploring fashion in a whole new way," says designer Philip Thomas Vanderford of Studio Thomas James.

Think less formality and more of an embrace of things in the au naturel state. This color palette is certainly relevant today, Vanderford states, but keep the saturation levels a bit more subdued. "I find myself tweaking the intensity of these kinds of shades to give it a contemporary vibe," the designer explains.
1930s: Art Deco Jewel Tones
Art Deco style landmarks, including the Chrysler Building and the Empire State Building, made their debut during the 1930s, and Art Deco jewel tones — reds, yellows, and turquoise blues — were present alongside metallic detailing. "I find the black and silver accents of this era to be heavily influenced by this industrial age," says designer Bryan Yates of Yates Desygn. "The 1930s were also a time of great hardship for many, and the bold tones of this time feel almost rebellious."

Today's consumers are less enamored with rich colors and patterns, Vanderford states. "With many people attracted to a slightly cleaner palette, we can use elements of these tones, but pare them down to allow the colors to breathe," he explains, which would be kind of along the lines of this kitchen, which features slightly more muted but still jewel box-like shades.

1940s: Streamlined Modern Shades
Whites, creams, and dusty pastels were prominent when World War II finally came to an end. "I believe the subdued color palette of the decade reflected the peace and serenity that everyone finally felt," Yates says. On the flip side, perhaps the aesthetic was simply a reaction to the boldness of the previous decade. "Anytime society or style goes heavily in one direction, as we saw with jewel tones in the '30s, the pendulum always eventually swings the other way," Vanderford comments. "This was a time society started exploring more modern forms of architecture, and the war required all to become more efficient."

Like today, wallpaper was also having a major moment, as was wood furniture, which can be introduced into modern homes with a bit of a twist. "I'd incorporate some chic accessories and bold throws to brighten it the [soft '40s palette] a bit," says designer Leslie Murphy of Murphy Maude Interiors.
1950s: Candy-Coated Pastels

Sweet shades were all the rage in the 1950s, and pastels like pink, turquoise, and chartreuse arrived on the scene in full force in homes and businesses alike — even kitchen appliances got in on this colorful action. You can see this kind of light, pretty palette at work in this Connecticut entryway, only here these shades are mixed with warm wood finishes and rendered in a graphic, half-and-half paint job so the foyer doesn't look like a retro diner.

Designer Annie Elliott of Annie Elliott Design says a dark shade can also help ground these candy colors and make them more current. "For example, light aqua looks fabulous with chocolate brown or red, and pink is always terrific with a dark olive green," she notes. Alternatively, consider pairing these hues with a bright white. As Elliott states, "Using less color and more white makes pastels feel fresh and new."
1960s: Groovy Mid-Mod Hues
Psychedelic colors such as avocado green, black, and white extended beyond just the fashion world in the 1960s; they showed up on walls, furnishings, and textiles, too. If you love color but just aren't wild about Day-Glo fluorescents, simply "take the brightness down a notch," Elliott advises. "You'll be amazed how many [colors] you can get away with."

Alternatively, keeping your larger goods and furnishings neutral and opting for vibrant accents is another viable, contemporary approach. "A deep brown curio cabinet up against a white wall — with rusty orange decor accents atop a cream and canary yellow rug — can feel incredibly fun and eclectic but still modern enough for today," says designer Nina Grauer of Dekay & Tate.
1970s: Earthy Neutrals
Harvest gold, mustard, rust, pumpkin, and other earthy browns made their way into homes of the '70s, where following the Vietnam War, they also laid claim to appliances like refrigerators and installed fixtures like bathroom floor and wall tiles. "While the psychedelic colors of the '60s were fun and bubbly, what people really needed was a home that represented calm and relaxation," notes designer Malka Helft of Think Chic Interiors. Plastic accents, which had made waves in the '60s, were no longer novel, and thus, "people were ready to return to nature," Helft adds.

To make the '70s earth tones more 2020s, the color pros suggest taking the warmth down a few notches. "Avocado green becomes dark olive; for example, harvest gold dries out to beige, and pumpkin moves closer to Hermès orange," Elliott offers.
1980s: Postmodern Primaries
The '80s were, in part, characterized by punchy Memphis-inspired blues, yellows, and reds, as well as a bevy of neon shades. "Design was following the societal shifts of the time with more acceptance of unconventional, mismatched items coming together to create a cohesive design concept," says designer and color expert Kristin Bartone of Bartone Interiors.

Bartone believes punchy primary colors are always in style and can be used to lacquer furniture or as upholstery options. "People still want that 'shake up' but in smaller bits," says color expert and textile designer Lori Weitzner. "Used in the right way, with accents in accessories, art, throw pillows, for example, they can bring fun, self-expression, and energy to a space without it feeling overwhelming as it might have in the '80s."
1990s: Beautiful Beiges
The 1990s were all about the colors of Tuscany: beiges, sages, terracotta, putty, and earthy reds, which marks a stark contrast to the punchiness of the prior decade. "McMansions arrived — and with them, a longing for rustic elegance and the neutral and natural colors of the Italian countryside," Weitzner explains.

Today, Bartone continues to incorporate such hues in her project's serene spaces, including bedrooms and bathrooms. "These earthy hues are quiet and calming and can be used in a variety of materials," she says. "I like seeing them in their natural state of materiality like in natural stone flooring or granite countertops."
2000s: Grounding Browns and Blues
Spa and vacation-inspired blues were omnipresent in the 2000s, while beiges began to give way to darker browns. Brown wood finishes are still certainly en vogue today, notes designer Layton Campbell of JLayton Interiors. "Use these warm wood tones in your case goods, but still consider a spa blue for a linen or bouclé fabric, adding texture but with easy breezy color."

Annie Sloan, paint and color expert and creator of Chalk Paint, suggests incorporating these hues alongside what she calls a "disrupter" shade — think hot pink, zingy orange, or bright green. As Sloan explains, "It will stop the scheme from feeling dated or unimaginative and will represent our innate human desire for creativity, excitement, and fun!"
2010s: Gray's Heyday
Gray all the way was the name of the game in the early 2010s, but by the end of the decade, things began to brighten up, with hints of mint and blush making an appearance. Gray emerged as an alternative to the beige tones of the 1990s, explains designer Sara Hillery of Sara Hillery Interior Design. "As designers and consumers appreciated the comfort of beige, they began to seek a little more variety," she says.

Gray can look excellent in modern and traditional spaces alike, says designer Ahmad AbouZanat of PROJECT AZ. "Try a monochrome look with various shades of gray, or opt for other warmer shades," he suggests. AbouZanat also enjoys utilizing gray as a background when allowing accent colors to shine. Designer Linda Hayslett of LH Designed finds herself using grays with mint and blush in her own projects, even to this day. "I'll pair them with really dark hues, like in a bathroom, or use pale tones with a blush to make a space feel sweet," she says. "Modernizing the color gray just takes texture, pops of color, and layering."