These 2 People Moved to States Offering $10K to Relocate. Here's How It Went
We
independently
select these products—if you buy from one of our links, we may earn a commission. All prices were accurate at the time of publishing.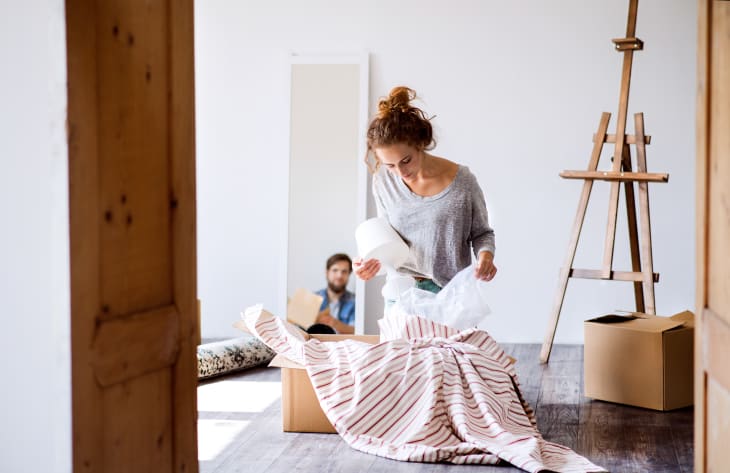 Have you ever dreamt of picking up your laptop, packing your suitcase, and moving somewhere totally new? Perhaps you've fantasized about reinventing your life, experiencing new restaurants, exploring new neighborhoods, and making new friends.
Some places are making it easier to do that, thanks to remote work incentives. States from Vermont to West Virginia are offering remote workers up to $10,000 to move their home base and inject some vibrant energy into regions trying to reshape their image. These programs gained even more traction in 2020, and there's a good chance you've been tempted by the cash offers and charming small town vignettes.
But what happens when you actually take up a town on one of these remote work incentives? Two remote workers shared their experiences moving from big city hubs — Washington, D.C. and Atlanta — to regions where they didn't have communities, connections, or a go-to coffee shop. Here's what happened.
Arkansas offers a slower pace and easy ways to connect with others.
The cost of living in Washington, D.C. can be overwhelming. Anela Malik, the content creator and influencer behind Feed the Malik, and her husband felt the squeeze. When they decided it was time to make a move, their search spanned everywhere from a quick pop over the river to Northern Virginia to a cross-country flight to Tucson, Arizona. "Our priorities were to find a place with a lower cost of living, solid cycling for my husband, access to nature for both of us, and a growing food scene for me," says Malik.
That search — and the offer of an incentive program — led them to Northwest Arkansas, an area that hadn't been on their shortlist. In fact, they hadn't even heard of the region, much less considered visiting or living in it. As they researched the spot, famously home to the Ozark Mountains, they were surprised it hit all of their criteria. They decided to visit before making any quick decisions. "That visit cemented for us that the area was a place we could love," Malik says. "We made friends on our two-week trip there, found great food, and really enjoyed the area." Add in a $10,000 cash bonus plus a free mountain or road bike and they were sold.
In moving to a smaller city, Malik was realistic about her expectations and made an effort not to compare NW Arkansas to D.C. or anywhere else. She's lived all over the world, in places of all sizes, and knows that each place has its advantages. The one thing that was difficult to adjust to was leaving behind a place where she had become accustomed to public transit and walkability. NW Arkansas is a car-centric region. "Since we shared a car between me and my husband, sometimes it felt a bit limiting if we were both busy at the same time," she explains.
Anyone who's moved to a new place as an adult knows how hard it is to meet people. So what was it like for Malik, moving to a more rural region, especially coming from Washington, D.C.? She says she fell in love with the area because of how welcoming the people were and how easy it was to make friends. When they first visited, Malik's husband struck up a conversation at a coffee shop. By the end of the visit, they had dinner with that coffee shop stranger and their partner, and, when they moved there, the four became friends. "I always tell this story to illustrate how I felt like, in NW Arkansas, yes, the pace was slower than D.C., but that also meant it was easier to connect with people in the community if you put yourself out there."
She adds, "The area is definitely not as diverse as D.C., but in a way that made spaces that were designed for BIPOC folks even more special, and I feel like lots of folks really leaned into events, meetups, etc., to build community among marginalized communities."
Malik and her husband have since relocated again, this time to Portland, Oregon. It was a move driven by changing priorities — their family is there and, as those family members get older, they want to savor the time they have with them. But that doesn't diminish what their NW Arkansas move meant to them, and Malik gave a resounding yes when asked if she'd do it again. "I miss NW Arkansas every day and still dream about maybe moving back there one day," she says.
Tulsa allows transplants to check off things on their "someday lists."
Back in 2016, content creator and remote work educator Libryia Jones took a group of people on a trip around the world. She was already a remote work advocate, but this set into motion a move that's now become her home, because she met another woman who applied to Tulsa Remote and raved about the program.
The timing was right. Jones' daughter was graduating from high school and, with her remote work, she no longer had strict ties to her home in Atlanta beyond her network of friends and family. 
But knowing she'd always have those connections and she could make new ones, she applied. Soon enough she was accepted and made the move to Tulsa, one of the more urban areas offering a remote work incentive program. "I tried not to have too many expectations, but, if I think about what my biases were, I assumed it was a flat place in the Midwest with a bunch of cowboys." 
The city is a former industrial hub that Jones says is experiencing a rebirth, which adds to the vibe that attracts remote workers. She explains that everyone in the program, and many outside of it, are there to lean into adventure and design a life that they want.
"Everyone's doing the things on their 'someday list,' from acting to opening businesses to starting clothing lines. It's infectious!" says Jones. That's leading to vibrant growth in the city. "People didn't hang out downtown in Tulsa, even just three years ago, and downtown is becoming this cool place to hang out, to kick it, to engage, to get business done, to network, to do free things. It's becoming a hub," says Jones.
Jones said friends asked her whether she anticipated there would be enough diversity in Tulsa, particularly as a woman of color. She was surprised to learn that not only does Oklahoma have a rich history of Black migration and Black towns in the late 19th and early 20th centuries, but it also doesn't shy away from telling the parts of its story that aren't as easy to sit with. 
"Tulsa is the place where they had the Race Massacre on Black Wall Street, and it's working to atone for its past instead of pretending like it didn't happen," Jones says. "You can walk around downtown and see the city talking about its past and working towards a better future."
As for finding community, the personalities attracted to a program like Tulsa Remote made it easy. If you're going to pick up and move to a new city, you probably have a sense of adventure and are eager to meet others with the same zest. Tulsa Remote brings everybody together in that sense. "Tulsa Remote has done an incredible job of not only building a community but nurturing that community. So many of us left our homes, friends, and families to come here. They've intentionally supported us in building new villages," says Jones. 
She notes that not only has she made friends and found community through the program, but she's also met locals who are involved, and made friends everywhere from the gym to restaurants. "On any given day, I can sit at a restaurant bar and strike up a conversation with anyone sitting there," says Jones. The people in Tulsa are, in her words, ridiculously friendly.
That doesn't mean it all went smoothly from day one. Jones recounts a story she can laugh about now, but that defines what it's like to move to a totally new place. "Atlanta is the South. Tulsa is kind of the South. But we love Publix in the South. In Tulsa, [the main grocery store chain is] Reasor's. My first week, I was walking around Reasor's. The layout was totally different, and I couldn't find the things I normally find at Publix. I stood in the grocery store aisle, just full out crying over something like [not finding] my brand of nacho cheese. But it was over more than the items and the Publix. It was, am I doing the right thing? None of my friends are here, none of my places are here. I have to build a totally new routine."
Looking back on her time so far in Tulsa, Jones says she always thought she could feel at home anywhere, especially as someone who picked up and traveled for an entire year. But in Tulsa, she realized her sense of home isn't about the same place, but having the same feelings — and those are something she can cultivate. "I've been here a year and a half. I purchased a house here before I even moved. I'm actually looking for another place here in Tulsa! It's been totally worth it — totally a cool experience," says Jones.