This Unexpected Living Room Storage Solution Has Majorly Transformed My Narrow Kitchen
We
independently
select these products—if you buy from one of our links, we may earn a commission. All prices were accurate at the time of publishing.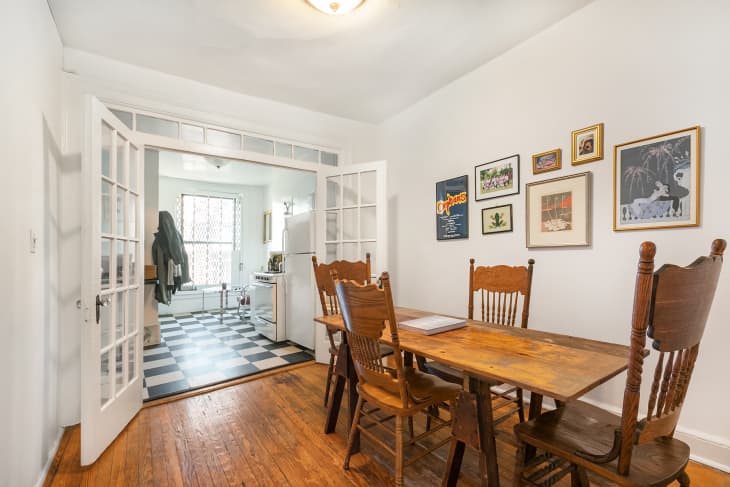 Like many New Yorkers, I live in a railroad style apartment, which means that my living room and bedroom are connected via one long hallway (which also happens to house my kitchen). As a result of this layout, my cook space is majorly narrow. On top of that, because I live in a one bedroom apartment in Manhattan, I really don't have a ton of storage for basics like cups, plates, and all of that jazz either.
Despite having limited cabinet space, I'm by no means willing to part with my beloved glassware collection. I've spent years scouring thrift stores for beautiful crystal wine goblets and old fashioned glasses that I love to bust out when I entertain. After living in my apartment for about a year though, I was still struggling with where to house these pieces, given that my main cabinetry was already filled up with everyday water glasses and coffee mugs. My kitchen is too cramped for me to install any type of open shelving, and I wanted to keep the overall look somewhat minimal.
While browsing online, I came across this amazing credenza from Target, which is narrow enough for my space while still being large enough to really make a major storage impact in my NYC kitchen.
I actually managed to locate this piece on Facebook Marketplace, which saved me the hassle of assembly and wait time, but from past experience, I'll tell you that Target's online delivery is super speedy, and an item like this one will ship out in just a couple of days.
Since my kitchen flooring is black and white, this white and gold piece complements my existing space perfectly and looks so sleek. I also love the fluted look of the cabinet front, which is super on-trend and stylish. I keep glassware in two of the cabinets and use the third to hold extra rolls of paper towels, since it's always more economical to buy those in bulk!
Yes, you'd typically see this sort of piece in a living room or an entry, but what I also love about having this piece in my kitchen is that when I have friends over, I can easily use the top as a buffet. There's plenty of space to set out drinks and snacks for people to grab, and since I have no dining room, this piece makes up for that, too. This will be especially useful when the holiday season rolls around, and I start to host larger groups. In the meantime, I'll be enjoying the fact that I won't need to curb my glassware shopping addiction anytime soon… I still have a bit more room for a few extra pieces.