Nathan & Hannah's Mid-Century Modern Mission
We independently select these products—if you buy from one of our links, we may earn a commission. All prices were accurate at the time of publishing.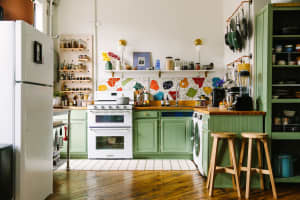 Can't-Miss House Tours Straight to Your Inbox
Keep up with our latest house tours each weekday with our House Tour of the Day newsletter
Name: Nathan & Hannah (Foxy, our long-haired Chihuahua)
Location: St. Louis, Missouri
Size: 1362 square feet
Years lived in: 5
Eero Saarinen's Gateway Arch is the tip of the mid-century iceburg in the Saint Louis area. Case in point: Tucked in among more expected suburban homes, is the gem of Ridgewood, a time capsule of a subdivision, peppered with modern ranch homes built as affordable and efficient homes in the the 50s. Despite their smallish footprints, these homes were built to maximize sense of space through vaulted ceilings, tall windows, and open floor plans. At the time, they represented a new way of thinking, the likes of which were featured in Better Homes and Gardens.
1953 issue of Better Homes & Gardens featuring neighboring model home
Today, the insides of Ridgewood homes are a mixed bag, with contemporary renovations and "upgrades" ranging in style and quality. Enter Nathan and Hannah, part of a small community of people buying these homes and slowly restoring them to their original modest glory. Instead of adding on, for the past five years the couple has largely taken away, namely coats of of paint covering warm woodwork on sliding doors and ceiling beams throughout the house. They've also shown an admirable devotion to finding furniture appropriate in period and/or scale. (If anyone is interested, the leftover spoils of their estate sale and craigslist hunts are listed on Etsy).
Fittingly, their space is as neat as a pin (all year round we're told) without extraneous furniture or needless ornamentation. Perhaps because it's their mission to lead by example – to showcase their home (in part through the website Modern Ridgewood), and educate others on the benefits and beauty of their chosen neighborhood and its architectural concept. It is hardly a modest endeavor.
Apartment Therapy Survey:
My/Our style: Mostly mid century and Danish modern, with a mix of some newer complimentary pieces.
Inspiration: Inspiration for us can come from just about anywhere, magazines, vintage design books, art, photography, fabric, furniture, etc.
Favorite Element: Open floor plan. Even though our house isn't very large, it has a great flow while still providing some separation of the more private areas from the public spaces. All of the main living areas have easy access to the covered patio. This makes outdoor entertaining and enjoying the back yard a great way to expand our living space.
Biggest Challenge: One challenge has been furnishing our space. We moved into the house from a small one bedroom apartment. It has taken us some time to find some of the furniture and other items to fill the space. We have also swapped out a lot of pieces as we find something new or different.
What Friends Say: Anyone who hasn't been here before usually comments on how much larger the house seems on the inside. We have some friends who share styles similar to ours, but even those who don't usually find our space to be very comfortable.
Biggest Embarrassment: Floors. Neither one of us are big fans of the carpet, and it's something we hope to change that soon. Second on the list would be the kitchen. Although it is perfectly functional, and was new when we moved in, the materials and finishes are not our choice.
Proudest DIY: Restoring the closet doors, pocket doors, and beams. All of the woodwork in the house had been painted over prior to us moving in. Refinishing some of the wood elements added warmth and texture that was lacking, and helped restore some of the period detailing original to the house.
Biggest Indulgence: Probably the sofa in the second living room, but it was worth it since we use it so much.
Best advice: If you are looking to buy or rent, don't get something at the top of your budget. We haven't, and it has allowed us to make improvements and find furnishings to make our place our own.
Dream source: We are always on the hunt at antique shops, thrift stores, Craigslist and estate sales. Sometimes, half the fun is searching and finding items that need a little TLC. It would be great to find that one little shop somewhere that has never done an internet search for "Eames".
Resources:
Couches: The smaller sofa in the living foom is the "Bantam" from Design Within Reach, which we purchased as a floor sample. The two-piece sectional sofa in the TV room we custom ordered from Thomasville.

Dining Table: The dining table is also from Thomasville, and was from the same collection as the sectional sofa. The dining chairs and sideboard are from Crate & Barrel.

Hutch: The dining hutch was a craigslist find.

Radios: All of the radios are from antique shops/thrift stores/flea markets, with the exception of one or two which I got on ebay.

Eames Lounge: My dream chair was a recently craigslist find!

Dressers: The dresser in our bedroom was a local ebay purchase, and the chest of drawers in the guest room is from TFA.

Office cabinet: Also from TFA.

Patio table and chairs: We got this set at Sears (if you can believe it!).

Butterfly Chairs: I got the frames on craigslist, and the new seat covers are from LeLu, an outdoor/patio shop in Des Peres.