I Was Taught to "Navy Dishwash" by My Parents — and I Still Do It Today
We
independently
select these products—if you buy from one of our links, we may earn a commission. All prices were accurate at the time of publishing.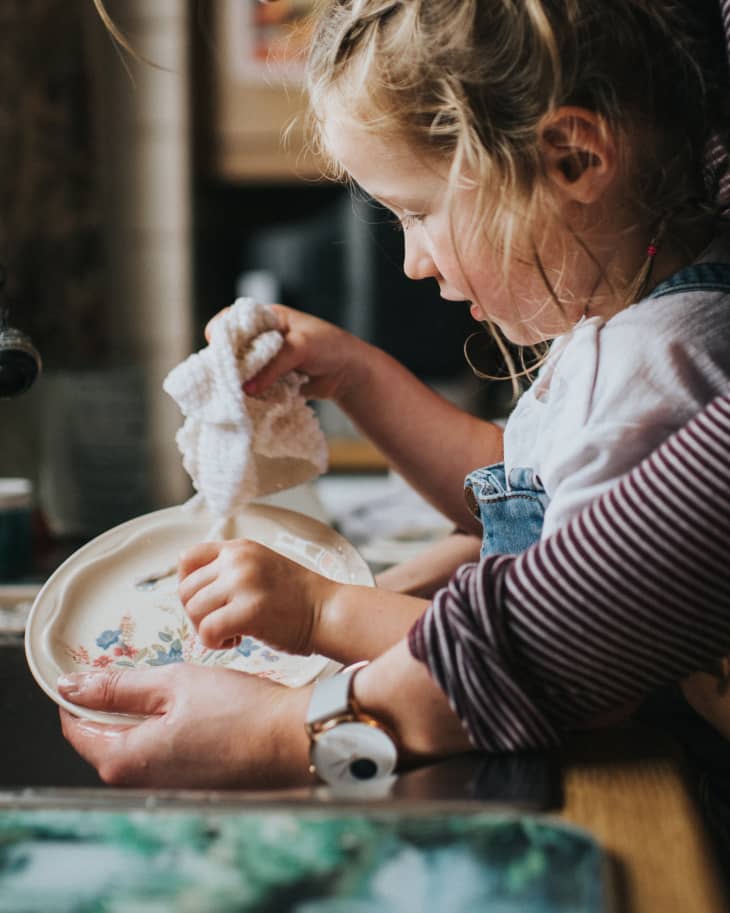 I was born in Berkeley, California, to two Baby-Boomer Deadheads and was raised during one of the worst droughts the state had ever seen. So much of what my parents instilled in my brother and me revolved around taking only what you need, and not being wasteful. As Californians through and through, the most precious, important thing for us was also the simplest: water. 
When I was growing up, my primary chore was to do the dishes, while my brother's was to take out the trash (and recycling and compost bin). While mine was nightly and considerably more work — I was lucky enough to have parents who are the most incredible chefs, but they also tend to use every pot, pan, and gadget they own for a simple weeknight dinner — I was glad I didn't have to haul out the peels, rinds, and fishbones that had been marinating with themselves.
Early on, my dad taught me the importance of three things: Finishing the job (meaning wiping down the sink and countertops when the dishes are done), maintaining a clean kitchen (mostly for my mother's sanity), and, of course, conserving water, which was not only expensive, but also incredibly scarce. I probably wasn't even 10 when he taught me the art of "Navy dishwashing." 
As you can probably guess, my eco-conscious parents had (read: made) me and my brother take "Navy showers" when we were growing up, where we turned the water on, got wet, then turned it off and lathered up with soap and shampoo before turning the water on again to quickly rinse off. This method saves gallons and gallons of water, while also killing the romantic notion of a long, luxurious shower. But all in the name of saving the planet, right? (For the record, my grandfather was in fact in the Navy, where the practice originated on ships due to a scarcity of fresh water.)
Now, you can probably deduce what I mean by "Navy dishwashing." In my parents' kitchen, the double sink allowed us to fill one half with an inch or two of hot, soapy water, plugged to prevent it from draining. After letting dishes soak for a few, then scrubbing them in the hot suds, I'd place them in the right-hand side of the sink, where I'd then wait for the soaked-and-scrubbed dishes to pile up. When they were all scrubbed and ready to be rinsed, I'd quickly rinse them all at the same time as the water ran, rather than scrubbing them while the water ran nonstop, or rinsing them individually. Much like our Navy showers!
As a creature of habit (and conservation), for the last few decades, I've continued to "Navy dishwash" in my own tiny New York City kitchen. Although I have a single sink, I'm able to fill it with hot, sudsy water and place the scrubbed dishes on my (clean) drying rack before rinsing them all at the same time. It's such a simple way to conserve water and limit our personal ecological footprint on the planet — not just on Earth Day, but every single day. Thanks, Mom and Dad!

This post originally appeared on The Kitchn. See it there: My Parents Raised Me on "Navy Dishwashing," the Simplest Way to Save Water Each Day