How Celebrating New Year's Eve in My Childhood Home Reminded Me to Love My Filipino Roots
We independently select these products—if you buy from one of our links, we may earn a commission. All prices were accurate at the time of publishing.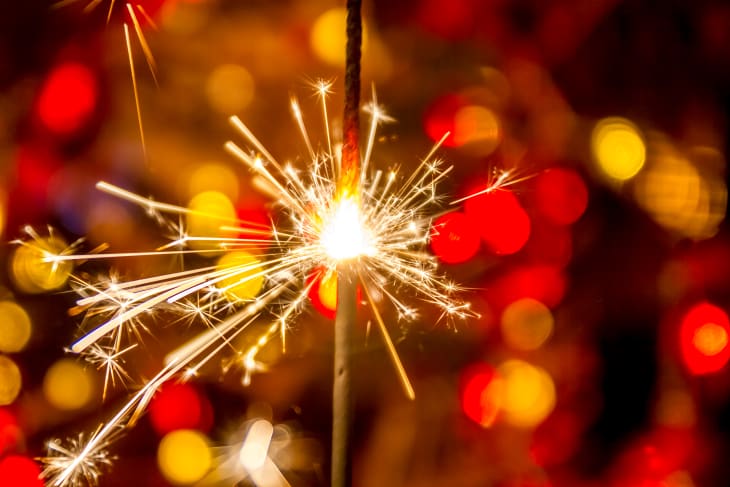 Nothing really changes when the clock resets to January 1.
Follow Topics for more like this
Follow for more stories like this
Most of the transformation in my house happens the week before New Year's Day, not after. When I come back to my childhood home from my apartment, I'm immediately roped into familiar preparations. 
Mites of dust disappear from the staircases and the blinds. Stray papers from my sister's sketchbooks get thrown away, and the faded brown rug with flowers barely hanging onto their red and blue becomes visible again. Showers smell of Clorox and bleach. Ginataang alimango and pineapple pie win the battle against Glade air fresheners, taking over the downstairs air. 
Forget Christmas; this is the most magical time of the year for me.
I have trouble seeing into the next month, even the next hour on my worst days. But New Year's Eve rituals are grounding, both rooted in plans for the future and paths back to my past. 
There's always something to look forward to after the ball drops — our dining table slowly becomes decorated with desserts like puto, egg pie, and the homemade pineapple pie that's my mom's family's recipe, waiting to be eaten on the other side of New Year's Eve. (I'll never forget my mom's sigh the year I thought eating the pineapple pie on New Year's meant New Year's Eve before midnight.)
My mom learned from her mom to take me and my sister grocery store-hopping from Ranch 99, to Seafood City, to Safeway and SaveMart, for 12 round fruits to become temporary furniture, something she learned from her parents growing up in the Philippines. Twelve for each month of the year, round for the shape of money. 
There are traditions that this generation of my family has developed, too — the living room morphs into a karaoke room on New Year's Eve. Under warm fluorescent light, I swap the karaoke mic with my parents and my sister in between quips about "adoring fans" and trying metaphorical shrimp chips. 
When I was younger, I wondered about being "Filipino enough." Now, that's not the question; it's "Where do I come from, and how do I carry that with me?" 
There's an answer for me in setting up the house for New Year's Eve, building something to welcome in newness with the generation that came before me, carrying on redecorating for the last week of December. 
My ideas of relationships growing up were borrowed from books like "Little Women" and movies like "The Princess Diaries." I thought the only right way to be part of an immediate family was to be best friends with my parents, spilling out every thought to them. I wanted a dramatic New Year's Eve kiss with a partner in the middle of a party while Ryan Seacrest announces the ball drop in Times Square.
But that hasn't stopped my New Year's Eve celebrations from ending with hugs all around, accompanied by a bang and a clatter from the pocketfuls of spare change tossed in the air, crowding the carpet around the front door. My parents and my sister and I shout "Happy New Year," over and over again, jumping up and down in hopes it'll bring a couple extra inches. 
It feels like a new year, but I close my eyes and see all the New Year's Eves I've done this for. For the evening — even if the next day is different — all the lights are on. There's pineapple pie waiting to be eaten, and a home that still holds enough warmth for me.