Nigella Lawson's Emergency Brownies Make Just Enough for 2 People
We
independently
select these products—if you buy from one of our links, we may earn a commission. All prices were accurate at the time of publishing.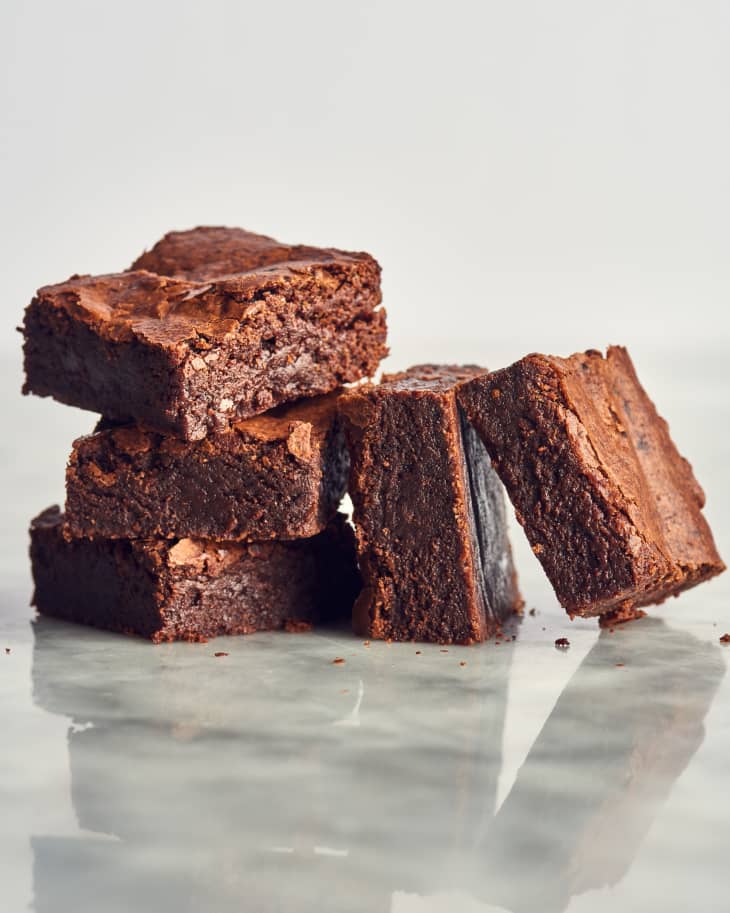 I love brownies. Whether made from scratch or a box mix, it doesn't get much better than a warm, fresh-baked brownie served with a scoop of vanilla ice cream. But baking an entire tray of brownies, especially if you live by yourself or with just one other person, can sometimes be a bit much. Thankfully, Nigella Lawson has solved this quandary with her recipe for Emergency Brownies.
The Emergency Brownies, featured in Nigella's cookbook At My Table, is made for those occasions when you just want to make a brownie or two. "This is for those times you urgently need a brownie, but don't want to make — or, rather, can't justify making — a whole batch," she wrote. It yields two generously sized fudgy brownies that can be eaten straight out of the tin or made into a brownie sundae. Best of all, these brownies are made in a foil tin, so that's one less thing that needs to be cleaned.
If, like me, you haven't been able to stop thinking about these brownies since seeing Nigella's Instagram post, she's graciously shared the recipe online so that we can make it at home. Nigella has also listed the measurements in metric and cup measurements, so there's no need to do any converting if you don't have a kitchen scale.
To make the brownies, preheat your oven to 325°F. While the oven is preheating, combine the butter, sugar, and maple or golden corn syrup in a small saucepan. Gently warm the mixture and stir until the butter melts and the sugar dissolves, then remove the pan from the heat. In a separate bowl, mix together the flour, unsweetened cocoa, and salt, then beat this mixture into the pan of butter and sugar until everything is combined. Whisk together the egg and vanilla, then stir them into the pan. Once everything is mixed together, fold in the nuts and chocolate chips. Finally, transfer the mixture into a 7x5x2-inch foil tin.
You'll then bake the brownies until they start to come away from the sides of the tin and the top is dry around the edges, which should be about 15 to 20 minutes. Once out of the oven, Nigella lets the brownies cool on a wire rack for 20 to 30 minutes "so that my first bite gets them when still warm, but just set enough to cut into two squidgy squares." Any leftovers can be stored in an airtight container for up to five days, but I don't imagine they'd last that long (at least in my house).

So there you have it. Fresh-baked, fudgy brownies for two that you can whip up in under an hour. If you're more of a cookie person though, you can make and freeze cookie dough so that fresh-baked cookies are always an option.

This post originally appeared on The Kitchn. See it there: Nigella Lawson's Emergency Brownies Are Perfect for Small Households