The Brand Behind the Chic Steam Iron I Love Now Makes a Fabric Shaver — and My Sweaters Look Brand New
We independently select these products—if you buy from one of our links, we may earn a commission. All prices were accurate at the time of publishing.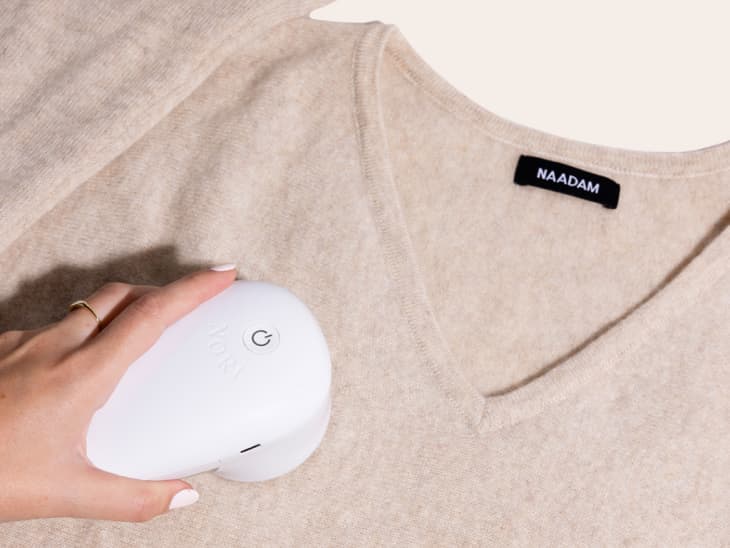 Every couple of years there comes along a brand that changes the game with its ingenuity: Nori is one of those brands. Late last year I put the brand's iconic hero product, The Nori Press, to the test and (like many of you reading this) instantly fell in love. A space-saving and innovative handheld steam iron, it's now become a go-to part of my laundry kit, not to mention one of the most well-received gifts I've ever given. Since then I've kept a close eye on the brand, eager to see just what it will do next. So, naturally, when I heard that Nori was further expanding into the laundry space with its very own fabric shaver, I was more than eager to put it to the test. After a couple of weeks spent with this bad boy, the verdict is in: let's just say The Nori Trim doesn't disappoint.
Designed to remove pills and lint from your garments, fabric shavers are a must-have in any laundry kit, especially as we make our way through sweater season. But what makes the Trim stand out among the rest? First, there's the design. With a minimalist, ergonomic design that echoes the Press, this is a great option for anyone who prefers sleek-looking home products. But don't be fooled — this isn't a dud in great packaging. With a large 2.5-inch shaving area meant to tackle a lot of fabric at once and an industry-leading six precision razor blades behind it, the Nori Trim doesn't just talk the talk, it walks the walk.
Now I am no stranger to fabric shavers — using them is one of my favorite past times — so I was a bit skeptical as to how much different this one could be. But seeing as we are in the midst of fall, I knew I had more than enough pieces that could put the Trim to the test. After giving this device a chance to charge, I removed to safety guard (which cheekily reads "Time for a Trim"), pressed the on button, and got to work de-fuzzing my most used sweaters, scarves, and blankets — and let me tell you, it felt like I did it in record time. My biggest test when I took the Trim over to my couch. Covered in a white boucle wrap, my sofa was covered in little black pieces of lint from my blankets and leggings that I was itching to get rid of. In a couple of quick passes, my sofa looked brand new and, most importantly, the boucle remained intact. Yup, I was sold.
Ready to test one out for yourself? You can get your hands on The Nori Trim (which also comes with two replacement blades) for $59 or pick up a bundle that comes with both the Nori Press and Nori Trim for a discounted price of $155. Now, what are you waiting for? Those sweaters aren't going to de-pill themselves.