On the Cheap: 10 Room Dividers Under $100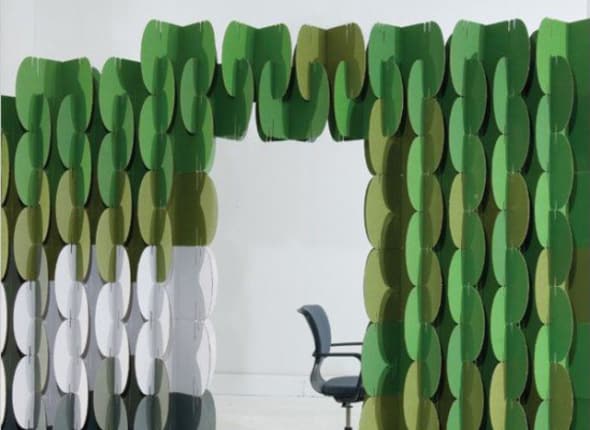 Room dividers can be useful in a shared kids' room, a studio apartment, or a large loft — but they're often very pricey. If you're on a budget and searching for ways to separate space, here are 10 options under the $100 mark.
IKEA
Their thin, sheer panel curtains can be hung from ceiling tracks to create room dividers that separate space but still let light through, and they carry nearly 30 styles and colors.
• Anno Unni Panel Curtains, $30 for a 2-pack
Mio Culture
Made from recycled double-walled cardboard, the Nomad System is composed of tiled sheets that fit together in freestanding formations that can wrap around a corner.
• Nomad Architectural System, $56 for 24 sheets
Wild Things
This online shop has a huge selection of beaded curtains, and while a lot of their inventory leans towards tacky, their metal ball chain curtains could have a sleek, modern look in the right space.
• Metal Ball Chain Curtains, $32 - $80
Design Public
Designed by the Bouroullec Brothers for Vitra, Algues are a system of plastic pieces that snap together into mesh-like formations. 25 Algues add up to one square yard of mesh.
• Vitra Algues by the Bouroullec Brothers, $95 for a 25-pack
World Market
They carry several affordable basic folding screens in wood, bamboo, and rice paper. This standard Japanese shoji screen is made from white paper on a dark hardwood frame.
• Espresso Shinto Screen, $99
Dania Furniture
This modern home store carries a few different inexpensive folding screens, including this Parisian-style boudoir screen made from cotton panels stretched on a black metal frame.
• Eiffel Screen, $80
Hayneedle Stores
This mega-shopping-site has a huge selection of room dividers in modern and traditional styles. While not everything is pretty, there are some solid basics to be found.
• Woven Fiber White Room Divider, $70
West Elm
Their loft cable system is a sleeker version of standard tension wire for curtain room dividers, the difference being that this kit includes extra brackets and tightening tools to prevent sagging.
• Loft Cable System, $44
Curtain-Tracks.com
This website is a great resource for curtain mounting supplies, and they carry several different ceiling tracks that can be used to mount hanging fabric panels.
• Ceiling Mount Curtain Track Kit, $48
Overstock.com
Their DIY room divider is a blank tri-fold canvas that can be painted any color you choose or covered in fabric to create a custom screen.
• Canvas Do-It-Yourself Room Divider, $94
Photo: Mio Nomad Architectural System
Apartment Therapy supports our readers with carefully chosen product recommendations to improve life at home. You support us through our independently chosen links, many of which earn us a commission.