The Ingenious $9 Gadget You Need in Your Gift Wrapping Station This Year
We
independently
select these products—if you buy from one of our links, we may earn a commission. All prices were accurate at the time of publishing.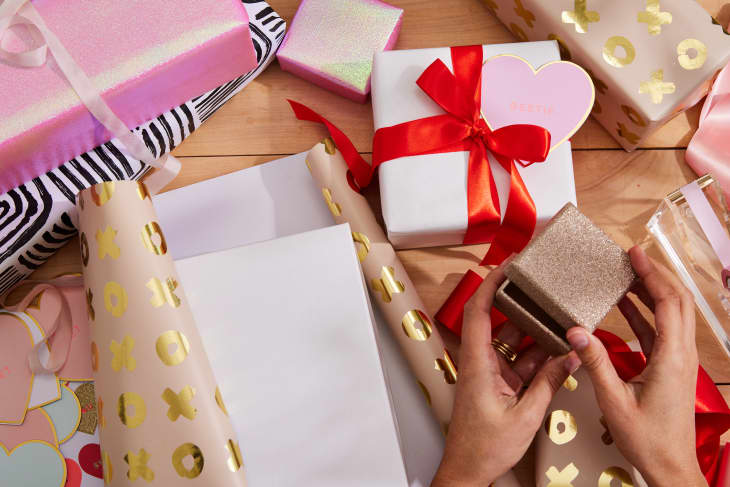 For those of us who aren't naturally crafty, the process of wrapping gifts can look like something straight out of an infomercial. Has this ever happened to you? You're struggling to center your object on the wrapping paper, which keeps trying to roll up, and all the while you can't find your scissors or your tape. When you finally do locate them, you end up cutting a crooked line, and because you can't easily tear off a strip of tape while holding the folded paper in place, you somehow tape your fingers together instead. My heart rate is rising just thinking about it. Thankfully, this doesn't have to be you this year. In a recent post, we listed out five things you need for perfectly packaged presents, including a cutting tool that eliminates the aforementioned crooked line problem.
Today, we bring you a solution to the stickier side of things. Namely, this desktop tape dispenser by none other than Scotch. It frees up your hands, so you can concentrate on more important things, like folding at a perfect right angle. Color us obsessed.
Not only is this handy (more like hands-free) gadget your answer to smudged and tangled tape strips, but a single dispenser will only cost you $9! If you plan on getting a group together to breeze through the package pile, you can also purchase three for $26. Once your purchase arrives, all you have to do is insert a roll of standard-sized desk tape into the dispenser and clamp it to your desktop or any table-like surface. From there, you're ready to roll. And did we mention Amazon customers can't get enough, either? "I don't know about you, but I lose things," one reviewer relayed. "Especially when I'm in a rush. This made the craziness of Christmas wrapping a lot easier somehow — I only had to repeatedly search for the scissors this year instead of scissors and tape." Well, that's something!
Those who bought this product also cited other uses. Of course, it'll work year-round, so you don't have to unclamp it after the gifts are under the tree. The dispenser would certainly be useful for any office job and in other workplace environments. "I use these to put easily accessible tape in restaurant kitchens, specifically in areas where counter space is limited," another shopper shared. "I also attach them to racks that are used to hold dough. We use tape to attach receipts and labels to things." Although this might not be the product's intended purpose, any use you find is valid. So grab one or three dispensers for your own holiday wrapping station, and delight in perfectly cut, perfectly sticky, and perfectly sized strips of tape all year long.