Organize This Small, Forgotten Corner of Your Car Before You Need It Most
We
independently
select these products—if you buy from one of our links, we may earn a commission. All prices were accurate at the time of publishing.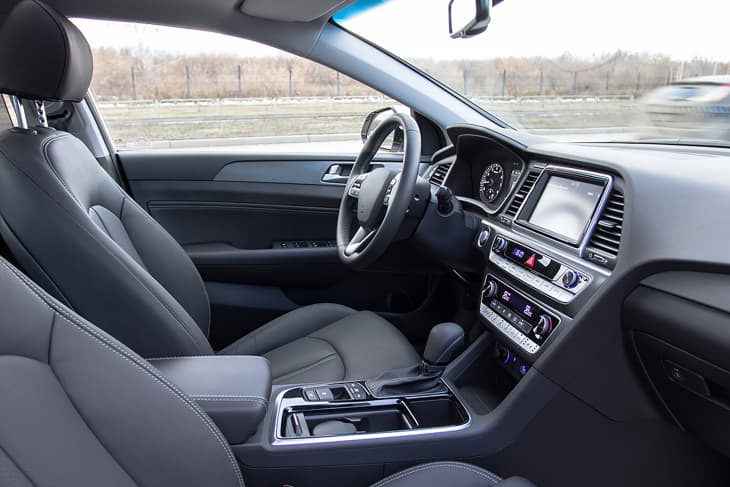 When my husband and I need something while driving, we pray to the gods that it is not in the glove box. This corner of the car, meant to be useful storage, has devolved over the years into a black hole of papers, receipts, napkins, forgotten granola bars, and who knows what else — and it's not even that big of a space. This has been a problem we've chosen to ignore for too long now, and it's been easy to do.
A cluttered glove box isn't as obvious as a junk drawer in the kitchen that you're faced with regularly. It's not hovering in your periphery the way a pile of clothes or stack of boxes in your bedroom is. It's covert — its dysfunction hides tucked away until it rears its ugly head at the worst possible moment to inconvenience you more than those other spots ever will. Our registration and insurance documents are in there, and in the event of a traffic accident or a speeding ticket, the last thing we need is disorganization making an already stressful moment worse. 
This weighed on me for a while before I decided to embark on the "Great Glove Box Cleanout of 2023." One Saturday morning, I hyped myself up, poured a mug of coffee, and headed to our parking lot ready for battle. Lo and behold, like so many other tasks that fall victim to procrastination, it took approximately eight minutes. 
My hot take is that the average person doesn't need to buy some fancy glove box organizer — and if they do, there's probably too much in there. So much of what awaited me was garbage, and the rest was easy to organize. I tossed what was trash, made a stack of things that needed to be taken back up to our apartment, and pared down to what could be organized with just a few paperclips and a sleek one-compartment makeup bag I had decided to repurpose for any loose items. What remained was only what made our lives easier — essential paperwork and the car manual, of course, but also a few straws and napkins, extra cleanup bags for our dog, a couple of pens and a notepad, a tire pressure gauge, and an Allen wrench. 
We don't have a center console in our tiny car (making glove box space all the more precious), but if you do, I recommend doing a joint cleanout to tackle this space too, and dedicate space differently in each one. I'd love to put napkins and more "household" items in a center console to keep the glove box even more dedicated to our registration and insurance. We also don't have children, so folks who do could consider using the center console to house toys and snacks, keeping those things clear of any space you'd need to access in a true emergency.
I knew I'd feel better when the cleanout was done, but the weight that this organization lifted from my shoulders was honestly surprising. As we're cruising down the highway, it's so lovely to know that everything we need is right at arm's reach — just as it should be.