I Have Chronic Pain and POTS — Here Are the Organizing Finds That Have Made My Life Easier
We
independently
select these products—if you buy from one of our links, we may earn a commission. All prices were accurate at the time of publishing.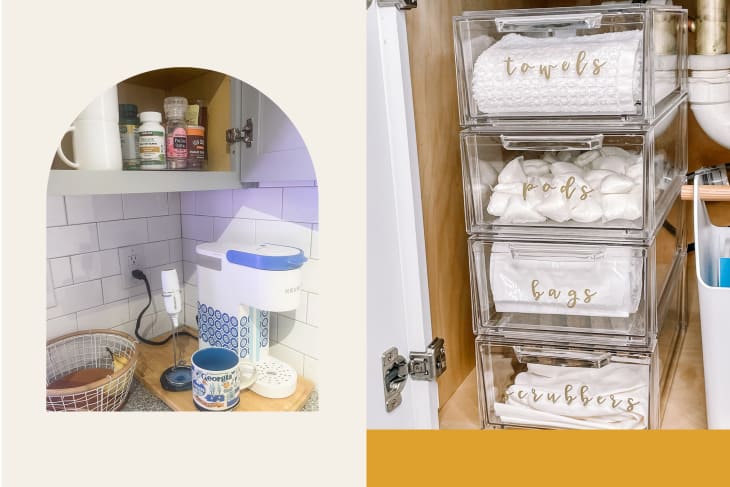 In the summer of 2021, my professional organizing business was busier than ever. By then, many of my clients were vaccinated and tired of looking at their clutter. So while I was running around to get their homes in order, I noticed that I was starting to experience shortness of breath, a racing heart rate, and debilitating dizziness.
I attributed my symptoms to simply being burned out or wearing a mask while performing physically demanding work. During a routine physical, my primary doctor suggested I see a cardiologist and so after a few appointments and a tilt table test later, I received a diagnosis of POTS, or Postural Orthostatic Tachycardia Syndrome, a condition in which "an excessively reduced volume of blood returns to the heart after an individual stands up from a lying down position."
If you or someone you know has POTS, you're aware of how life-changing it can be. Water, salt, and electrolytes have become my best friends and I've learned how to stand up at a much slower pace. I laugh a little when I think back on the times I was hurriedly picking up clothes or shoes at the bottom of my client's closets and wondering why I felt like I was going to faint at any moment. Or when I saw my life flash before my eyes coming out of the downward dog position in yoga.
Not only did I have to change the way I worked (and worked out), but I also wanted my home to be more POTS-friendly. A few years prior, I was also diagnosed with Chiari Malformation and Syringomyelia, which produce chronic pain and migraines, so I had already made a few changes that helped to alleviate it daily. 
Here are some of the things I've done to help make life a little easier for myself with all three disorders.
Overall, I aim to keep my home as minimalistic and organized as possible. It's never perfect, but the less I own, the less I have to clean up after. Clutter induces stress for me and stress is a significant contributing factor to my flare-ups. Eliminating the unnecessary stuff in my space has improved both my mental and physical health. And, finally, making my everyday things as accessible as possible simplifies my routines and creates a more comfortable living environment.