This Sofa Transforms Into a Bed By Lowering From the Ceiling
We independently select these products—if you buy from one of our links, we may earn a commission. All prices were accurate at the time of publishing.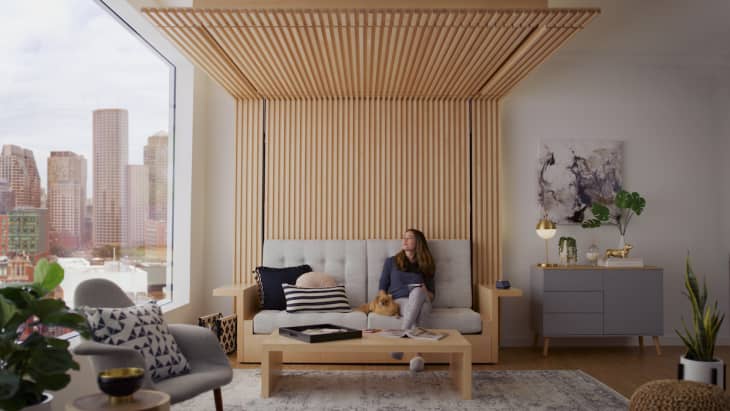 Ori Living, a robotics furniture company, is transforming small space living in a big way. The brand has a product called the Ori Cloud Bed, a sofa and bed combo that transforms a room from living space to sleeping space with just one push of a button. A mechanical bed frame that could accommodate a king or queen sized mattress, Ori's Cloud Bed can be raised up and down into the air like a canopy—much like the workings of a miniature elevator. 
Follow Topics for more like this
Follow for more stories like this
"The launch of the Cloud Bed comes at a time when people are spending more time in cramped apartments, and multifamily property owners are looking for ways to optimize and improve the utility, usability and flexibility of each square foot," Ori founder and CEO Hasier Larrea told Design Milk. Beyond its ingenuity for small space dwelling, though, the Cloud Bed is also a revelation from a design standpoint. 
Made from light maple wood, the Cloud Bed would fit seamlessly into any modern design space. The built-in couch is able to seat three people and also comes with storage drawers at the bottom. Other features include a memory foam mattress, coffee table, LED lighting, and built-in outlets to charge up to four devices. At this time, Ori Living doesn't sell products to individual consumers—just real estate developers who own studio- or small space-properties in need of space maximization.
That's not to say Ori's model won't change in the future. "People are expecting more from their space," Larrea told the New York Times in a feature that explored how the ongoing coronavirus pandemic will impact the future of real estate. "But square footage is the most expensive thing out there." Along with the Cloud Bed, Ori also created a product called the Pocket Office, which is precisely what it sounds like: a tiny office that could transform from storage space to a work-from-home station in a matter of seconds, maximizing space. 
Could this be the future of small space living? The possibilities are endless.