This New Wallpaper Collection Is Alice in Wonderland Meets Marie Antoinette
We independently select these products—if you buy from one of our links, we may earn a commission. All prices were accurate at the time of publishing.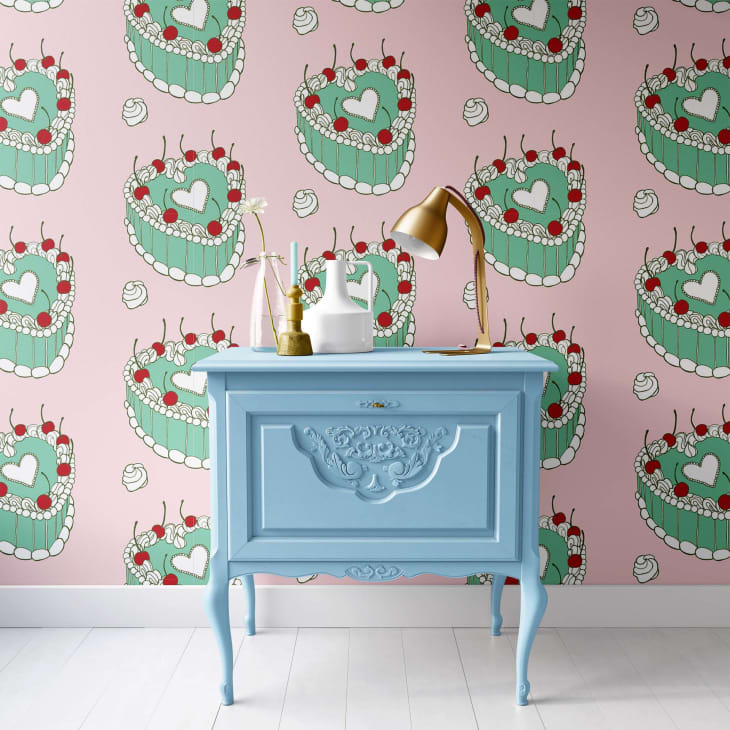 Known on TikTok for their status as Gen Z interior designers, the duo has also been documenting their decoration progress on a vintage store in California. Along with this project, they announced an incoming collaboration with Vancouver-based wallpaper company Otto Studio and teased photos of the collection, including a pattern of an enticing heart-shaped cake.
Founded by Jen Cook and Hannah Lee, Otto Studio is known for their bold, maximalist-friendly wallpaper designs that embody "dopamine decor," the TikTok-first trend of decorating with bright colors and bold patterns in hopes of boosting one's feel-good hormones. On their mission to assist renters and homeowners with expressing joy in their space, Cook described Klaric and Tay's style as "a breath of fresh air."
"Our first collab with Tay was so fun to launch," Lee said. "It was a no-brainer to partner with both Tay and Dani for this second collab. The response we're seeing from fans is incredible!"
Tay's first collaboration with the brand is full of swirls and squiggles. The lava lamp-inspired design is a standout of the collection, especially with its nine different color variations. With color combinations like pink-and-green or beige-and-cream, the cow-themed Milkshake design may revive the controversial animal print trend.
In her colorful San Francisco house tour for Apartment Therapy, Tay's capsule collection is visible in the living room, dining room, kitchen, and multiple bedrooms. She's not afraid to have color in every room, and according to her, "The world needs more of it." And Klarić's home doesn't shy away from color either. During her Apartment Therapy feature, the Miami-based interior designer acknowledged her inspiration from mid-century modern and the Art Deco era.
And the latest collaboration between Tay and Klarić expresses the whimsical maximalism throughout their homes. Perhaps the trend of faux food decor has influenced the Piece of Cake or Lemon Cake designs, but it's fitting for a powder room or kitchen backsplash. Meanwhile, cottagecore hasn't ceased in popularity, so the Shrooms design feels perfect for any mycophile or fungi fan. And the Queen of Hearts wallpaper is a wise choice for any "Alice in Wonderland" fans.
So what inspired the designs? According to the duo, they went "through the looking glass" for this collection. "We came to the realization that the perfect way to describe both of our styles would be something straight out of Alice in Wonderland and that's when I knew this was going to be good," Klarić said in a press release. "Something unique and whimsical yet elegant."