Our Place's New 9-in-1 Meal-Prep Set Makes Cooking and Storing Food So Easy and Takes Up Hardly Any Space in My Tiny Kitchen (It's on Sale for Black Friday!)
We
independently
select these products—if you buy from one of our links, we may earn a commission. All prices were accurate at the time of publishing.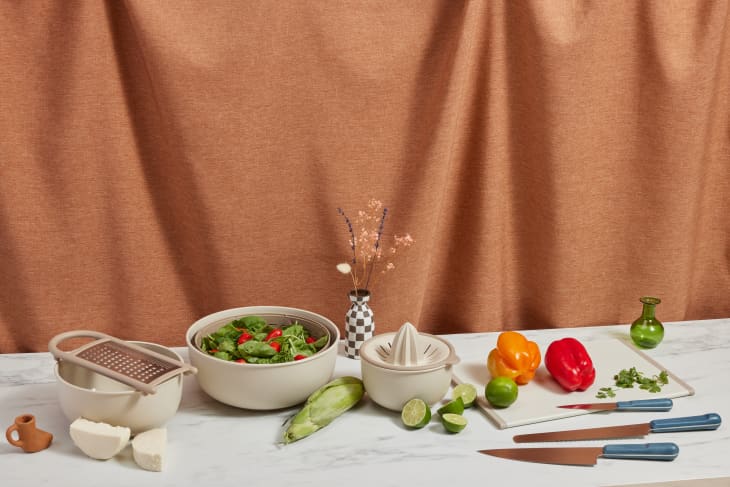 Just in time for a busy season of holiday cooking and baking, Our Place added a new meal prep superhero to its all-star lineup: the Better Bowl Set. Here at Apartment Therapy, Our Place's cookware staples — from the Always Pan to the new Wonder Oven — are some of our favorites out there. And the brand's newest foray into meal prep essentials certainly doesn't disappoint, and I was lucky enough to take it for a spin.
My biggest gripe with traditional mixing bowls is that they typically don't come with a matching lid, so I have to use aluminum foil if I'm storing leftovers or transporting the bowl to a Friendsgiving. So, these bowls were instantly a step above the rest, and the cleverly designed tools that accompany the bowls instantly gave them MVP status in my (teeny-tiny) kitchen. Best of all, they're already on sale for Black Friday!
What is the Our Place Better Bowl Set?
Simply put, Our Place's Better Bowl set does the work of nine different kitchen tools without taking up the same amount of space. This system of mixing bowls, transparent lids, a grater, juicer, and salad spinner complete with an easy button is about to become your new go-to meal prep superhero. Best of all, the set beautifully nestles inside of each other for compact storage, so if you have less-than-generous storage space like me, this is the one thing you need to enlist in your cooking and baking arsenal.
Why I Love the Our Place Better Bowl Set
Living in a tiny studio with a kitchen that's the size of some people's walk-in closets, organizing my gadgets and tools is a total chore. There's nothing worse than trying to fit together bowls, colanders and containers of all different sizes like I'm doing a Tetris puzzle. So, Our Place's Better Bowl Set is the ultimate find for those of us looking to streamline our prepware collection, and it looks stylish to boot. You can shop this durable set in four pretty colors: Steam, Sage, Blue Salt, and Lavender (which will pair perfectly with your other Our Place pieces!). The bowls are also made with 60% recycled materials, feature a nonslip base, and are leak resistant. Plus, the bowls and lids are freezer- and dishwasher-safe.
You can truly do everything with this set: serve, mix, grate, juice, spin, and store! I first took these for a test drive when I had a Friendsgiving, and I used the grater to garnish my Brussels sprouts with fresh Parmesan. The design of the grater is unbelievably brilliant. Because it perfectly rests atop the bowl, there's no mess and no cheese flew around like with a typical grater, and the rubbery edges kept the grater in place.
The juicer is equally impressive. It nestles just right inside the smallest bowl, so there's no mess when squeezing your favorite citrus into a salad or side dish. The colander is perfect for rinsing berries, and it easily fits inside the medium bowl for storage. And I'd be remiss not to brag about the star of the show, the salad spinner. If you're looking to make takeout-worthy salads at home, this tool will help you do that with the press of a button.
If you're looking to upgrade your kitchen tool collection for the holidays or are on the hunt for the at-home chef in your life, now's the perfect time to hop on Our Place's Better Bowl set since it's on sale for Black Friday for just $85 right now!