This Incredibly Gorgeous Skillet Made Me Finally Feel Confident Using Cast-Iron Cookware (It's on Sale!)
We independently select these products—if you buy from one of our links, we may earn a commission. All prices were accurate at the time of publishing.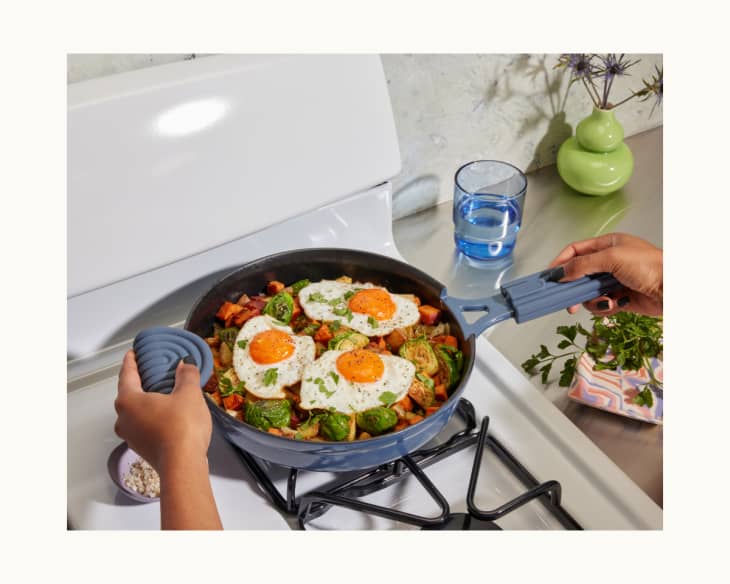 When it comes to cookware shopping for my own kitchen, aesthetics aren't high on my list of priorities. I'm more of a substance-over-style shopper, a mindset ingrained into me growing up with the same set of pots and pans that my mom had for decades. I'd rather find a budget-friendly pick that does what I need it to do and only splurge when it's an item that I know will last for years to come (like the Staub Dutch oven that I bought and cherish). For example, my favorite pan is a $17 nonstick skillet that I use almost every single morning for frying eggs. And even after testing an impressive temperature-controlled electric kettle, I still couldn't part with my $34 Amazon kettle.
Follow Topics for more like this
Follow for more stories like this
The first thing that intrigued me about this skillet was its easy-to-care-for enameled cast iron. As someone intimidated by the upkeep required of this material, I prefer enameled cast iron that doesn't require seasoning. So while our favorite cast-iron skillet does cost only $40, Kitchn editors' top enameled pick is the $230 Staub skillet. And although these two legacy picks feature handy pour spouts that the Our Place pan lacks, I love that the Cast Iron Always Pan has a huge perk of coming with a modular glass lid. 
In order to put both the heat retention and easy cleanup claims to the test, I broke in my pan by searing chicken breast in a one-skillet dinner. My chicken browned beautifully, developing a gorgeous sear while each piece lifted from the pan without sticking. I was left with crispy-on-the-outside, tender-on-the-inside chicken that also happened to be extremely easy to make. The pan heated up quickly and stayed hot while I cooked, even remaining hot to the touch well after I finished using it. I've also enjoyed using this pan for sautéing veggies to get delicious flavor on broccoli, peppers, and more. And I've had much success with deglazing, resulting in some very delicious pan sauces that also lift stuck-on bits.
Another aspect I appreciated about this pan is its size. The 10-inch diameter is a great size for cooking just about anything, whether frying eggs or making a one-skillet meal. I also found that it wasn't too heavy, weighing about 7 pounds. It's possible to pick up with one hand, but much easier with the convenient helper handle. In case this isn't obvious (it wasn't to me at first!), it's best to keep the helper handle grip off unless you're actively using it, as it heats up if left on while cooking. While Our Place suggests leaving the handle grip off unless using as well, I didn't have any issues leaving it on while I cooked as it stayed cool.
The lid has also come in handy numerous times, a feature that's often absent from cast-iron skillets. I like putting it on and keeping it askew to prevent splatters or using it while my food simmers on the stove. It's also very lightweight which makes it easy to clean.
And speaking of cleaning, I have yet to have an issue in this area. I followed Our Place's suggestion of getting caked-on food off by boiling water with a sprinkle of baking soda. Otherwise, I've been able to give it a quick, gentle scrub after use before immediately drying it. The result is a pan that still looks great!
Ultimately, I appreciate that this skillet from Our Place is a long-lasting alternative to the Always Pan. I've found that the enameled cast iron has performed well and remained easy to maintain. I have to say, the aesthetics of the pan surprisingly do make a difference, as I get excited to break this pan out (and am happy to keep it on display on my stove). If you're looking to treat yourself to a piece of gorgeous cookware, this Cast Iron Always Pan is a solid choice.