Our Place Released a New and Improved Version of the Insta-Famous Always Pan — and It's Now My Go-to Cooking Tool
We independently select these products—if you buy from one of our links, we may earn a commission. All prices were accurate at the time of publishing.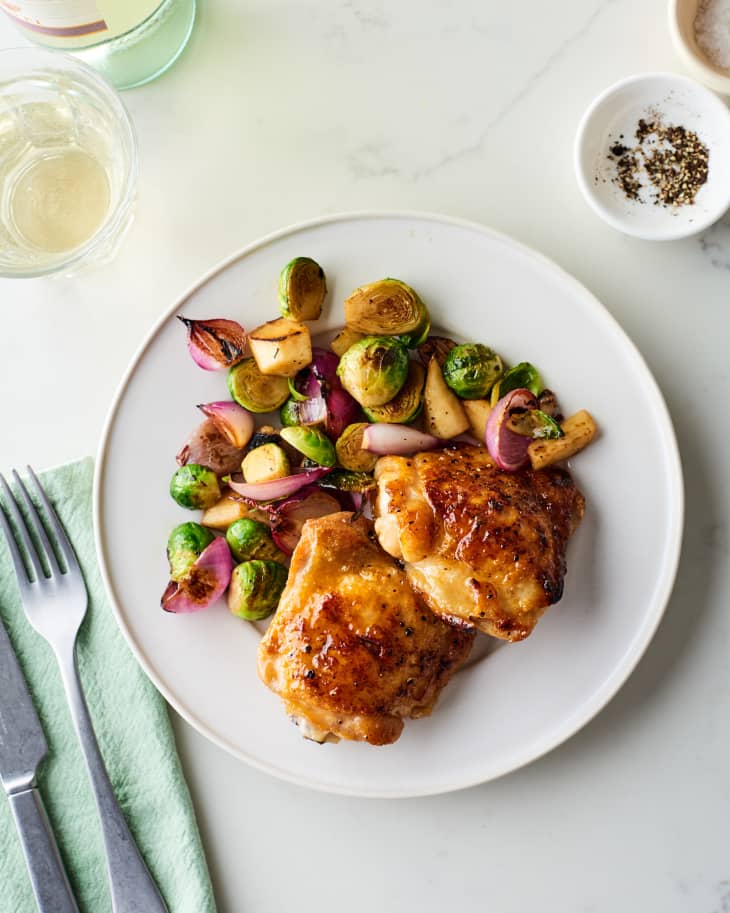 No single piece of cookware has been able to generate the same amount of everyone's talking about it buzz as the Always Pan. That's largely because the makers of the Always Pan saw an opportunity to combine some of the most sought-after features of modern cookware with a refreshing style (and color palette), and their result was a successful blend of form and function. Three years after that first pan, they released an updated version that's even better — and still comes in all our favorite colors.
Follow Topics for more like this
Follow for more stories like this
The Always Pan 2.0 is an updated version of the Always Pan 1.0, and it's available starting today for $150 from Our Place's website. This newer model looks and works very much like the original one, although it has some key upgrades that make it even more useful and more durable. I've been testing the Always Pan 2.0 for two weeks and I'm thoroughly impressed with its design and all the details that make it the kind of pan that you want to use, well, always.
How Is the Always Pan 2.0 Different Than the Always Pan 1.0?
You can't really spot the differences between the old and new Always Pans just by looking at them — you have to give them a try. I've used both the 1.0 and 2.0 versions, and from what I can tell, the biggest improvement is in the exterior coatings. The Always Pan 2.0 uses a newer ceramic nonstick coating on the cooking surface that is even more resistant to scratches than the older coating formula and will remain completely slick for a longer time. Likewise, I've heard that the outside of the Always Pan 1.0 could develop scratches or even tiny chips in the paint material if it was scrubbed too hard. The Always Pan 2.0 has none of those problems, so whether the coating has a new formula or it's just been applied in a more durable way, it stays right where you want it to.
The other big improvement that the Always Pan 2.0 offers is the ability for it to go inside your oven. You can now roast, broil, and bake with the new Always Pan at up to 450 degrees Fahrenheit, which makes it much more versatile than the original version that was only safe to use on the stovetop. Inside the pan is another upgrade: the aluminum core is now made from 100-percent certified post-consumer waste. I found that the pan heated up evenly on my gas burners and retained heat for a solid amount of time, so regardless of whether using post-consumer recycled products is important to you, this pan uses it in a way that's just as good as the original version.
In terms of accessories, the Always Pan 2.0 has the same add-ons as the Always Pan 1.0. That means you get the metal steamer basket, the metal lid, and the wooden spatula spoon that can snap into place on the handle. I also think the newer pan feels a little more lightweight in my hand than the older pan did, but on paper their weights seem to be the same.
I've used my pan for stir frying chicken, sautéing broccoli, and finishing a springtime pesto pasta dish that was still warm inside the pan when I went back for seconds. Like all Always Pan users, I also appreciate the depth of the pan because it helps cut down on splatter and lets me stir food without worrying about spilling any. This has easily become my new favorite cooking vessel and I'm excited to try some recipes in the oven to test out its broiling capabilities.
If you already own the Always Pan 1.0, read this: For a limited time you can save $35 when you upgrade to the Always Pan 2.0. If you bought the original pan online through Our Place, you should receive an email from them with an exclusive coupon code that gets you $35 off the Always Pan 2.0.
Ready to upgrade? Pick up the Always Pan 2.0 while it's in stock. The original pan sold out over and over again, and we wouldn't be surprised if this new model went flying off the shelves just as quickly.