The Brand Behind the Always Pan Just Launched a Chic New Food Storage Collection (and It's Definitely Going to Sell Out!)
We
independently
select these products—if you buy from one of our links, we may earn a commission. All prices were accurate at the time of publishing.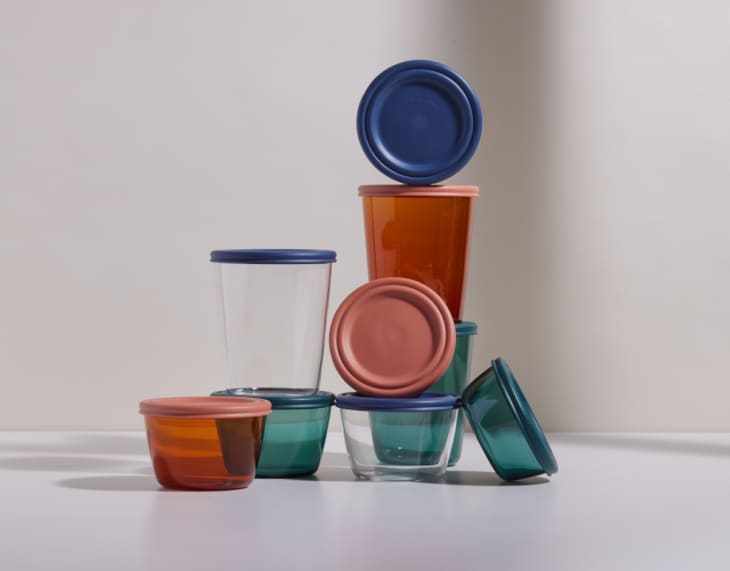 There are a handful of DTC brands that have truly revolutionized the cookware landscape over the past few years, and Our Place reigns high at the top of the list. I'm talking about the groundbreaking brand that brought to market the Always Pan (which does the job of a fry pan, sauté pan, steamer, skillet, saucier, saucepan, nonstick pan, spatula, and spoon rest) as well as its snazzy companion piece, the Perfect Pot. Our Place excels at bringing restaurant-quality craftsmanship to home cookware, making it easier for non-professional chefs to enjoy their time in the kitchen and produce stellar results. Not only do they do their jobs like champs, they also come in a curated selection of sumptuous hues that double as kitchen decor.
And this week, Our Place announced the launch of the sure-to-sell-out Container Collection, a colored-glass storage system that does what Our Place does best: perform phenomenally and look darn good while doing it.
This isn't the brand's first foray away from pots and pans — far from it, in fact. In addition to ovenware such as roasting dishes and baking mats (along with prep tools including knives and cutting boards), the brand excels at crafting elegant, durable drinking glasses, mugs, plates, bowls, and other table essentials. We're also big fans of their Traditionware, which features pieces inspired by cultural celebrations across the world. With the Container Collection, though, Our Place is bringing its top-quality craftsmanship to the food storage space.
Sure, cooking a new meal from scratch every night sounds dreamy, but back in reality, Our Place understands that properly storing and reheating leftovers is a vital part of the everyday cooking experience. With this new launch, no longer will leftovers be relegated to potentially harmful plastic takeout containers you've been repurposing for way too long. These glass beauties are nontoxic, heat-resistant, lightweight yet durable, and reusable basically forever. They're safe to put in the microwave and oven, which means you don't have to deal with dirtying up an extra dish when it's time to reheat your food. Use them in the fridge for leftovers you're planning to eat within a few days, or fill them with sauces, soups, and stews, and pop them in the freezer. They're designed to work where you need them, when you need them. (And, when you don't need them for food, they're stylish enough to function as flower vases — talk about multipurpose!)
The new collection includes three sizes of containers — 1.5 cups, 2.25 cups, and 4.25 cups — and you can buy them in sets of three or six. The line is available in Sunset (a rich amber hue), Eve (a deep teal), and Clear (self-explanatory). You'll also get one-size-fits-all lids, another user-friendly detail that makes cooking faster and easier. If all of this sounds fantastic to you, well, I can guarantee you're not alone. Our Place launches are notorious for selling out quickly, so if you want to snag your own, place your order ASAP — because there probably won't be any, ahem, left over for long.

Buy: Container Collection, Set of 3, $65