You Can Save $100 Right Now When You Buy the Always Pan and Perfect Pot
We
independently
select these products—if you buy from one of our links, we may earn a commission. All prices were accurate at the time of publishing.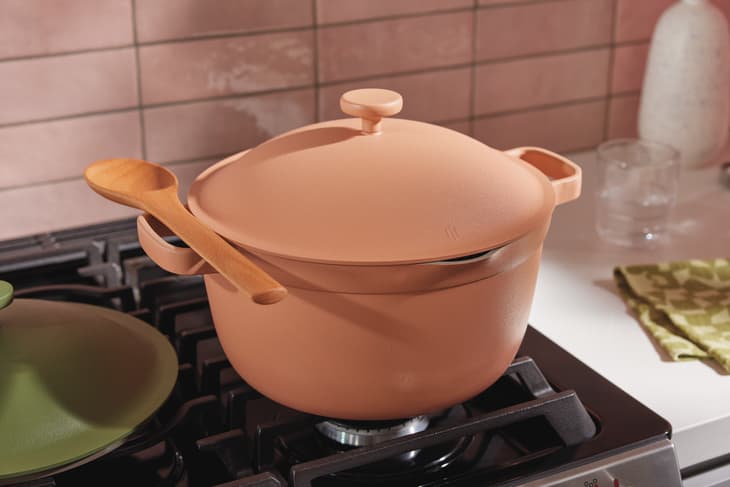 Internet-sensation Our Place is known for their extremely multifunctional pots and pans that have thousands of fans hooked. Starting with the highly coveted Always Pan and followed by their newer release, the Perfect Pot, Our Place knows how to deliver. Plus, their frequent colorway launches, including shades like Blanch and Sage, are just dreamy! Together, these pieces of cookware can replace an entire 16-piece cookware set — so practically all the pots and pans you need.
While we've tested both the Always Pan and Perfect Pot here at Kitchn and have dubbed each worth the investment, buying both is a bit steep at over $300. That's why we're extremely excited about this limited-time only sale from Our Place on the Always Pan and Perfect Pot bundle, the Home Cook Duo, for a whopping $100 off the regular price! So if you're in need of housewarming gifts, gifts for a home cook, or gifts for a someone just starting out, this cookware set is a great choice.
For anyone in need of a refresher, Our Place first hit the scene with their Always Pan two years ago when it became a hit online, racking up a waiting list of over 30,000 people at one point. What makes it so special? The wide, lidded 2.6-quart pan can do the work of eight tools, including a fry pan, sauté pan, steamer, skillet, saucier, saucepan, nonstick pan, spatula, and spoon rest. That means you can use it to perform a multitude of tasks, such as braising, searing, steaming, straining, frying, boiling, sautéing, and more, all while making use of its fantastic ceramic nonstick surface.
Much like its counterpart, the Perfect Pot can also do the job of multiple pieces of cookware, including a stockpot, Dutch oven, saucepot, steamer, and more. In addition to the pot, it comes with a roasting and steaming rack and also features a built-in strainer and a pour spout. And unlike the Always Pan, this pot is oven-safe up to 425°F, so you can use it in a similar way as your Dutch oven for finishing dishes or baking a cozy meal.
Equipping yourself or someone on your gift list with the Home Cook Duo will set you on the right path for cooking up a storm this winter. Forget the serveware too – these items are stylish enough to place right on the table. We love that this combo allows you to choose separate colors for each piece so you can switch it up if you can't decide on one shade. To take advantage of this discount, you'll have to act fast — it's only for a limited time, and you certainly don't want any popular colorways to sell out!