The Outdated Bedroom Features Homebuyers Always Notice
We
independently
select these products—if you buy from one of our links, we may earn a commission. All prices were accurate at the time of publishing.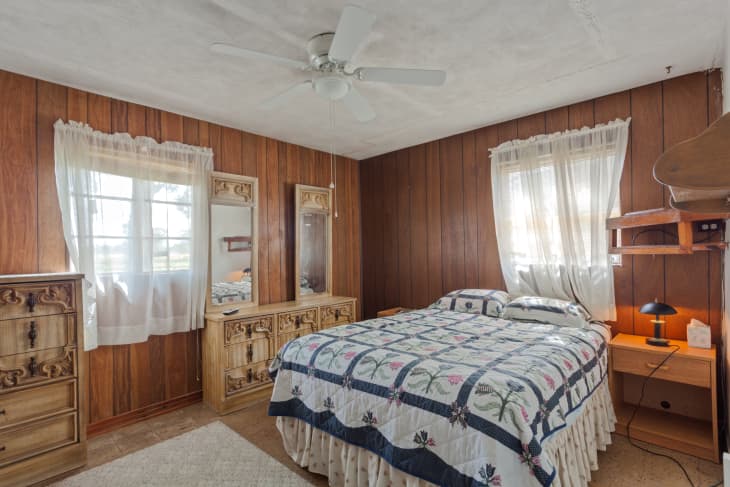 Ideally, your bedroom is a sanctuary, somewhere you feel totally comfortable and at peace. It's a warm, welcoming space where you can truly rest and recharge after a long day.
But unfortunately, not all bedrooms fit this description. If you've toured a house, condo, or townhome lately, then you've likely encountered a few bedroom "red flags" along the way. Though they're some of the simplest rooms in the house — just four walls, a window or two, and a closet — bedrooms still need regular updates. Below, real estate experts share some of the common outdated bedroom features that prospective homebuyers always notice.
Yep, you read that right: Jacuzzi tubs in the bedroom itself. 
"I've seen some bedrooms, particularly in ski cottages, with jacuzzi tubs in the interior of the bedroom," says Haley Cutter, a real estate agent in Boston and Cape Cod. "To repeat my children's comment, 'That's just weird!'" 
This outdated feature will undoubtedly be a big turnoff to buyers, who will start to see dollar signs dancing in their heads when they contemplate the cost of removing it and repairing the floor underneath. They'll be happier if they see a big, modern <a rel="noreferrer noopener" href="soaking%20tub%20in%20the%20en-suite%20bathroom%20instead.</p>%0A%0A%0A%0A<h2>Miniscule%20Closets</h2>%0A%0A%0A%0A<p>Unless%20they%20were%20built%20within%20the%20last%20few%20decades,%20many%20homes%20fall%20short%20%E2%80%94%20sometimes%20<em>way</em>%20short%20%E2%80%94%20of%20modern%20expectations%20for%20bedroom%20closet%20space.%20These%20days,%20buyers%20want%20massive%20walk-in%20closets%20that%20almost%20feel%20like%20another%20bedroom,%20not%20<a%20href=" https: target="_blank">teeny-tiny nooks that are jam-packed with stuff. Bonus points if the closet is large enough to hold a dresser or a sophisticated organization system for shoes, purses, and other accessories.
"The closets need to offer not only room for hanging clothes and shoes but must also double as a dressing room with drawers for everything else," says Cutter. 
Shag (or Just Plain Old) Carpeting
Even with their shoes firmly on their feet, prospective buyers can easily pick up on the state of a bedroom's carpet — especially if it's icky or clearly from another era.
"Potential buyers will often comment that a primary suite with worn-out carpet is a turn-off and feels dirty," says Cutter. "My recommendation for any seller looking to get top dollar would be to refinish the flooring. A nice, new, neutral carpet or hardwood will immediately elevate the bedroom and increase mass appeal to buyers." 
A dead giveaway that the homeowners haven't touched the bedroom in a while? The furniture. And even though most of the time sellers take the furniture with them when they move out, it can still cloud a prospective buyer's view of the room when they're deciding whether or not to make an offer.
"The bedroom furniture is large, usually heavy brown pieces with tons of accessories," says real estate agent Andrea Wernick.
Fortunately or unfortunately, depending on how you feel about furniture, the days of large, lavish, matching bedroom sets seem to be behind us now. Today's buyers want to be able to envision their own furnishings in the space, and big wardrobes and dressers can get in the way of that.
Bedrooms were once prime real estate for big, bold wallpaper. Flash forward several years, and now that once-peppy wallpaper is sun-faded, tired, and out of style.
"A better alternative is to paint the walls white or a nice eggshell color," says Wernick.
Carpet That Extends into the En-Suite Bathroom 
It's a huge perk to have a private bathroom connected to a bedroom. What's definitively not a perk is carpeting that extends from the bedroom into the bathroom. It may have made sense at one time — the two spaces are connected, after all, so flowing the carpet right into the loo seemed like a good idea. But today's prospective buyers will likely just be grossed out, not enthused, about this design choice.
"While carpeting has fallen quite out of favor in much of a house, especially among younger homebuyers, nowhere is carpeting more repugnant than in a bathroom," says Seattle real estate broker Fletch Newland. "Hard, easily cleanable surfaces are our friend, especially in a bathroom."
Wall-to-Wall Mirrors or Mirrored Closet Doors
Though they've long gone out of style, wall-to-wall mirrors still make an appearance in older homes and condos. As real estate broker Svetlana Choi points out, walking into a room with this feature can be quite a "disconcerting" experience for prospective buyers.
"While the intention to make rooms appear bigger might have been a great idea at the time, people are not used to staring at themselves or a room in that way," she says. "It also seems impersonal and doesn't make room for more personal decorative choices, whether photographs, prints, or art."
To that same end, mirrored closet doors can also make a bedroom feel like it's long past its prime.
"Mirrored closet doors were intended to brighten up a space with the convenience of a built-in full-length mirror, but they ultimately were a relatively short-lived choice and many buyers associate them with older renovations," says Kate Ziegler, a real estate agent in Massachusetts and New Hampshire. "It doesn't help that most mirrored closet doors were bypass slider types that also feel less solid than more contemporary options."