The Outdoor Furniture Collection That Sold Out in 48 Hours Is Back in a Brand New Color (and on Sale!)
We independently select these products—if you buy from one of our links, we may earn a commission. All prices were accurate at the time of publishing.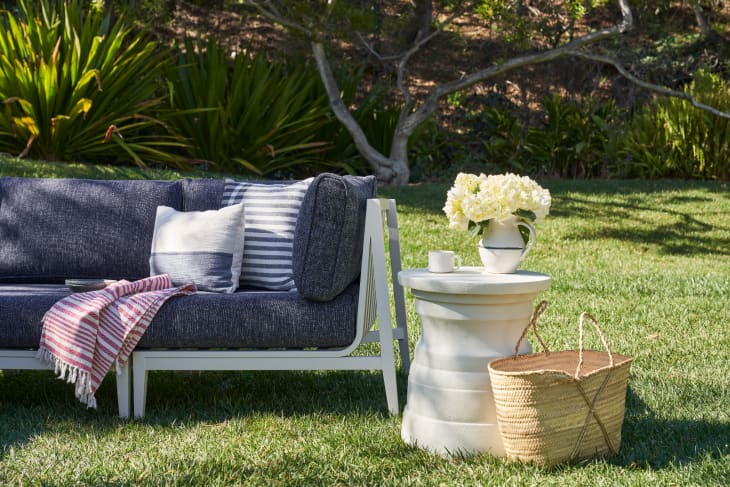 Whenever I'm asked about my favorite season, I like to compare myself to a houseplant: I thrive best when I'm warm and in the sun. Considering the fact that I live in New York, those two essential ingredients are sometimes in short supply, especially from November through March. Planning for all the blissful things I'm going to do once the weather warms up is one of the only things getting me through the final days of winter. If that sounds like you, too, I'm here to say: I see you.
Thankfully, this is the time of year when many companies launch outdoor furniture geared towards making days spent in the sun a little more stylish and comfortable. I've been scouring sites for ways to make our sunroom the go-to space in our home for the summer, and outdoor brand Outer is totally on my wavelength.
A relatively new entrant to the outdoor furniture market, Outer is an AAPI-founded brand that focuses on creating durable, sustainable, and design-forward pieces that elevate even the most average backyard space into something that's truly resort worthy. Truth be told, I missed the boat last year — I had my eye on Outer's sleek and stylish Aluminum Collection, but it sold out in a record 48 hours. Yeah, it's that good.
Lucky for me (and you!), Outer is recently relaunched the line in a fresh new white colorway that is sure to be just as popular as last year's black collection (translation: move quickly on this one!). Like last year's line, the white framing is made from 100 percent recyclable powder-coated aluminum that is temperature controlled to deflect sunlight and stay cool under even the hottest conditions. It's available in sofas, sectionals, loveseats, and ottomans, and since each piece is totally modular, you can get creative and arrange a layout that works perfectly for your space and needs. The best part? The durable designs are made to withstand up to a decade of everyday use, so you know you're investing your money in something that's going to last you long term.
You can shop the White Aluminum Collection right now and further customize your pieces by choosing from a selection of easy-to-clean, mold-resistant performance fabrics in hues like Navy, Pacific Fog Gray, and Dark Pebble. Even better? Outer is currently running a Memorial Day sale, offering $200 off orders of $5,900+; $400 off orders of $7,900 +; and $1,000 off orders of $9,900+. Be sure to use code MEMDAY22 at checkout.