TikTok Shows the Easiest Way To Find the End of a Packing Tape Roll in Seconds
We independently select these products—if you buy from one of our links, we may earn a commission. All prices were accurate at the time of publishing.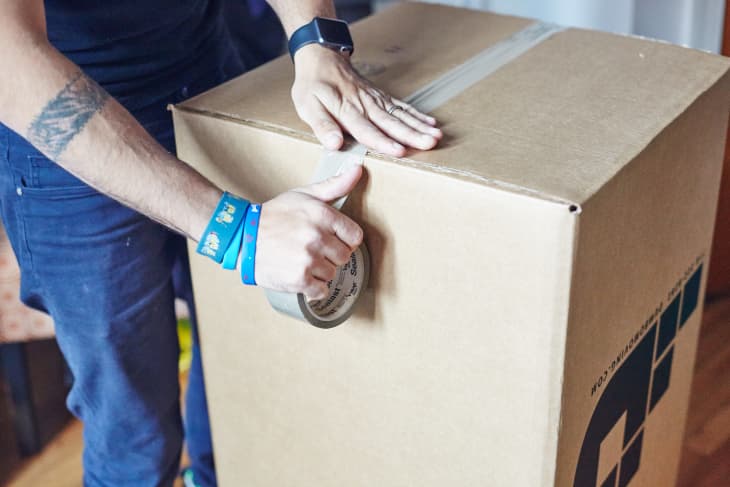 Packing tape is a household essential whether you're gearing up for a big move or simply have a lot of holiday shipping to do — after all, those gift boxes won't seal themselves. For all its uses, though, packing tape can cause a whole lot of frustration, especially when you 'lose' the end of a tape roll and you're muttering four-letter words as you try to find it.
Follow Topics for more like this
Follow for more stories like this
TikTok user Kirsten Morley recently shared the absolutely genius hack that will ensure you never lose the end of a tape roll — or your patience — ever again. Showing off a roll of Scotch packing tape in its dispenser, Morley said, "I was today years old when I discovered you can use the back of this to find the tape."
The "this" in question is the plastic tab immediately next to the tape roll, which can be pushed down into the roll and used to help lift the end of it. Based on Morley's demonstration, it's clearly designed to be used this way, but so many commenters had no clue about the tab's intended function.
"I'll never delete this app. I learn more here than I have anywhere else," wrote one person. Another asked: "Why isn't there a class in high school for all these important life hacks?" Yet another said: "You literally just changed my entire life. I will never get the hours back I've spent trying to find the tape, but now the future is bright!!!"
Morley's tape hack has racked up thousands of views, likes, and comments, and it's obvious that her helpful discovery will help alleviate headaches for people the world over. Now, packing boxes will be a breeze — which is great because you can't say that for many parts of the moving process. TikTok continues to be a true antidote for all of life's (ahem) sticky situations.