The Best Paint Colors for Your Porch, According to Real Estate Agents
We
independently
select these products—if you buy from one of our links, we may earn a commission. All prices were accurate at the time of publishing.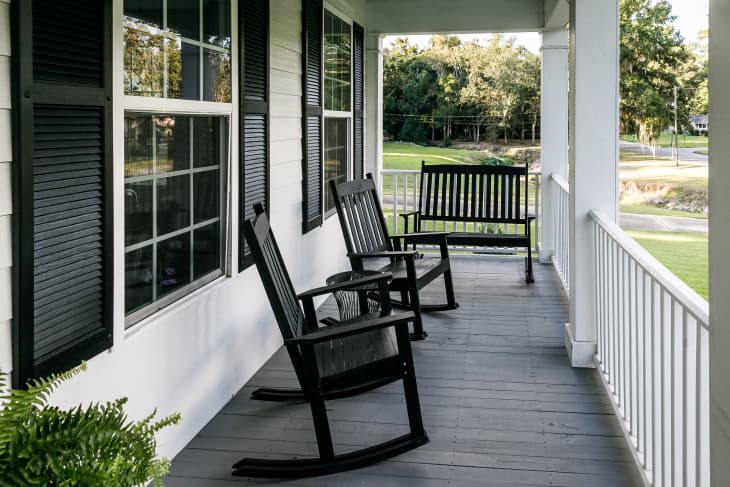 Your front porch is much more than a buffer between your front door and the outside world. The porch — and the color that you choose to paint it — acts as the first impression of your home. And when it comes to selling the place, first impressions are everything. But what colors are best to paint a front porch? I posed this question to real estate experts across the country and found that the answer can vary. 
Traditional grays and blues
"For a porch floor, stick with traditional colors like a charcoal gray or a blue that complements the color of the house," says Angél Rodenbeck, a home staging expert with Spyglass Realty in Austin, Texas. Her personal preference is battleship gray.
"You don't want to go too wild," says Ryan Rodenbeck, the owner of Spyglass Realty. The realtor once had to sell a home with a porch painted burnt orange, the school color of the University of Texas at Austin. Orange, which is a popular choice in the homes of alumni, has no sentimental value to the city's growing influx of newcomers who likely never attended the school, according to Rodenbeck. 
"When a client walks into a house they know within 15 seconds whether they like the house, but the opposite is even more true," he says. "They know in 15 seconds that they don't like the house. You don't want to take a risk on the very first thing that they see." In other words, neutral colors like tan and white are a safe bet.
While neutrals may be a safer option, some may still wish to showcase personality on their porch. In such instances, softer colors serve as a good middle ground. 
"Turquoise or eggplant are great colors to paint the exterior" that are interesting but won't look too wild, says Emily Moore of Better Homes and Gardens in Kansas City, Missouri. She also lists butter yellow and gray-blue as colors she has seen work nicely but believes that ultimately when deciding on a color, the best one to choose is based on outside factors. "You want to have some harmony with the vibe of the neighborhood so you don't have the one house that stands out in the wrong way," she says. 
And in some cases, vibrant hues
Depending on where you live, even vividly colorful porches can add to a property's curb appeal. 
"In a lot of different communities we see some homes that are really vibrant," says Veronica Figueroa, the CEO and team lead of The Figueroa Team at eXp Realty in Orlando, Florida, where colorful homes are popular due to the area's tropical climate and Carribean influences. 
Figueroa cites Laureate Park, a vibrant neighborhood in the heart of Lake Nona, as an example of a community where traditionally painted houses can be seen next to a home that is bright red, for example. "What's most important is having the paint look clean and inviting," she says. 
De'Andre Marlin, of Keller Williams Preferred in Columbia, South Carolina, believes that a home's curb appeal is more impacted by the upkeep of the home's exterior. "Make sure the shrubberies are done, the yard's nice, and keep everything together," he says.
When it comes to color, the realtor believes that there aren't many no-nos. "Color adds to the appearance," he says. "It's just up to the owner's preference."