8 Common Paint Myths Busted by the Pros
We independently select these products—if you buy from one of our links, we may earn a commission. All prices were accurate at the time of publishing.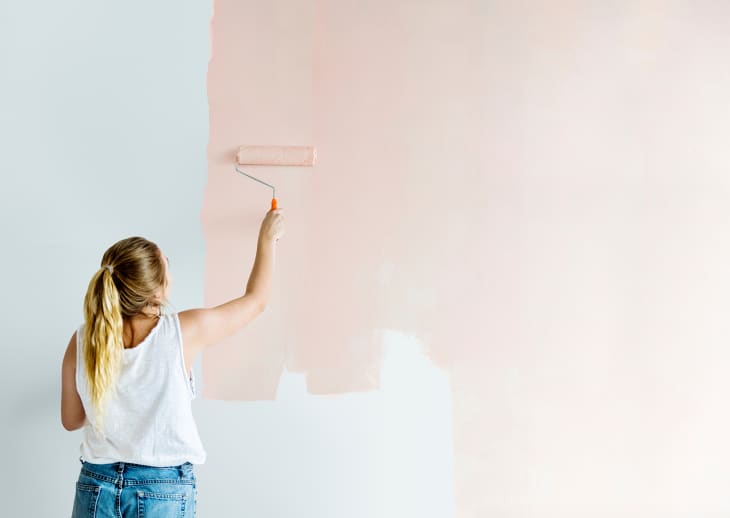 There are tons of DIY myths out there — especially when it comes to painting. It takes just one TikTok video to go viral and all of a sudden, would-be renovators are buying into painting myths that can lead to ill-informed techniques and projects that somehow looked better on Instagram. 
Follow Topics for more like this
Follow for more stories like this
Apartment Therapy talked to contractors and paint experts to debunk some of these myths — and fill you in on the right way to approach your next painting project. 
Myth One: Adding Essential Oil to Paint Will Make It Smell Better
Painters and contractors agree: This is absolutely unnecessary given that modern formulations have less odor and lower fumes. Plus, it can actually void the manufacturer's warranty on paint if you're not following the label's instructions.
Ray Brosnan of Brosnan Property Solutions says, "If you find yourself getting dizzy from painting, you can add peppermint to paint to make it a bit more tolerable — the oil acts as a neutralizer. However, don't use any alcohol-based fragrances or oils as they won't mix properly with a water-based paint. This trick won't work with oil-based paints, however, so be warned."
A better tactic? Just open a window if the smell bothers you.
Myth Two: Don't Paint in Cold Temperatures
Back in the old days, there was a commonly accepted rule that painting in the cold would lead to thick paint that wouldn't spread evenly or easily. However, with advances in today's paint formulations, you can get going on that accent wall almost any time of year. 
Mike Mundwiller, end user product experience manager at Benjamin Moore, says, "While the optimal painting temperature is 77 degrees Fahrenheit, it is still acceptable to paint within a wide range of temperatures from 35 degrees Fahrenheit to 100 degrees Fahrenheit and when the humidity is as low as possible." 
Brosnan adds that if temperatures dip below freezing, you can't break out the roller as soon as the thermometer hits 35 degrees Fahrenheit. "You may have to wait since often the walls are actually colder than room temperature, resulting in adherence issues and overall longer drying times."
Myth Three: Primer Is the Only Prep You Need
This is the myth everyone wants to be true. Most people wouldn't count prep as their favorite part of the DIY process, but it's a necessary evil. You want to believe that primer will cut it, but the truth is, you may need to sand, spackle, and clean.
Joshua Blackburn, director of design and construction at Evolving Home, says, "Priming alone is not enough if there are gouges, old paint, accumulated dirt and debris, or other blemishes in the surface."
Mundwiller adds, "Cleaning and sanding your walls are key preparations to make sure your paint applies evenly." Sand any rough spots before cleaning, then most walls can be be washed using just a sponge and warm water. He says, "The most important part of the process is to make sure you let everything dry thoroughly before paint application."
Myth Four: Interior Paint Can Be Used on Floors
Who here has Grace Atwood's former Brooklyn home bookmarked, with its amazing green and white painted floor? Painted floors are an awesome way to add a bold statement without the expense of completely refinishing them. As you wrap up your latest wall project, you might find yourself looking down and wondering what else you can update.
Unfortunately, Sean Chapman, a professional carpenter, has bad news for everyone looking to spruce up an old floor with leftover paint. "Wall paints are rarely designed to withstand wear and will get dirty and worn quickly under shoes. It's not just marketers who want to sell you paint for walls, floors, railing, and other elements! You truly need different types of paint for all types of surfaces."
Myth Five: Paint Color Is Only a Stylistic Decision
When you start saving inspiration images for a paint project, you're probably focused solely on the color and whether it will look good in your space — not whether it actually will physically work in your space.
Mona Ying Reeves, founder of Kickstart House, a home renovation support community, has a reality check for all the design dreamers: Sometimes a paint color literally does not work on a surface or texture. "Dark, moody houses are on trend right now, but the paint doesn't perform on surfaces the same as whites and lighter tones."
There are trade-offs — and you may want to consult with a professional to determine whether your space can handle being taken over to the dark side. Reeves adds, "Dark paints tend to bubble more on wood siding and surfaces that fluctuate in temperature. Some painters will even refuse to warranty their job, or reduce the length of the warranty."
Myth Six: Any Brand Can Color-Match Any Paint
It can be tempting to take a swatch of an expensive, gorgeous, perfect color of paint to a big-box home improvement store hoping for a cheap, quick dupe. Yet somehow, it never looks quite right. Tom Hill, of chemist-founded C2 Paint, says, "No one can match anyone's color 100 percent since they don't have the same colorant system — it's subjective." 
Nuances in color-matching can be attributed to pigments, proprietary formulas, and the use of black or other colors to create darker hues. 
Myth Seven: Paint Can Be Saved for Later
You know all those old paint cans sitting in your basement? The ones you keep on hand in case something needs a touch-up? It might be time to toss them. Chapman says, "Paint can become useless quickly. Avoid leaving opened cans of paint to use them later as the quality of the application will degrade."
You're better off simply buying what you need for a particular project, then disposing what you don't use. (Just make sure to do it properly!) 
Myth Eight: Zero VOC Paint Truly Means Zero 
While zero VOC (volatile organic compound) paint does have less off-gassing than traditional paint, that doesn't mean it's completely without VOCs. Hill says, "A paint product can be referred to as zero VOC as long as VOCs are below 5 grams per liter. Even "zero VOC" ingredients can contain trace levels of VOCs, and these trace materials of zero VOC products can add up to equal even more VOCs. Often, the measurement depends on the testing method."
The bottom line? Zero VOC paint can be reassuring, particularly if you have children in the house, but no paint is perfect.