The Biggest Ceiling Painting Mistakes to Avoid, According to Real Estate Pros
We independently select these products—if you buy from one of our links, we may earn a commission. All prices were accurate at the time of publishing.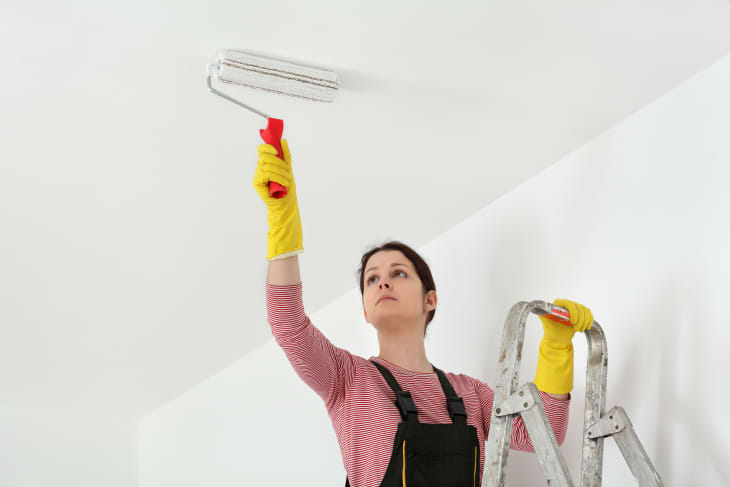 The ceiling is often called "the fifth wall" of a room and, as such, interior designers are often drawn to adding dramatic colors, accents, and even wallpaper overhead. But if you're thinking of selling your home in the near future, you might want to hold off on doing anything too off-the-wall (pardon the pun) to your ceiling until you move into the new place.
Follow Topics for more like this
Follow for more stories like this
I asked real estate agents to weigh in on what buyers think when they get too distracted by your ceiling. Here's what they say to avoid.
Mistake #1: Going Too Bold with Color
"While personal color preferences vary, overly bold colors on walls or ceilings can be a turn-off for potential buyers," says Casey Napolitano, real estate broker and founder of NDA Real Estate in Southern California. "Colors that are too bright, dark, or vibrant might not appeal to everyone and will be difficult for buyers to envision in their own style."
Again, if you're settled into your home and will be there for the foreseeable future, go ahead and paint your ceilings black, magenta, or even a rainbow. But if you're going to sell, neutral is best. 
White or light neutral shades have often been the color of choice for ceilings because they reflect light so well — which is a bonus if you're trying to make a small space look bigger, says Napolitano. They also help make a space look cleaner, which is never a bad thing for buyers to see. 
Mistake #2: Indulging in Customized Ceiling Art
It's fine if you love Renaissance art. But your listing agent kindly asks that you don't turn your home into a replica of the Sistine Chapel. 
"The biggest thing that sparks ire with my buyers are intricate/ornate highly specific artwork and colors that would be difficult if not impossible to neutralize," says Nicole Beauchamp, senior global real estate advisor and licensed associate broker with Engel & Völkers in New York.
Mistake #3: Keeping That Popcorn Ceiling
Popcorn is great at the movies, but not on the ceiling. "I can't emphasize enough how important it is to also remove the rough texture," says Napolitano. "[A] popcorn ceiling turns every buyer off." 
In fact, she actually persuaded the seller of a recent listing — a 1970s-style home that looks like it hadn't been updated since "Saturday Night Fever" — to let her hire a crew to remove the popcorn ceilings. They also swapped out the old light fixtures for new ones and voila! It soon got a slew of offers and sold over the asking price.
Mistake #4: Overestimating Your DIY Abilities
If you're about to sell your home and are thinking of redoing any offending ceilings in your home on your own, more power to you. But make sure you know what you're doing first, and whatever you do, don't skimp on cheap paint, says Adie Kriegstein, a licensed real estate salesperson and founder of the NYC Experience Team at Compass. "Low-quality paint can leave streaks or appear uneven in areas," she says. "You want to ensure a smooth, consistent finish and this is more easily achieved with a higher-quality paint."
Learn how to prep your ceiling first, too, says Napolitano. "Skipping proper preparation can lead to subpar results, so avoid the mistake of not cleaning the ceiling thoroughly before painting," she advises, noting that any lingering dust and dirt will affect how well the paint adheres to the ceiling. Same goes for patching up any cracks, holes, and any evidence of water stains. Sanding the ceiling makes for a clean, smooth canvas. 
"If potential sellers make the mistake of painting over these issues without fixing them, they can affect the appearance and integrity of the paint job," Napolitano says. If patching and sanding is outside your DIY wheelhouse, then call in a pro.