3 Unexpected Consequences of Painting Your House a Bright Color, According to Experts
We independently select these products—if you buy from one of our links, we may earn a commission. All prices were accurate at the time of publishing.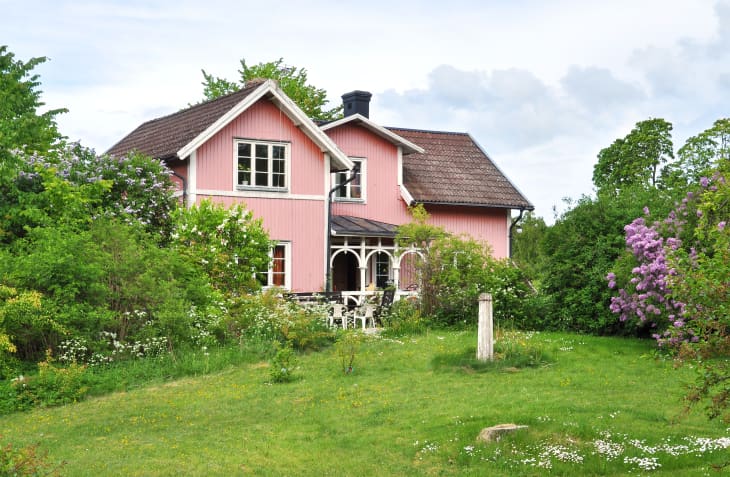 Like the majority of people, I grew up in a home with a neutral-colored exterior. Over the years, my mom swapped off-white for gray and then gray for taupe. While we could appreciate the subtle changes, our suburban home always blended into the sea of neutral homes in the neighborhood. 
Follow Topics for more like this
Follow for more stories like this
My mom's exterior paint choices always had to do with our home's resale value. Though we'd never actually made concrete plans to move, she figured that each new paint job might be the last, should she get a sudden offer on our house that she simply can't turn down. 
If you're brave enough to go bold, there are some things you should keep in mind. To find out about the ins and outs of living in a brightly colored house, I asked an interior designer, a real estate expert, and a paint pro.
Bright colors evoke emotional responses — but emotional responses are subjective.
While there are always trends and conventions to consider, the design of a home should ultimately resonate with the people living in the home. Sarah Barnard, a WELL and LEED accredited designer and the owner of Sarah Barnard Design LLC, aims to create environments that support mental, physical, and emotional wellbeing. When it comes to exterior paint, she says that homeowners should use colors that make their hearts sing. "Clients who request dynamic exterior color palettes usually seek joy through personalization, and are not terrifically concerned with what the neighbors think," says Barnard. 
Though Barnard advises her clients to use colors that speak to them, it's worth keeping in mind that bright colors tend to elicit strong emotions. According to color psychology, blues and greens are known to have a calming effect because of their ties to nature. Energetic colors, such as red or yellow, are psychologically stimulating and especially polarizing. As such, they can evoke a mix of positive and negative emotions, depending on the onlooker. If you're concerned about your neighbors, adding some white to a brighter hue can help to placate the shade.
Barnard adds that gated communities and homeowners' associations might have rules in place that limit the use of exterior colors, so homeowners should always check in with their HOA before making a big change.
Bright colors attract birds and bugs and bees (oh my!).
According to Matt Bigach, real estate expert and the cofounder and CEO of Nexus HomeBuyers, one thing to keep in mind when using a bright exterior paint color is how the color will interact with the outside world.
"Houses are typically painted with rustic colors or with white undertones, so when people are bold with their exterior color palette, it's bound to attract attention," Bigach says. He notes that this means attention from passersby, as well as from insects and birds. "Blue jays and hummingbirds are just two of the many species attracted to bright colors. And honey bees and wasps relate bright colors to pollination, and will most likely be drawn to a house with vibrant colors."
In general, insects and birds are naturally attracted to colors that resemble their food sources. So, if you're bird- or bug-shy, steer clear of colors that mimic flowering plants and fruit, such as yellow, orange, and red.
Bright colors can be more expensive to apply and maintain.
With any type of home renovation, it's important to weigh the upfront cost with the cost of long-term maintenance. Paige NeJame, owner of CertaPro Painters of the South Shore and Boston, notes that bright paint colors are typically more costly to apply because they require a tinted primer, in addition to multiple coats of paint to get the desired effect. "This is especially true if the house goes from a very light color to a bright color or a very dark color to a bright color," she says. "This is because the original paint will peek through if you only do one coat."
In addition, bright paint colors are prone to exterior fading, Bigach says. "Overexposure to the sun can dim their actual and original radiance," he explains. "That said, you shouldn't necessarily be discouraged from using a bright exterior color, since houses tend to need paint repairs every three to four years regardless."
Barnard adds that if you're going to go with a bright exterior paint, make sure you're meticulous about the paint prep. "Painters often say that the success of a paint job is all about the prep, and I would have to agree," she says. "Longevity is less about the choice of color and more about the preparation of the surface, the selection of the correct primers and paints, and the craftsmanship when doing the application."